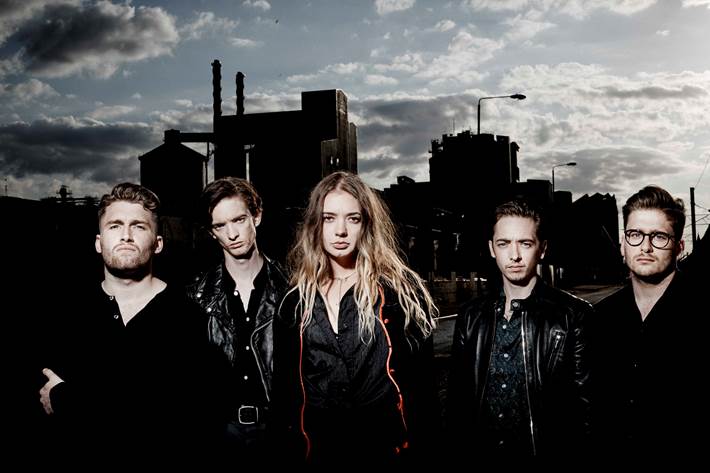 Marmozets have announced details of their eagerly awaited new single, Play, which premiered on BBC Radio 1's Rock Show with Daniel P. Carter. The official music video is also now available and can be streamed on the Marmozets' official YouTube channel.
Play heralds the wildly anticipated follow-up to the British rock band's breakthrough 2014 debut album, THE WEIRD AND WONDERFUL MARMOZETS.  Details on Marmozets' forthcoming album, produced by Gil Norton (Foo Fighters, Pixies), are expected to arrive in the coming months. For updates and news on the forthcoming release, please see www.marmozets.co.uk.
Unanimously hailed for their electric live shows, Marmozets have garnered legions of fans across the globe, performing alongside acts such as MUSE and Royal Blood as well as joining the Splendour In The Grass lineup in 2015 and performing two exhilarating side shows in Melbourne and Sydney.
Born in Bingley, Yorkshire, the band – which unites siblings Becca MacIntyre (vocals) and Sam MacIntyre (vocals/guitar), and Josh MacIntyre (drums) with brothers Jack Bottomley (guitar) and Will Bottomley (bass) – were named by Kerrang! in 2013 as "the best young band in Britain" after two years of chaotic live performances and series of increasingly more acclaimed independent releases.
THE WEIRD AND WONDERFUL MARMOZETS arrived via Roadrunner in 2014 and was greeted with unprecedented acclaim from a range of international publications. "As fine an articulation of the thrills, spills and general confusion of being young and different in the U.K. as you're likely to hear," exclaimed Kerrang! before honouring THE WEIRD AND WONDERFUL MARMOZETS as the year's "Best Album" at the 2015 Kerrang! Awards.  Q applauded the album as "a very impressive, ambitious debut," while Noisey highlighted vocalist Becca Macintyre as someone who "could be instrumental in a big change for British rock… Becca is challenging British rock and setting a high bar for other bands because she's just an amazing fronthuman."  Alternative Press placed THE WEIRD AND WONDERFUL MARMOZETS at #5 on its "10 Essential Albums of 2014," noting "Marmozets' hybrid of pop smarts, high musicianship, noise theory and abundant hard-rockin' energy…You would need massive amounts of time on your hands in order to write, refine and record a debut album as thrilling as THE WEIRD AND WONDERFUL MARMOZETS." The Guardian extolled "the dynamism of the music: although songs flit around from riff to riff, as if Marmozets were bursting to fill each song with ideas, they are never too full, never just exercises in technique." "From pure musical savagery to substantially more melodic passages, this is a record that packs its punches in all manner of ways," hailed The Line of Best Fit. "It's surely only a matter of time before (Marmozets are) razing the main stages to the ground."