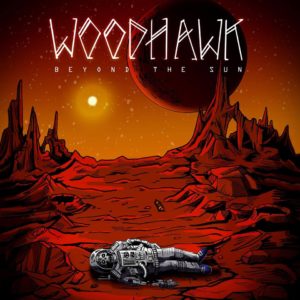 Hailing from Calgary, Canada, these retro rockers named Woodhawk have unleashed their debut album "Beyond The Sun" which borrows such musical styles like Black Sabbath, The Sword and Thin Lizzy. A healthy dose of 70's rock injected into a contemporary platform is the basis of the bands sound and it's one that could lure you in.
The title track opens things up and immediately it has a nice retro sound but also quite atmospheric, at least in the first half before getting more rockier. Vocally it's actually more melodic than the music which gives the heavier stuff like "The High Priest" and "Lawless" some dynamics.
Some of the more uptempo tracks including the aforementioned and especially in the closer "Chrononaut" are comparable to modern day rockers like Wolfmother and The Sword which is not necessarily a bad thing if you are into that stuff but it is hard to not hear those similarities. What really seperates Woodhawk from a lot of those groups though is their use of melodies and how laid back some of the songs can be, it's quite stripped back with a slight swagger in the guitars which gives the songs breathing space on top of all the guitar driven rock that swings and grooves.
"Living In The Sand" and the super relaxing but rocking "A New Hope" are prime examples of stand out tracks on offer but there's plenty of variety and meaty riffs to really hook your attention and hit that play button just one more time. If you love that 70's feel with a tinge of modern stoner rock meets Sabbath inspired riffs then Woodhawk's "Beyond The Sun" will be just your thing.
TRACKLIST
Beyond the sun
The High Priest
Living In The sand
Magnetic North
Lawless
Quest For clarity
A New Hope
Forsee The Future
Chrononaut