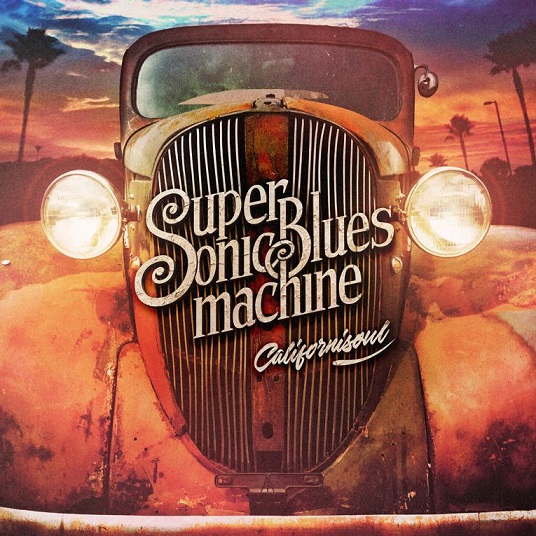 As the title might suggest Supersonic Blues Machine's second album is a far funkier and more soulful affair than their blues-driven debut, and that is immediately apparent on opener 'I Am Done Missing You' which is a nice cool and funky toe in the water. The Blues though is never far away and the hypnotic 'Somebody's Fool' that follows and features Robben Ford gets back to that swing and groove that made their debut so essential.
It's that balance between the Blues and Soul that make the sophomore album from Supersonic Blues Machine, a hard charging blues-rock power trio from Texas so enticing and again we're treated to an all-star cast of luminaries to add a little more spice to the core trio of Lance Lopez, Fabrizio Grossi, and Kenny Aronoff. On this platter those guest slots come from the aforementioned Mr Ford along with performances from Billy Gibbons, Steve Lukather, Eric Gales, and Walter Trout.
Envisaged as the musical soundtrack to a road trip from L.A. to San Francisco there's plenty of territory covered from the funky 'L.O.V.E.' that comes across as vintage Lenny Kravitz meets Gary Clark Jr. to the sheer 'down home' Texan BBQ blues of 'Broken Heart' supplied by ZZ Top's own Billy Gibbons.
Like 2015's 'West Of Flushing South Of Frisco', this is a fun album, with some huge riffs, searing solos, and a rhythm section to die for, here though there's also Soul dripping from the speakers making the bluesy mix all the sweeter. 'Bad Boys' ups the funk as it weaves and wanders all over the road before 'Elevate', which is one of our picks of the album hits – delivering a searing cameo from Eric Gales and a huge guitar and bass knee-deep groove that hits all the right spots, as the song explores the highs and lows of living a life of excess.
The second half of the album is equally as strong with 'The One' coming across like vintage Santana, before 'Hard Times' (featuring Steve Lukather) takes us back to a more traditional Blues sound; it's a song threaded with some wonderful guitar that bubbles and builds beautifully making it another real standout.
'Cry' adds a call for some love in the world and is the closest here to a ballad, whilst 'The Stranger' injects more funk and 'What's Wrong' jumps into contention for the best here – it's a gentle soulful outing featuring Walter Trout where he and Lopez trade searing solos towards the end of the song.
That just leaves the joyous 'Thank You' which proceeds to restart the end of road party and closing track 'This is Love' which with its stripped back glory and reggae beat leaves you wondering what's next from these modern day masters.
Essential…
For more information on Californisoul and Supersonic Blues Machine:
Website: http://supersonicblues.com