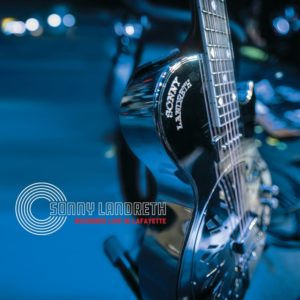 How do you encapsulate a decades long career, sixteen albums and a fan-fuelled desire for an acoustic album in one fell swoop? The answer is 'Sonny Landreth Recorded Live in Lafayette' which does all of that and so much more – taking the cream of a lifetime laying the Blues and splitting it between acoustic and electric discs. And at just over 93 minutes long its also excellent value to boot.
If you've not heard Mr. Landreth before you are in for a real treat here as he and his band plus a couple of special guests serve up a fine order of some of the most sumptuous, cool and ridiculously smooth Blues you'll ever have clapped ears on.  If you're interested in pedigrees then lets just add Landreth being a back-to-back winner of Blues Music Awards for Best Guitarist not to mention his collaborations with the likes of Mayall, Clapton and Knopfler amongst many others.
What matters here though of course is the music and spread over two discs – one acoustic and one electric we get to hear some of Landreth's  best-known songs receiving some rather interesting treatments even managing to bring a new vigour and thrust to old favourites like perhaps his best known song 'Blues Attack'. Best of all though is the sheer sonic joy is sounds like all in attendance and especially the band are sharing.
This is very much an album you need to experience though and you'll get so much more out of it if you resist cherry-picking, though if we were pushed to offer a few suggestions we might just point you in the direction of tracks like the splendid and very slick 'Creole Angel'; the sheer fun of 'The One and Only', the chilled out 'Soul Salvation' or the fiery 'Walkin' Blues' four songs that give you a hint of the styles at play here. That of curse though is only the tip of the iceberg and if you want to hear the man himself in full flight then try 'Brave New Girl' an instrumental that will leave you astounded.
A wonderful warm album you need to hear if you love the Blues.