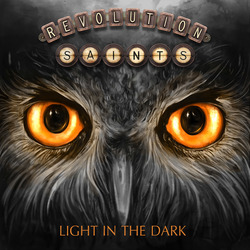 Back in 2015 the Super-group that is Revolution Saints released their debut self titled album. Consisting of Night Ranger's Jack Blades, the recently ex-Whitesnake (now The Dead Daisies) gunslinger Doug Aldridge and Journey's Deen Castronovo – who supplies both drums and lead vocals. On paper it looked like a band to be reckoned with. The most interesting aspect of that release for me though was the fact that debut album was primarily written by Alessandro Del Vecchio who also added keys and produced the album. There ere also contributions from Eclipse's main man Erik Mårtensson  and a few others but of the main three band members the sole combined compositional contribution were the lyrics to 'Turn Back Time' by Jack Blades.
In truth it wasn't a bad album at all, but it was just one of those moments when you wonder what the ultimate point was and whether the band would actually make it out of 'the studio' (I'm not sure it was the same one) let alone write their own material. After all Del Vecchio writes a helluva melodic rocker, but with multiple projects on the go and a seemingly endless list of contributions at times it's hard to place a particular song with a particular band.
Well let's all prepare to get put in our places. The presser for this release promises much after the bands first live show at Frontiers Rock Festival IV in Milan earlier this year, we're told there's more to come: "That's the… plan from all the guys as soon as schedules can be worked out. Understand this clearly, Revolution Saints is HERE TO STAY".
The release gets even fierier, promising vengeance on those not on board: "To all the doubters who dismissed this as a one-off project that wouldn't go anywhere, prepare for a melodic rock punch to the gut. And to all the fans, prepare to have your patience rewarded beyond your wildest dreams!" I for one can't wait…
'Light in the Dark' again sees that same core of performers all recording their parts separately and all orchestrated by Del Vecchio, that is of curse one of the great things about the modern way of creating music , you don't all have to be in the same room and whilst it may have some purists wondering about 'chemistry' and 'passion' and 'connection' when you're all miles apart, to me all that really matters is the final product.
I first have to say that as far as performances go I love it all, Jack, Deen, Doug and co all play as we know they can. Production is also spot on for this type of music and the mix is good and balanced. It's a good album, probably even edging the debut, and there are a few standouts that hint at even better to come but to be honest with you  it doesn't feel like an important album, it doesn't feel like an album I'll be playing over and over for years to come. What it sounds like to be honest is another nice consistent release from the Frontiers/Del Vecchio pipeline. Now that's not a bad thing: I love a lot of the work Del Vecchio contributes to. The man has undoubtedly got a great ear and is constantly and consistently coming up with clean, crisp and shiny sounds with great hooks, slick changes and relentless Melodic energy. So if you like his work you'll love this and don't get me wrong there's nothing on here I particularly dislike just an awful lot I feel like I've heard before.
But on with the review – there's no doubt that the opening title track is a great song – a fast paced rocker and a track on which Aldrich's guitar takes centre stage. It's one of a couple here that really will stick with it's infectious and uplifting melodic flavourings it's impossible not to like. The other real standout here is: 'Ride On' a huge AOR number with some wonderful guitar and a real nailed-on melody you can't shake.
The rest of the album will still  please pretty much any fan of Hard Melodic Rock but doesn't quite manage to match those heights. It is as you might imagine a mixture of the out and out rockers – the milder, lighter mid-tempo fare and the ballads.
Of the Rockers: 'Don't Surrender' has a nice modern-day Journey vibe; 'Take You Down' offers some chunkiness and solidity; whilst the best just might be 'Another Chance' which again carries a positive message of overcoming adversity and rocks out beautifully.
Of the mid-tempo offerings: 'Freedom' (the second single) packs a nice emotional punch even if the biblical allusions are a little fey, while 'Running On the Edge' is carried by a great melody and 'The Storm Inside' keeps the consistency nice and high.
Of the Ballads and slower numbers the best is the piano driven 'I Wouldn't Change a Thing' that builds beautifully to a cascading solo, it's beautifully constructed and has the right mix of emotion and even though it verges on the overblown manages to reign it in just enough to avoid self-parody.  'You Can't Run Away From Love' is less imposing, more AOR-flavoured and  doesn't quite grab me as much as it's predecessor, but is emotionally charged enough, I'm sure, to connect with some. The album closes with the love song 'Falling Apart.'
A great album for lovers of Melodic Hard Rock and I know those involved will draw the interest of many, it's a great album but to be honest I don't hear a lot of Deen, Doug or Jack in the writing just in the playing.
'Light In The Dark' showcases eleven tracks plus four other live tracks included on the CD/DVD Deluxe Edition release (along with footage from the band's first-ever live performance at Frontiers Rock Festival in Milan in April, a "Making Of" mini-documentary, and music videos for 'Light In The Dark' and 'I Wouldn't Change A Thing') For those with deeper pockets there's also a Vinyl version and a special Limited Edition Box Set.