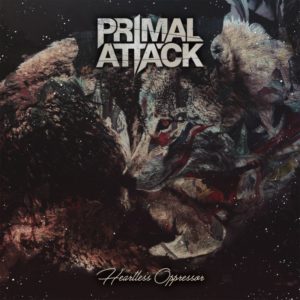 Dubbed as a thrash metal band, Primal Attack hail from Portugal and incorporate a strong hardcore sound reminiscent of bands like Hatebreed, Suicidal Tendencies and a bit of Pantera to create a seriously aggressive but catchy sound on their second album "Heartless Oppressor" that will no doubt please those looking for something heavy.
The album starts out with a ferocious thrash mentality that slowly creeps into a chuggy, almost sludgey sound in "Red Silence" and from here on out the songs switch between a mean hardcore sound to all out thrash with moments of melodic passages. "Halfborn" is a groove foot stomper that encourages some headbanging while "The Prodigal One" teases a groovy bounce of Pantera meets Hatebreed tempos. There's a great feel in the songs which really bring out the aggressive nature of the bands style which relies heavily on chugging guitar riffs and a backbeat that seamlessly drives the songs along.
The atmospheric intro to Truth And Consequence" lends itself well to the oncoming onslaught that again sits on more hardcore styles, "Strike Back" however returns to the speedier stuff and has a brief but absolute killer solo thrown in amongst all the carnage. On the back end of the album however is where Primal Attack switch gears and start to incorporate more melody and a little variety into the tracks.
"Heart And Bones" is contemporary metal with a lot of breakdowns, "Hypersonic Generation" has a little prog element added with it's numerous tempo changes and "XXI Century Curse" is deeply melodic, anthemic in the delivery and has a more rock oriented feel to it. A few surprises along the way as well as the massive riffs and grooving tempos make "Heartless Oppressor" worthy of attention for any metal fan looking for new tunes.