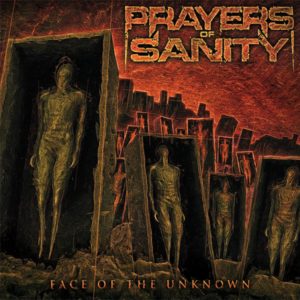 I'm always on the hunt for fresh, new thrash metal bands and the last 10 years or so has seen a resurgence of the new generation of thrashers ready to step up and continue the genre in a new century. One such band I discovered 5 years ago was Portugal outfit Prayers Of Sanity who at the time released their second album Confrontations which was a blistering set of songs that really grabbed my attention. 5 years later they return with "Face Of The Unknown" where they step things up another notch.
The new album is packed with blistering thrash goodness, there are lots of moments where the band just simply riff out in a very aggressive but catchy manner. "Dead Alive" showcases those moments brilliantly here with it's uptempo speed and energy. There's an exhiliration heard here and on many of the tracks on offer that come across prettly relentlessly as they steamroll their way through the album. "Past, Present, None" and the brutal "Betrayer" are also on similar lines, tackling numerous guitar parts to string together some truly grooving numbers.
The title track which kicks off the album as opener is very old school but sounding as fresh as ever while "Unturned" breaks into mid-tempo chugging just to bring a bit of dynamic to an otherwise ultra fast shredfest. The proggy "March Forward" also has some breathing space but it's only because of it's numerous tempo changes and stop-start motions.
The album ends much like the old school  beginning with "Nothing" but having a more punky feel in the vein of Overkill which also differentiates it from the rest of the album. Prayers Of Sanity have definitely got another winner here in "Face Of The Unknown", it's consistently good all the way through and proves yet again that when done right, thrash metal is still a powerful and viable piece of music.
TRACKLIST
Face of the Unknown
Dead Alive
Past, Present, None
Unturned
In Between
March Forward
Someday
Betrayer
Nothing