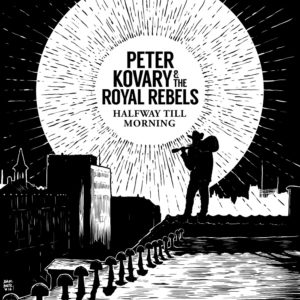 It's not too often we hear from Hungary, indeed my only real exposure to Hungarian music was the Folk music an old drunken Hungarian sailor used to sing in the biker pub I frequented as a young man, and that inevitably led to his ejection often before he'd even got close to a chorus. Still when they were still imprisoning people for the crime of producing rock music into the 80's  it's little wonder I suppose.
Hungary it seems though has good taste and classic rockers Peter Kovary & The Royal Rebels who released their debut album 'Halfway Till Morning' earlier this year have the sort of bounding good time enthusiasm you'd be hard pressed to not tap your foot and shake your booty in time with tracks like 'It's a Riot' that opens.
The music here is very much rooted in the 70's, and more particularly the classic rock of that era – you can hear The Beatles and The Stones as well as later retro rock influences like The Crowes and Lenny Kravitz. There's also a healthy inflection of Southern Rock's warm embrace too at times.
At it's best Kovary and co can stand with anyone, and on heavier fare like third single 'Run For Cover' the Hammond and guitars perfectly set off what is one of their best and most foot tapping of compositions. Elsewhere we get shades of Rock of all shades and styles but all with their distinctive well-worn style: indeed there's really nothing here to dislike.Try the groove of 'Liquor Store' or the wonderfully Crowes-like slow wail of 'Hot Southern Breeze (To My Father)' that closes a remarkably good collection that has a real authentic vintage feel.