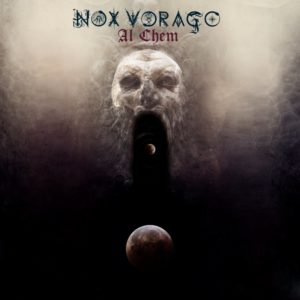 Nox Vorago can be described as a symphonic death metal band with elements of black metal. Not usually all traits individually that catch my attention much these days as a lot of that kind of music can be disappointingly derivative and uninspiring. But these Swedish maestros deliver something slightly more unique with their latest album "Al Chem" which sounds deceptively dark and epic but also brutally heavy.
"Elenu Tiamatu" opens things up and immediately conjure up thoughts of tech death band Nile with it's dark, middle eastern symphonic elements that add a whole layer underneath the gutteral brutality of the guitars and vocals. But there's also remnants of Morbid Angel as well as pieces of Sepultura's "Chaos A.D." album with it's heavy groove and catchy guitar parts. Add to that some black metal blast beats and a little doom and the concoction boiled up here is a mix of some of the better parts of extreme metal.
"Nuremburg 1561" has an old school death metal feel to it, catchy tempos and furious drum patterns while tracks like "Devourer of Dreams" switches from bouncy rhythmic tones to killer grooves. The aptly titled "The Hissing Sound Of Ouroboros" is more atmospheric however, sitting comfortable in open guitar riffs and giving more breathing room in the song.
Vocally they switch between gutteral to black metal screeches but in time with what the music needs. "Daughters Of The Sun" is a good example of this where the music leads to different directions going from the furious to more slower pace tempos. It also shows the band are a little more difficult to pigeonhole as far as what sub-genre of metal they belong to.
It's not important to make that distinction however, Nox Vorago do their brand of metal well and with the album's symphonic sound underneath it all, "Al Chem" is definitely worth checking out.
TRACKLIST
Elenu Tiamatu
Nuremburg 1561
Devourer Of Dreams
The Hissing Sound Of Ouroboros
Daughters Of The Sun
The Lotus Scimitar
At The Feet Of Ereshkigal