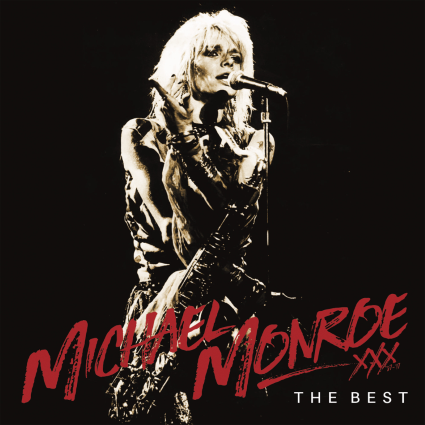 Back in April Michael Monroe released the single 'One Foot Outta The Grave', a new song  which grabbed you with such immediacy and force so soon after the magnificent 2015 opus 'Blackout States' that you knew all was well in the world of Finland's greatest rock star. Shorty after it was revealed that Monroe was just about to release a whopping 29-track 'Best of' on the 30th anniversary of his debut solo album 'Nights  Are So Long'. Well here it is!
It's about time Monroe put out a 'Greatest Hits' package and whilst us fans will always clamour for more (outtakes, bonus tracks and the like) this is  pretty sizeable document that shows the sheer quality of the man's output as well as the consistency. It also shows that his best work could still be ahead of him with the addition, as we said, of the new track along with 5 further bonuses including a new version of the Steppenwolf classic 'Magic Carpet Ride' featuring Slash (and not the Hanoi Rocks song of the same name from 'Tracks From a Broken Dream'). Also included amongst the bonuses are 'Fist Fulla Dynamite', 'Simpletown', 'It's A Lie' and another cover, this time 'Get On' by the Finnish rock legends, Hurriganes.
Now if you're already a Monroe fan then you've probably already taken the plunge, and if you love the band that really kindled the Glam Rock fires on the Sunset Strip back in the mid-80's – Hanoi Rocks then you're probably equally tempted. If you're less than familiar though and want some schooling but love a little of that part Glam, part Grime, sleazy Rock n Roll excess that characterised the likes of The New York Dolls, The Stones. The Stooges and the Dead Boys to name but a few, then this will be a very worthwhile acquisition.
Monroe's solo career didn't actually start off with a bang – back in 1987 I had to pick up 'Nights Are So Long' on Finnish import. After Hanoi Rocks split in 1985 Monroe moved to New York and by 1987 he'd released his first album on Seppo Versterinen's short lived Yahoo! Records label without much ado. It didn't contain much new material – just three new songs penned by Monroe and the rest mainly covers. Indeed here only two Jimmy Zero-penned tunes from that debut – 'It's a Lie' and 'Nights are so long' make it along with the Monroe original 'Can't Go Home Again'.
It might not have been a huge start but that first album attracted the majors (something it had taken Hanoi Rocks so long to achieve) and 1989's 'Not Fakin' It' arrived two years later on Polygram. That second and arguably best known album due to MTV still going strong was also a commercial high point that spawned the minor hit 'Dead, Jail or Rock N Roll'. Strangely for such a solid release it's only other inclusion is 'man With No Eyes'.
There are a couple of tracks from both the largely disappointing 'Peace of Mind' from 1996 and the almost equally sketchy 'Life Gets You Dirty' from 1999 including the must hear re-working of Hanoi Rocks 'Self Destruction Blues'; and four 'Demolition 23'  tunes including the wonderful 'Hammersmith Palais' and underrated 'Deadtime Stories' which show you one of the 'bands that got away' in action.
As a chronological journey all we are really missing is a taste of the 'Jerusalem Slim' project from 1992 that saw Monroe team up with Billy Idol's guitarist Steve Stevens, but its a small omission in the scheme of things.
Fast forward to 2003 and Monroe's first solo album since the Hanoi Rocks reformed in 2001  – 'Whatcha Want' isn't bad, just rather 'cover-heavy' as an album and it would be a further eight years before Monroe released another studio album – 2011's Sensory Overdrive which some might argue was really the start of his golden age that saw 2013's 'Horns and Haloes' and 2015's latest release 'Blackout States'.
Disc two of the collection just features the best of those three albums as well as the bonus tracks and it's a revelation. Since 2011 Monroe as an artist has just gotten better and better, concentrated on writing and he couldn't sound better. For me 'Blackout States' was the album of his career to date and on the basis of this collection things seem like they are heading ever upwards.
One of Rock's best and most inspirational artists shows you why in 9 tracks. Everyone should own this.