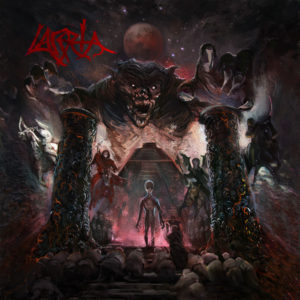 Birthed in 2005, prior to the more-recent explosion of tech death, Lacerta paved the way for later-era tech death bands such as Byond Creation and Archspireand released their debut effort entitled Mind Processor in 2010. The album, produced by Psycroptic guitarist, Joe Haley, was the perfect combination of brutality and brains, with the over-arching sci fi themes the perfect narrative to the clinical-yet-complex compositions.
With the exception of Psycroptic and a few other luminaries, Tasmania is not often associated with extreme metal however this is all about to change with a band that goes by the name of Lacerta with their 2017 self titled release.
Right from the word go you are thrown head first into a grimy ominous album with opening track "Pillars Of Deceit" with some serious bass work. I am reminded of Canadian band "Beneath The Massacre", it's mind blowing and this is only the beginning! Now I'm taken into the next track "Grotesque Design" with an absolute slamming thump fast pace and out of control then BOOM – break down central with some solid riff work thrown in for good measure.
Next up "Hell To Pay" is a slow grinding evil number sure  to get you moving, one of the stand out tracks here for me is "Gargantua" which I'm reminded of "Dying Fetus or "Coldworker" in terms of delivery and the sheer butality that is on display while "Molecular Residue" has a black metal/thrash tone about it. The one thing that is completely undeniable here is that this album has so much raw power and passion for lack of a better word, it's sincerely refreshing to hear.  Bottom line here, if your looking for a brutal all out war on your stereo then I encourage you to check this band out. You wont be sorry, top shelf Aussie metal, so proud!
TRACKLISTING
Pillars Of Deceit
Grotesque Design
Hell To Pay
Incubation Of Tyrants
Void Of Shadows
Gargantua
Molecular Residue
Ambiguous Forms