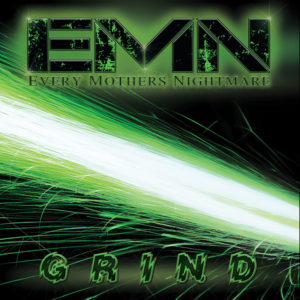 A couple of years back now EMN dropped the 'Grind EP'. It was a great piece of work that contained 5 new tracks, their first new material since the 'Deeper Shade of Grey' album in 2002. That EP has now been picked up and repackaged with 3 further new tracks and 3 live songs to form the new 'Grind' album. The release also adds the new video for 'Push' along with the two previously released videos for 'Blown Away' and 'Loco Crazy'. The only odd thing about the releases really is the title with no song on either the EP or album titled 'Grind'.

Now let's get one thing straight, here at The Rockpit we take the view that there's not much point telling you about music that we don't think makes the grade, but equally we do get a little greedy and a little frustrated when things get re-packaged like this. Often of course its a product of circumstances – originally the 'Grind EP' which supplies the first 5 tracks here might not have got the publicity it so obviously deserves, so here you get those 5 tracks again with only the order of the first two tracks switched – with 'Loco Crazy' upfront and 'Snake' the original EP opener demoted to second up. So I guess for fans then its a case of paying album price for a further 3 studio tracks and 3 live or choosing to download the rest and miss out on the videos. Fortunately in our opinion 'Grind' the album is still worth the outlay.
Over the years of course the sound and the name of the band has changed: the early 90's Southern tinged Hair Metal sleazy sound of 'Every Mother's Nightmare' has become grittier, even grungier fare. The Southern swagger that set them apart is largely replaced with a cool alt-rock leaning style and mild Alice Cooper nuance to Ruhl's distinctive vocals and that's no more apparent than on the first single and album opener 'Loco Crazy' which features a guest appearance by Zach Myers of Shinedown on guitar. It's a great track, dirty modern rock with still enough of the essence of the early band to please those that have been there from Day 1.
'Snake' that follows and which features Wayne Swinny of Saliva on guitar is the song that opened the EP and you could argue could possibly have opened the album, it has a certain Alice in Chains vibe to it,a real strong song,with enough of a hook to tempt radio.
The rest of the original EP material is just as good – it's classy, timeless modern 'alt-flavored' rock with a dab of the South, a drop of sleaze and more than enough melody to make you wonder why so long? Take a listen to the sleazy crawl of 'Upper Hand', the classy melodic rock of  'Blown Away' and what might even be my top pick the infectious, groove-laden 'Sacred Circle' – it makes compelling listening.
The new tracks begin with the gentle and melodic ballad 'Days are Through' which more than passes muster. That's in turn followed by another one of my highlights – the real elemental Bluesy hard rock of 'Stand Up' which features an appearance by the legendary Jim Dandy (yes 'The' Jim Dandy) on vocals, it somehow manages to add even more spice to an already great song. The final new track 'Swing Again' is just as good, fierce, flowing and addictive – it seems designed to make you want more.
That just leaves us with the rather fine live tracks 'Closet Down the Hall' is one of my favourites from 1993's 'Wake Up Screaming; 'Walls Come Down' the most immediate hit from 1990's self-titled debut and 'Push' the opening track from 2000's highly recommended 'Smokin' Delta Voodoo'.
Now I for one would have loved to have seen a bonus disc of the full show from the band's performance at Minglewood Hall in Memphis, TN on August 21, 2016 rather than just the three tracks here, but what you get is to hear a band in full flight that if nothing else makes you want to get on the net and check when they are playing near you. One things for sure Rick Ruhl still has that distinctive voice and on 'Grind' he's never sounded better.