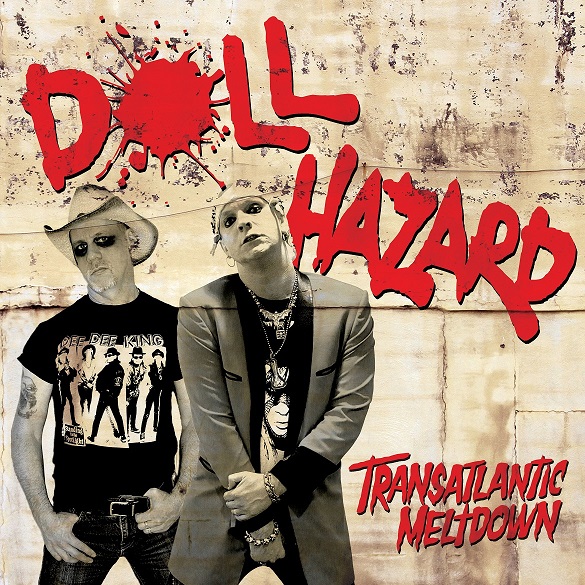 It's Canada meets Norway as Sleaze merchants Chris Damien Doll (Suicide Bombers) and Sandy Hazard  (Dirtbag Republic) get together to unleash 'Doll Hazard' on the world (yes I know it sounds like a pre-Christmas warning about dangerous toys but its not)  – an album two years in the making.
If like me you're a fan of both front men's bands then you'll have to admit to a certain amount of trepidation before first listen – I mean how often do these team-ups really work? Well the good news is that this one really does! It has that spark and fire and these certainly ain't leftovers from respective bands either.
Starting out with the Sleazy New York Dolls meets Faster Pussycat riff of 'Cat's Got Your Tongue' it's a stellar start, and the foot's not off the pedal for a second as we first motor into the threatening Punk-infused razor rock of 'Rock N Roll Prostitute' which both have that trademark sandy Hazard Mike Monroe style phrasing to the fore. They're ably backed up by the grittier Chris Damien Doll led 'Fire and Gasoline' which if you're a Hanoi Rocks fan might have you thinking of Nasty Suicide's Cheap and Nasty.
'No Valentine Cards' starts with a nice chugging riff that's cleaner than most on here and the song itself is full of melody and made to sing-along/drink along to. 'Walk on Water' ups the pace again with a rock-n-punk inflection before falling back into a glorious sleazy heap they're two of the most immediate tracks here.Half way in and we're cooking nicely…
It's here, for those interested in how this collaboration came about, that we refer to the 'presser':
The 10 songs here were a collaborative effort written over a 2-month period with Doll handling guitars and bass and Hazard handling drum duties and the two splitting the vocals between them. The two made a pact to bring only their A-game and create the filthiest slab of plastic that they could muster. The record was created with complete isolation 4500 miles from one and other. Regardless of that distance, Doll & Hazard communicated via text and email and still managed to create exactly what they had envisioned. A front to back kick ass rock n' roll epic so full of attitude it's splitting at the seams.
The title track that follows and marks the half-way point of this album is one of those songs that you swear you've heard before, it's dirty, it's gritty and it's exactly why I love this type of music – it sinks its teeth in and won't let go before '21 Grams (off my shoulders)' adds some more fuel to the fire and a Sunset Strip slant to the mix.
It's the next track though that might be the most intriguing: 'Doghouse' is a rather well-constructed piano-laden ballad with some eloquent and beautifully placed guitars. It's one of those songs you can't argue with, a great song that you feel could have been that 'huge ballad' labels used to clamor for back in the day.
The album closes with a couple of tracks that just underline how successful this 'project' has been – the undeniably Hanoi-styled 'You're in My Head' and the spaced-out punk-sleaze of 'Sci-Fi Child'.
Jeez this worked out well- everything on here is worth a repeated listen and there are more than a handful of songs that you'll be coming back too repeatedly. As it says in the Bio both Doll and Hazard are influenced by Hanoi Rocks, Sex Pistols, Kiss, Motley Crue and all kinds of rowdy punk rock. I'd add a dash of New York Dolls and faster Pussycat to that mix and you have an album made for lovers of not just sleaze rock but also those who like their dirty rock and roll.
Doll Hazard – Transatlantic Meltdown will be a CD only release available on TrainWreckords at http://www.dollhazard.com – Website
  YouTube Album Teaser