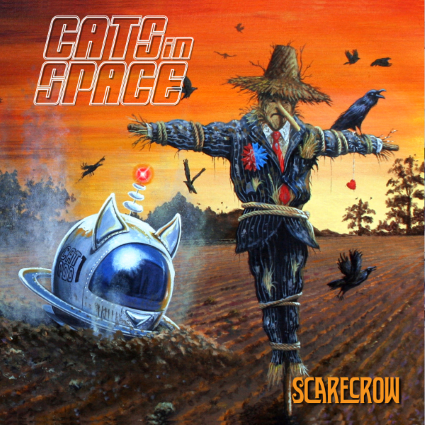 Whilst most bands that channel the Rock sounds of the 70's take the easy option and the well-worn path of aping Sabbath or Zeppelin in all their muscular glory, there are some out there whose ears are pointed in an altogether different direction. With ten brand new songs, 'Scarecrow', Cats In Space's second full length album (after 2015's wonderfully eclectic 'Too Many Gods') will take you on a journey that is really rather grand, almost certainly interstellar and far more attuned to the sounds of Boston, Angel, ELO, Queen and Uriah Heep than Rock's mightiest and most-quoted behemoths.
'Jupiter Calling' that opens the door into the strange world of 'Cats in Space' is pure over the top 'Pomp' that bands like Angel and Boston would be proud of. It's also a helluva song to open with, steeped in Melody and unmistakably 'Pop' in outlook, it drips like so much honey from the speakers before the wonderful single 'Mad Hatter's Tea Party' reels you in completely to it's Queen-like clutches.
'Clown in Your Nightmare' that follows is a little more 'out there', almost funky, and comes across like a song from an imaginary 80's movie. It's 'Scars' though that really makes an impact – a classic ballad that is sure to win the hearts of fans; whilst 'September Rain' that follows changes the pace to deliver a 70's rocker in the singer-songwriter 'wide open skies' mould.
'Broken Wing' could well be the best song here – like the opener it's full of all the right 'Pomp Rock' sounds but it's bigger. brasher, bolder and with a solo worthy of Queen and a chorus that could raise a few roofs. It's simply magic! Sadly there's not really anywhere to go from there, but thankfully you'll probably need a rest anyway so 'Two Minutes 59' does the trick with a 3 minute 8 second ode to the perfect radip hit, it's pure pop, very infectious and a nice relaxed offering after the epic predecessor.
The album continues to impress with 'Felix and the Golden Sun' a nice slice of 60's-style Pop, it's infectious, though rather light fare. 'Timebomb' gets us back rocking with a nice slab of granite, which sets up the grandiose title-track, and album closer rather well. 'Scarecrow' is pure theatre! It's overblown, it's epic and shows how powerful these guys can be in full flight. It's the surest sig that these guys have something pretty unique and it's your job and mine to make sure they get heard. Bands like this don't come around too often.
Set everything to 11 and set a course for the heart of the sun…