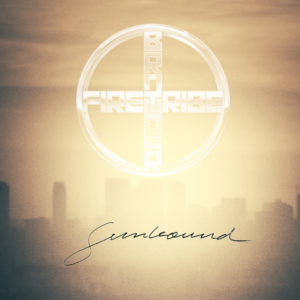 It's been far too long since we heard from Brother Firetribe hasn't it? But here it finally is, album number four and the first good thing to come out of Nightwish's 2017 'hiatus'.
Nightwish's guitarist Emppu Vuorinen caused quite a stir with 'False Metal' back in 2006 and cemented a place in many fans hearts with 'Heart Full of Fire' two years later. For those unfamiliar with those releases or even 2013's gold record 'Diamond in the Firepit' – Brother Firetribe combines the best of melodic rock with a harder, flashier edge that runs the gamut from AOR to Van Halen. It's music designed to grab your attention,  'arena rock' for a new millennium. Or at least that's what it did sound like.
Album number four, we're glad to say carries on that legacy.  Preceded by single 'Taste of a Champion' back last September 'Sunbound' explodes out of the speakers with a title track heavy on dynamics and building keys. Just as you are imagining an explosion however it turns out just to be an extended intro and you all know my thoughts on intros and musical interludes! To make matters slightly odder 'Help is on the Way' that follows that musical time bomb doesn't even feel like  a  progression, its a completely different tempo and entirely different mood. Saying that it's  decent song, sets up the album nicely and has a subtle feel of vintage Magnum. It is not however the powerhouse opening I expected or hoped for, it's rather mid tempo and laid back.
'Indelible Heroes' starts with a /ZZ Top Eliminator drum sound' and a slightly John Farnham-esque sweet melody. It's again rather laid back, sure its a sweet melody and has some cool lyrics that pay homage to past music masters like Lemmy and Prince, but its lacking a bit of bite with keys substituted for real passion. So far, so low-key. By the time 'Taste of a Champion' hits you're starting to feel the album might be a little one-paced. Don't get me wrong it's another great song and I've loved it since I first heard it last year, but its another mid-tempo foray, the only difference being it's better, more rounded and eminently hummble.
It is interesting at this point to note that album number four is far more AOR than it is Arena Rock. 'Last Forever' is again high on keys and mid eighties Journey-style aesthetic. It's a song that finally hits on the perfect balance, a bigger emphasis on hook and dynamics, but still rather mid-paced, a great song, one of my favourites but still a variation on a theme. 'Give Me Tonight' half way through the album is where things finally get more animated. It starts with a rush of keys, guitar and a scream, and whilst it settles into lush melodies it's the pace and the drive that really gets you moving: it's a real standout and reminds you of those behemoths of Melodic Rock from the early 80's.
'Shock' that follows eases back off the pace again and rides on Toto-esque dynamics, it's a perfect live track with great chorus and keys high in the mix. 'Strangled' kicks things up slightly a half-notch again and really takes on that AOR sound sounding as authentic as anything here and its that reverence for the past and bands like Toto, Foreigner, REO Speedwagon and Survivor that permeates this album. And we close out in familiar fashion with the light and breezy cool west Coast vibe of 'Heart of the Matter'; the bubbling synth-led 'Restless Heart' and the more impassioned 'Big City Dream'.
The kicker comes with closing track 'Phantasmagoria' – a song that has the distinction of being probably the best song here and also the track that breaks the mould a little: it's a slow build to a sweeping ballad that sounds more movie soundtrack than straight AOR.
So how does this sit in the pantheon of Brother Firetribe releases? For me it wipes the floor with 'Diamond in the Firepit', but it may take a few more spins to see if it can match the immediacy of the first two outings – and that really is the crux for me – this one's a grower, a more mature record, one to savour.
The best news of all is of course this year we get to see them 'live'…