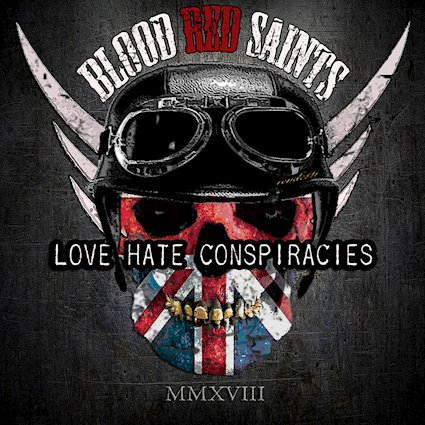 After an impressive start a couple of years back with debut album 'Speedway' Blood Red Saints are back with an even slicker sound and two new members for second album 'Love Hate Conspiracies' which sees the same big choruses but a heavier edge to the band's sound.
That harder edge is immediately on display for the hook-laden opener 'Anther Freak' and the vintage Bon Jovi sounds of the stunning 'Live & Die' the first of a host of more than memorable compositions here. Diving deeper 'Wake Up' again makes the most of Pete Godrey's Jon Bon Jovi-like larynx with a slower number that nags like an ear-worm dripping in melodies, before 'Exit Wounds' takes an even simpler tack to delivering that shot of melody. It's a song you could imagine being monumentally huge on US radio in the hands of some modern country rock star.
The dirty Def Leppardisms of 'Something in Your Kiss' that follow work particularly well, it's an economical style which really suits the band, before the title track takes everything that's come before and just cranks up the volume. It's a song which marks the half way point and makes you realise that not only to these guys have the style and the chops they most certainly have the songs to back it all up.
'Arms Wide Open' the huge ballad here follows, and whilst its a great ballad to be honest with you I don't think the guys need to fall back on those cliched expectations of the 'big ballad on every album'. The remarkable thing is that you'd put it up against anything these huge 80's 'go-to' writers like Dianne Warren or Holly Knight ever put down.
The album also offers a couple of collaborations  that sandwich the final originals – the first of which 'Is it Over' features a writing and vocal contribution from our old mate Paul Laine (Danger Danger, The Defiants) it's a huge song very much in keeping with the style of the album just a little more layered.
Originals 'Sometimes' with its lush harmonies and sizzle and he darker, strikingly modern and moody 'Rise Again' follow before closing track 'Turn on the Night' (written by Steve Brown of Trixter and Tokyo Motor Fist) has the final word in a flurry of sweet summer soaring melody.
This is a great album and the songs hold up all the way to the end. If you love Melodic Rock and you're not on board already with Blood Red Saints then you are missing out. Now to see them play this live!
www.facebook.com/bloodredsaints