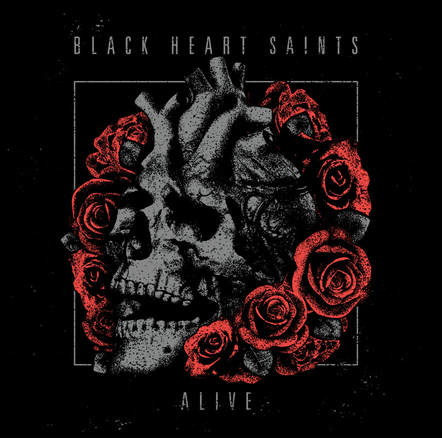 First of all let's get the peeves out of the way – this 13 track debut album is in reality just 10 tracks long and contains just 8 originals ('intro'; 'outro' and 'interlude' you can immediately discard). Add to that the fact that of those 8 remaining originals 'Quicksand' was released back in 2015 and 'Gasoline' and 'One Last Thrill' were both released in 2016 and you end up with an album that falls between two stools – it was either a chance to get everything out there (including the excellent debut EP from 2014) and remind everyone of how good the music is, or simply release the 5 new tracks as a new EP.
Putting all that aside this is a more than decent debut album and I'd suggest that culling the covers and adding a few of the choice cuts from the EP then we'd even be creeping into 'excellent' territory. But let's face it in the days of instant gratification and ever increasing pressures on bands to keep the product rolling 8 tracks in three years isn't exactly on pace. What it is though is damned fine Rock and Roll music. Sadly it's an issue that so many bands face – that never ending and constant battle of finding the money to record and releasing new material whilst keeping a presence out there on the road.
'Alive' as I said is very good from the opening hard rocking riffs and huge groove of the loud and proud opening song 'Not Dead Yet' through the wonderfully rocky 'One Last Thrill' and 'Travelin' On' which both play to the band's considerable strengths in creating a huge groove and riding it for their lives; all the way to the final word of 'All Night Long'.
On the way there's plenty of great songs and some wonderful individual performances as Black Heart Saints ply their version of modern timeless rock.  In truth even the covers aren't bad with 'Come Together' coming across like the Black Crowes covering the Aerosmith version. It's therefore the quality of the originals rather than there being anything wrong with the covers that makes me yearn for more. Imagine a less consciously quirky Rival Sons or a band that doesn't think that rock started and therefore must contain references to Sabbath and you get an idea of the band's take on Classic rock.
One of the biggest tracks here is undoubtedly the lively title track which takes the form and subjects it to the sorts of pressures Pearl Jam did on their first album which I still say was basically a riff on 70's rock.  It's  'Quicksand' though that's the curve ball, a delicate ballad that delivers a nice punch and great melodies. We're back to the rock though for 'Call To Arms' and the excellent 'Gasoline'.
Of the two covers it's 'Superstition' that fares well and I imagine that it will be a great live staple, though I still maintain that more original material would serve them better, leave the covers as a surprise for the live set guys. The album closes with anther great song – 'All Night Long' indeed might even be the best here, but it's got stiff competition.
 
Black Heart Saints deserve to be mentioned in the same breath of bands like Rivals Sons, The Answer, The Temperance Movement, Blues Pills, Crobot, maybe even Black Stone Cherry (diverse as they all are) as another bright light in the otherwise gloomy galaxy of modern rock. Buy it and I'll quit my moaning…