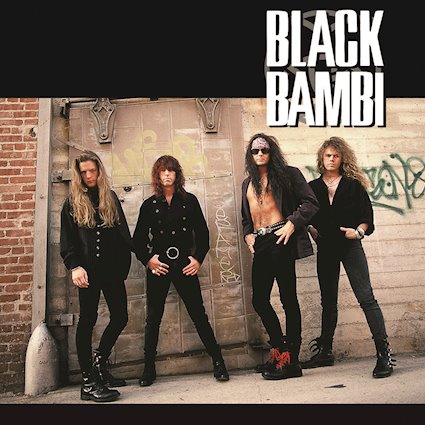 I pride myself on a wide knowledge of 80's hard rock, especially that coming from the West Coast of the United States in that latter part of the decade, but to be honest when I read the name of this band and looked through the bio I was still drawing a blank. Listening to this album I'm rather taken back because its without a doubt one of the best previously unreleased* offerings from a band from 'back in the day' I've heard in a long while. I know it's a story often told but it's worth quoting the following chunk from the press release:
"What do you do when all of your plans go sideways? Picture this: It's 1990 and you're in one of, if not the most hotly tipped rock band in the United States. Tons of press, sold out club shows around Southern California and girls lining up as far as the eye can see.  And then … nothing. The ride comes to an abrupt halt and you're left scratching your head and wondering where and how it all went wrong.
 
Such is the story of Los Angeles' one time favorite sons Black Bambi. Says the band's frontman, Steven Ray Anastos, "Basically, we were orphaned. John Carter, our A&R guy, good friend & mentor, parted ways with Atlantic Records right as we were completing the album. The timing could not have been worse. We were left high & dry and there was no coming back from that."
So there we go, another story of a fine band caught up in record label failure. Nearly thirty years after the band's only album was shelved though I'm glad to say that it finally sees release this August through 20th Century Music. How good is it? Well just let's say that despite my absolute hatred of streaming I'm reviewing this from a streaming copy…
Imagine being signed to a major in 1989, all primed for a 1990 release and then getting the carpet pulled from under you. 1990 to put things in context saw hard rock releases from Cinderella, Firehouse, Damn Yankees, Extreme, Jon Bon Jovi, Poison, Slaughter, Steelheart, Tesla, Trixter and Warrant – a lot of big names on other labels. But even on Atlantic we saw Ratt's 'Detonator', Winger's 'In the Heart of the Young' and even Hericane Alice's 'Tear the House Down'. In my opinion this release from Black Bambi isn't a million miles away from that exulted company.
Opening with 'Mary's Birthday' you immediately get the feeling that this band deserved a bigger hearing, there's a real contemporary Winger-like dynamic at play and a nice big fat groove; that good start is more than matched by the stuttering and confident 'In the Meantime' which bristles with promise. 'Cry Blackbird Cry' which has a Bang Tango meets Shark Island swagger (as does '99 and a Half' later on) rounds out an opening that you could argue is more than capable and healthy.
Elsewhere tracks like the slower 'Seven Miles to Rome' and closer 'Soul of a Child' as well as the rocking 'Celebration' also have a certain something, whilst the more experimental 'Down' with its interesting choral backing and spoken word sections hint at bands like Lillian Axe. It's tracks though like 'Broken Mirror' and Lay Me Down' which standout as real gems, whilst even the more generic sounds of the swaggering 'Crucified' and the mid-tempo 'Dancing With the Shadows' add a little something to the mix they're a little on the 'heard it all before' side of town.
All in all the album leaves you wondering what else slipped beneath the cracks. Sure I've heard more than my fair share of demos from around this time, but less from bands who actually got to record with luminaries like Beau Hill (Alice Cooper, Kix, Winger, Warrant, Fiona, Europe, Ratt and more). You'll hear all kinds of contemporaneous sounds here from the aforementioned Winger, Lillian Axe, Shark Island, Bang Tango and even maybe a little Tesla and whilst you might argue it's not quite right to place Black Bambi in a list like that as I said they're not far off.
In the 12 tracks here you hear and band who more than deliver the goods, presumably too a couple of the tracks here wouldn't have made the release proper making the proposition of 'Back Bambi' even more tantalizing. This is a solid album, great hard rock, great songs, great performance and a real shame we didn't get to hear it 27 years ago.
Footnote: *yes I know now it was originally put out in 2001 but I missed that release too!