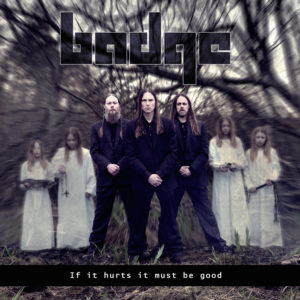 There's a frenetic energy, frantic repetition and almost punky feel to opener 'Reap What You So;' that's it's hard to know what's coming next, what does is the wonderfully jazzy staccato noise of 'The Game' which really doesn't help much either. It's like listening to a Prog Jazz version of the White Stripes or Black keys at slightly the wrong speed. It's unusual, off kilter and yet strangely compelling.
As the album progresses definition comes no easier – there is the rather more traditional sounds of 'Trapdoor' which rides a riff, that sure it's detuned, and sure it has a quirky strummed feel but it is at least recognisably Bluesy Rock, it's at this point that it helps to delve a little into the backstory. BADGE was put together by guitarist/singer Matti Norlin and drummer Fredrik Haake in 2002 and it was Matti's love for Pre-War Blues and their joint ambition to create new and exciting music that gave them their drive.
What you get of course is not exactly a rehash of vintage Blues even if openings to songs like 'In the Eye of the Storm' sound traditional enough – it's our favourite here and there's not a hint of Jazz about it just the gritty residue you're left with if you boil it all down.
'Badge' won't be for everyone, they're a rather complex listen at times and only visit close to the mainstream towards the second half of the album, sure there are enough familiar elements to their music that make tracks like 'We Will See Light' beguiling in the way that The Black Crowes could be at their trippiest, not of course that they sound like The Crowes.
Elsewhere the rather insistent 'Traitor', the moody 'We Will See Light', the groove-laden 'Step Aside' all have something about them as does perhaps the best here – the closing track 'Yet To Come' whose slide guitar gives another reference point to fix your gaze whilst the vague oddness happens around it.
Modern pre-war post-blues anyone?
https://www.facebook.com/badgesweden