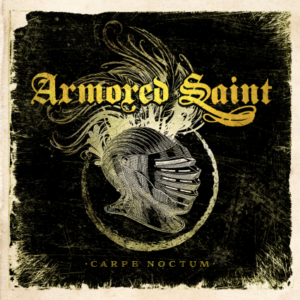 Great band Armored Saint – to me they were the one band that perfectly stood astride Metal and Hard Rock and really 'got' both genres. Since The Rockpit's inception there have been two albums – the wonderful 'La Raza' and the even more epic 'Win Hands Down' – both of which featured in our Top Ten albums of their respective years.  Strangely although the band released a live video back in 1987 (and reissued in 2004) there's only ever been one 'live' album SAINTS WILL CONQUER dating back to 1989, it's strange for a band with such a crunching live show and a vocalist of the calibre of John Bush.
CAPRE NOCTUM is a great live document from a great live band, taken from recordings of their  2015 Wacken festival set as well as their headlining show in Aschaffenburg, Germany, what you get is a great representation of the band in 2017. It's a real treat for fans too with a great running order that combines the memories and power of the old along with the crunch and immediacy of the new.
If you love the band or just love heavy music and want to hear a band that continues to produce only quality then opener WIN HANDS DOWN, the title track off their latest album, shows you why they are still so essential. To back that up tracks like MARCH OF THE SAINT and STRICKEN BY FATE from their stunning debut – 1984's MARCH OF THE SAINT and AFTERMATH from 1985's DELERIOUS NOMAD show you how mighty they were out of the blocks.
It's hard to pick highlights here, and really the only one quibble I have is the length of the album, with them recording a full headline show you would like to have more than the eight tracks even if every single one is bristling with life, As live bands go its hard to top Armored Saint.  
In other news ARMORED SAINT will return to Ireland and the UK this March (appearing in some cities for the first time!), before playing select USA dates in May. Joey Vera (bass) comments: "We're really looking forward to playing these select UK shows in March. We've never played in Dublin, Manchester, Birmingham or Wales, so we're super excited to play in these places – as well as in Belfast, which we'd played only once before. We get a lot of requests from our UK fan base and since we were offered the headline spot at Hammerfest, we decided to hit some of these other UK cities. So, here we go!"
Armored Saint tour dates
Mar. 20 – Voodoo – Dublin, Ireland
Mar. 21 – The Limelight – Belfast, Ireland
Mar. 23 – HammerFest – Gwynedd, N. Wales, UK
Mar. 24 – The Rebellion – Manchester, UK
Mar. 25 – O2 Academy 3 – Birmingham, UK
May 18 – Route 20 Outhouse – Sturtevant, WI
May 19 – Q and Z Expo Center – Ringle, WI
May 20 – Reggie's Rock Club – Chicago, IL