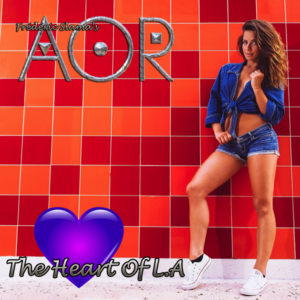 I honestly don't know how Frédéric Slama manages to keep putting out these AOR releases with such frequency and such consistent quality. Every time I look up there seems to be something new to review and it's got to the stage now where I haven't even stopped listening to 2016's 'L.A. Darkness' before this compilation hit.
This release though is for many the perfect for those that are still  oblivious to Slama' s (and his partner in crime Tommy Denander) AOR all star project which gathers together musicians and primarily vocalists from the genre and sets them to bringing to life some quite sumptuous Melodic Rock. If you love the likes of Foreigner, Journey, Survivor and Toto then the AOR Project manages to capture those sounds remarkably well.
Being a compilation of the best of the first dozen albums – it collects 14 tracks from those releases and adds two new recordings for good measure.
Starting off with 'Angels Never Sleep' from 2015's 'Return to L.A.' and the opening track from last year's L.A. Darkness – 'The Smartest Girl in L.A.' we're in familiar and comfortable hands.It's certainly a brace of AOR's best and with Jesse Damon and Jeff Scott Soto leading the way vocally you get a great taste of what to expect.
We step a year further back for Bill Champlin's 'On the Edge of Glory' from the 'L.A. Connection' album; and another year for Fergie Frederiksen's majestic performance on 'Deep Whirlpool' from 'The Secrets of L.A.' Also from 2014 there's 'The Main Attraction' by French female Melodic duo Chasing Hearts (the original recording appeared on 2013's 'Secrets of L.A.) and so far I think you'll agree its a pretty heady mix of simmering AOR glory.
It's there the reverse chronology stops though with 'Heart in Pawn' our standout from 'L.A. Darkness' up next, before we're all the way back to 2012's 'The Colors of L.A.' for the wonderful 'Jenny at Midnight'. The remainder of the album is just as good and all of the vocal performances here are pretty damned wonderful too.
As we said if you aren't already acquainted with AOR this is the perfect place to start – if you are the two unreleased bonus tracks might tempt you to pick this release up too. 'Don't Turn Back' is a nice mid-tempo tune with a female lead and 'When the Darkness Falls' a more upbeat almost Roxette-like composition again with a female lead: they're decent songs but certainly the least essential tracks here.
This is great music and the fact that AOR have been producing music of this quality for so many years means that this release is sure to stay on repeat for a very long time…
LINE-UP: Frédéric Slama: Guitars & Keyboards, Tommy Denander: All Instruments
Vocals: Jeff Scott Soto, Kevin Chalfant, Steve Overland, Paul Sabu, Bill Champlin, Fergie Frederiksen, Jesse Damon, Paul Shortino, Philip Bardowell, David Forbes, Sarah & Mélissa Fontaine, Rick Riso, Jim Jidhed, Chris Ousey, Joe Pasquale.
TRACKLIST: 1) Angels Never Sleep | 2) The Smartest Girl In L.A. | 3) On The Edge Of Glory| 4) Deep Whirlpool|5) The Main Attraction| 6) Heart In Pawn| 7) Jenny At Midnight| 8) Silent Victory | 9) Dangerous To Know| 10) One Foot In Heaven| 11) Closer To Zero| 12) Secrets In The Shadows| 13) You're My Obsession| 14) From L.A. To Paris
Unreleased Bonus tracks: 15) Don't Turn Back| 16) When The Darkness Falls