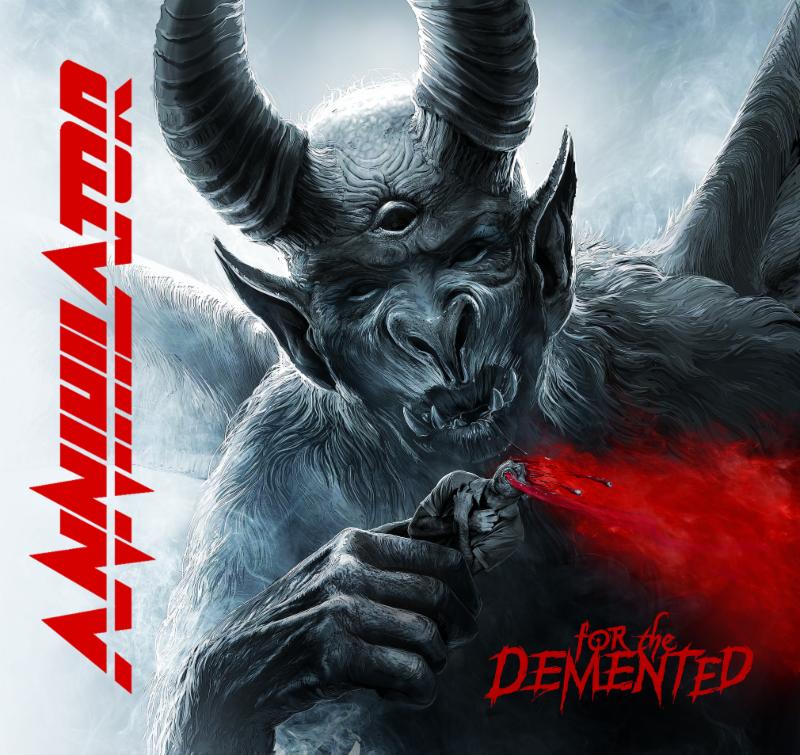 It's a shame that not more people have discovered Canadian thrash legends Annihilator over the years and those that have, tend to be the more hardcore old school thrash metal fans who only know their first few albums like "Alice In Hell". Which is actually a little ironic now considering the band's latest offering "For The Demented" is a throwback to those early records that really forged Annihilator's signature sound. Add a touch of "King Of The Kill" and "Refresh The Demon" and what you have here is essentially some of the best aspects that hooked thrash fans to Annihilator in the first place.
Annihilator founding member and all round guitar virtuoso Jeff Waters teamed up with bassist Rich Hinks to come up with ideas on how to recapture the early Annihilator sound without making it sound rehashed, not an easy feat considering how great those early albums are. After 16 albums it was obviously a good time to reflect on what makes a great Annihilator album, especially since there have been a couple of misses over the past 15 years and "For The Demented" for what it's worth does a great job in capturing the spirit of early Annihilator.
Kicking off with "Twisted Lobotomy", a blistering thrasher that begins with an intro that could easily have been lifted from "Never, Neverland", it's a speedy number that eventually switches into a "Refresh The Demon" style breakdown. From here things get even better as we start to hear a lot more vintage Annihilator, "One To Kill" has more of that classic foot stomping 90's Annihilator stuff as does "The Demon You Know" and "The Way" which has a little rockabilly feel to it.
One thing that's good to see again is Jeff Waters back on vocal duty which he took on for the previous album "Suicide Society" after the departure of Dave Padden. As good as Dave was and as great as some of the vocalists Annihilator have had over the years, I have always felt Jeff's voice lent itself perfectly to the music he creates which makes sense when you consider he writes the majority of the songs himself anyway. His vocal tone and style has enough edge to it to really give the songs that extra muscle it needs, and it's consistent too. I understand Jeff probably prefers to focus on his guitar playing live and some of those intricate parts are probably a nightmare to pull off both jobs simultaneously but still, I do hope he considers sticking with his vocals for at least a few more albums.
Unlike "Suicide Society" though where he experimented a little with his vocals, here Jeff reverts back to what he does best and essentially how he sang on such records as "King Of The Kill" and "Refresh The Demon". His snarl and cleans work brilliantly on tracks like the title track and even on the dark and twisted ballad "Pieces Of You" which if you have seen the video, is a gory piece of work inspired some horrific story.
The album continues strong towards the end, "Phantom Asylum" conjures up some more Annihilator nostalgia in it's title alone but draws on a few different elements mixed with some heavy thrash. "Altering The Alter" has more of that 90's ripping stuff but with a bit of "Braindance" thrown in to add some spice to the mix while the album closer "Not All There" adds some melodic drive to a groove based number to round things off.
A solid album by the 30 year veterans and certainly one of the more polished efforts in recent years. No doubt long time Annihilator fans will pick up on all the throw backs and subtle influences on each track but more importantly it sounds fresh and alive as Annihilator have ever sounded.
TRACKLIST
Twisted Lobotomy
One to Kill
For the Demented
Pieces of You
The Demon You Know
Phantom Asylum
Altering the Alter
The Way
Dark
Not All There