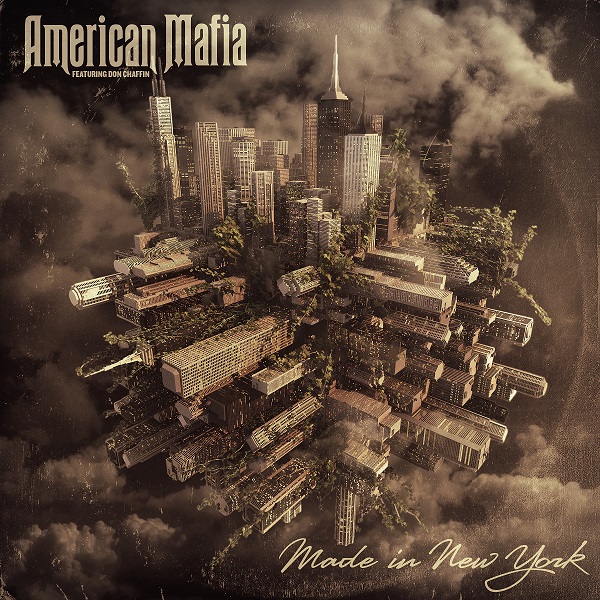 American Mafia has a long backstory that we won't explore here but in 2014 they released their debut album 'Rock N Roll Hit Machine' which at the time we hailed as "Groove-laden, classic blues-infused hard rock with some killer guitars and killer vocals, it's just what you want to be listening to as you ride into the weekend. If you love your rock distinctly classic, meaningful and played like they mean it then 'American Mafia' is a band you cannot miss."
Forward to 2016, Tom Jude (guitar) and Freddy Villano (bass) along with vocalist Don Chaffin and drummer Bobby Marks, were back recording a five-song EP to follow-up to that debut. And that EP 'Made in New York' is finally out now on Lions Pride Music. 

What can we say? American Mafia has just picked up where they left off with five flawless tracks of classic rock perfection full of groove and bluesy style and adorned by the commanding vocals of Don Chaffin. If you love the sounds of Bad Company, late seventies vintage Aerosmith and latter day hard rockers like Tesla then you'll love what's on offer here.

Opening with the confident mid-tempo slow burn of 'Superstar' you're immediately reminded of Sacramento's finest in the effortless dynamics and drive before 'Gistified' (no idea what it means but it does well in search engines) adds a dirtier shuffling groove in the vein of bands of yesteryear like Salty Dog.
'Ride on Through' backs that up with an even heavier, livelier blues groove that even has feint echoes of AC/DC at their early 80's pomp, though thoroughly smoothed out of course. The EP is rounded out by 'Lead the Way' a bluesy hard rock ballad that stretches out to seven minutes and is a thing of beauty, and 'When London Sleeps' the most melodic offering here chock full of harmony and riding a wonderful groove. It may even be the best song here, but that's an accusation you could lay on every song here.
Great American Blues-infused Hard Rock from a band that nails it yet again.