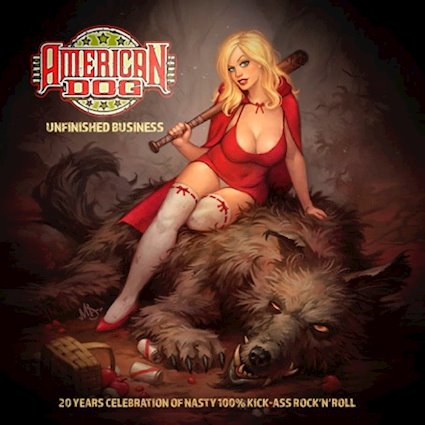 American Dog hit 20 this year and to celebrate here's their biggest collection yet. Ohio's very finest beer swilling, red white and blue, back to basics rock and rollers are back with a package that is a must for those yet to be anointed and pretty much essential for fans.
The first disc of the collection lays out all the reasons why this band should be huge – 18 songs slabs of rock and roll mayhem in the vein of The Godz, Jackyl and Ted Nugent but oh so much cooler than any and with a little vintage Aerosmith and Motorhead thrown in for good measure.  Not only do we get those choice cuts though, the second disc adds some fine pickings too – chock full as it is with new tracks, outtakes, rarities, and a  whole live set from the Neanderthal Tour. really what more could you ask for?
If you uninitiated let's start with the main disc – the 20 years you've been missing out on. A great place to start is right at the beginning with 'Barely Half Alive,'  'TV Disease,'  'Drank Too Much' and the title track from the band's 2000 debut 'Last of a Dying Breed' where it all began – it's dirty booze-flavored biker rock with bite and by the time you hit the next four tracks from the even better 'Red White Black and Blue' (2003) the band pretty much has the trademark dirty bluesy rock n roll sound nailed with great tracks like 'Shitkicker' and  'I Keep Drinkin' (You're Still Ugly)'.
Quality is never an issue here and track-listing is chronological so you can almost feel the progression and nuances (lol)  from the Southern Rock flavors the creep into 'Scars 'n' Bars' represented only by the excellent 'Working Man'; or the bigger groove from the trio of tracks from 'Hard' (check out 'Magnificent Bastard') – an album I would have taken three completely different selections from!
Sadly the latest four albums from 2010's 'Mean' to the latest – 2014's 'Neanderthal' are represented by only four tracks with none from the latest two releases but don't take that as a sign of quality because you can pick up any of those albums and squeeze just as much juice out of them. 'Cat Has Got You By the Tongue' from the more Metallic, less Melodic 'Mean' rocks and 'Just Like Charlie Sheen' injects some trademark humour,whilst 'Bathroom Romance' ticks the mandatory "un-PC" box.
It's 'Dogmatized' that ill-fated experiment with Pete Way of UFO and featuring Waysted's vocalist 'Fin' that get's completely overlooked presumably for licensing reasons and latest album 'Neanderthal' also fails to register a look in maybe as disc two contains a live set from the tour? It's odd though as neither album deserves to be overlooked.
Instead the first disc rounds out with 'Rock It' a great slide-propelled rocker I've not heard before and a lovely festive offering 'Merry Christmas Asshole!' to get you in the mood for mixing your drinks.
The second disc of outtakes, new tracks and a live set is pretty damned essential too from new tracks 'Unfinished Business' and 'I'm Offended' (a wonderful take on millennials ) to the 'Six Pack' outtakes. You need this, you really do.
Band Line-Up :
Michael Hannon (Vocals, Bass), Steve Theado (Guitars), Vinnie Salvatore (Guitars), Michael Harris (Drums)
Disc One:
Barely Half Alive | TV Disease | Last of a Dying Breed| Drank Too Much | Shitkicker | Can't Throw Stones | I Keep Drinkin' (You're Still Ugly) | Bullshit (Goddammit) | Workin' Man | Sometimes You Eat the Pussy | Rock-n-Roll Dog | Magnificent Bastard | Cat Has Got You By the Tongue | Just One More | Just Like Charlie Sheen | Bathroom Romance | Rock It | Merry Christmas Asshole!
Disc Two: Unfinished Business | I'm Offended
Neanderthal Tour Live – Route 33 Rhythm and Brews, Wapakoneta, Ohio – Shitkicker (Live) | Carnivore (Live) | Dirty Fun (Live) | Stuck in the Mud (Live) | Human Garbage Can (Live) | Devil Dog (Live) | The Real Nitty Gritty (Live) | Beaten, Broken, Etc. (Live) | Boozehound (Live) | We Ain't Gonna Not Get Drunk Tonight (Live) | Neanderthal (Live) | Who's She Killing Now  (Live) | Dog Eat Dog (Live)
Soundcheck Recording Wapakoneta, Ohio – Sun Won't Shine
Six Pack outtakes – Out of the Sun | Train Kept a Rollin'
Social Media Links:
www.badreputation.fr
www.americandog.us
www.facebook.com/americandog.us