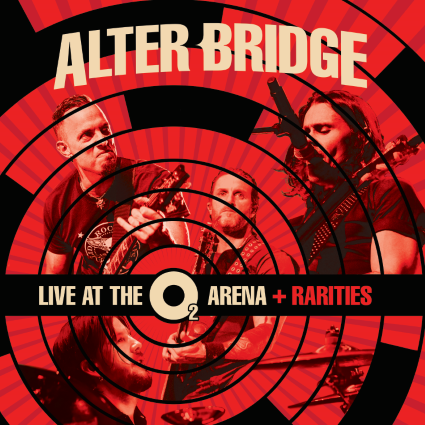 Alter Bridge have been with us since they formed from the remnants of Creed in 2004 and during that time the core Creed members Tremonti, Phillips and Marshall along with Myles Kennedy have been constants. It's hard to find a harder working band or one that seems to spend so much time on the road; and in their five albums to date we've barely had a track that's failed to connect. At their best Alter Bridge can be breathtaking and of all the rock bands formed this side of the millennium they are up there with the very best.
In all that time though it's surprising that we've not had a live album especially for a band that has toured so widely and so frequently (if you exclude 2009's live from Amsterdam DVD). I myself have witnessed them on three continents – on stages ranging from small clubs to Festival stages. If you're going to do a live album though you might as well pull out all the stops – and this sweeping career retrospective sees Alter Bridge deliver a mighty 19  tracks that span all five albums over two CD's. That's not all though – also wrapped up in the package is a bonus disc of Rarities – a must for any fan.
Recorded at one of the biggest shows of the band's career at London's famous O2 Arena on November 24th, 2016. That landmark performance is now here as proof of what a force of nature these guys are live. And if you're a fan of the band's output but have yet to see them live then you're in with a treat as they tear through hits like "Farther Than The Sun", "Show Me A Leader," "Rise Today","Blackbird"and what might just go down as their creative peak, the incredible "Isolation".
Add to that the performance of four guys who just fit so perfectly and are so fluent on stage and you have something truly wonderful to behold. If I had to pick a highlight it might even be the acoustic-fueled "Watch Over You",or maybe "Poison in Your Veins" – heck on any given day it changes!
It doesn't just end with a great concert though, this new release also comes with a host of rare tracks ranging from the never before released – like "Cruel Sun" and "Solace" (recorded during the One Day Remains sessions); to the previously exclusive tracks like "Breathe" (a Best Buy exclusive on The Last Hero) and seven other songs that had only ever been previously released in Japan before. You'll be more than happy with the quality.
A great live album from a band you really need to see live.
TRACKLISTING: The Writing on the Wall (Live) | Come to Life (Live) | Addicted to Pain (Live) | Ghost of Days Gone By (Live) | Cry of Achilles (Live) | The Other Side (Live) | Farther Than the Sun (Live) | Ties That Blind (Live) | Water Rising (Live) | Crows on a Wire (Live) | Watch Over You (solo acoustic) (Live) | Isolation (Live) | Metalingus (Live) | Blackbird (Live) | Open Your Eyes (Live) | Show Me A Leader (Live) | Rise Today (Live) | Poison in Your Veins (Live) | My Champion (Live)
RARITIES DISC: Breathe | Cruel Sun | Solace | New Way To Live | The Damage Done | We Don't Care at All | Zero | Home | Never Borne To Follow | Never Say Die (Outright) | Symphony Of Agony (The Last of Our Kind)
The album can be preordered here: http://smarturl.it/LiveAtTheO2Arena.