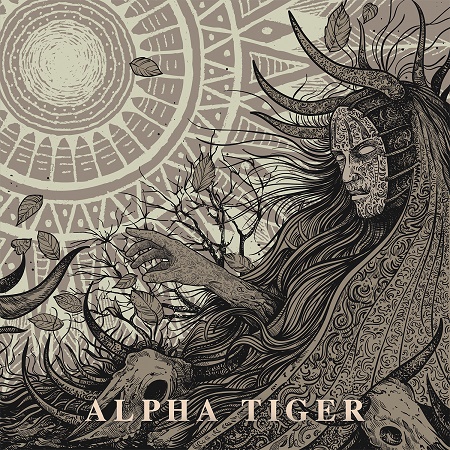 After a building opening piece 'Road to Vega' shot through with guitars and quite promising, it fades, and 'Comatose', a fiery melodic rocker bursts forth. At the same time as you were disappointed that the opening 'piece' came to nothing you are immediately intrigued by the contemporary Metal feel and traditional melodic structure of 'Comatose'. It's an opening salvo that somehow sounds strangely familiar, comfortably structured yet distinctive and fresh.
'Feather in the Wind' that follows it rides in on a swirling organ and a few crashing chords, threadbare and laid back with its simple guitar line and building vocal , it again sounds classically constructed, comfortable, yet ragged, classic yet still evolving. There's an uneasiness here that somehow manages to excite and comfort at the same time.
Alpha Tiger, of course, have gone through a lot in the last two years, releasing their previous album 'Identity' to great acclaim back in 2015 they almost immediately lost their lead singer and so this album sees not only a regrouping of sorts but also a resetting of direction to some degree.
After an interesting opening 'Singularity' rides a crushing beat before 'Aurora' takes the mood down again with its gentle Hammond core and waves of gently cascading guitar before morphing into a quasi-Metal anthem with a wonderful breakdown. 'To Wear a Crown' that follows gets closest to 'Identity' – a crashing Metal heart-starter that immediately clicks.
'Welcome to Devil's Town' carries a great groove and the Western infusion into the melodic Metal core works particularly well when those Spanish guitars kick in; while 'My Dear Old Friend' strips away everything to reveal bare 70's metal roots; and 'If the Sun Refused to Shine' backs it all up with another that feels more akin to the 'Identity' album. It's a great late trio of songs that probably are the highlights of the album for me.
All that is left is the closer, the appropriately titled 'The Last Encore',  that begins with spoken word and transforms into a glorious twin-guitar Metallic anthem.
This may well feel like a new era for Alpha Tiger and the fact that this fourth outing is self-titled suggests that might be the case. Still it's a new start that certainly won't alienate existing fans and one which brings on-board a few new sounds and textures that whilst not exactly signifying a new direction certainly points to greater experimentation and diversity to come.  You'll like this.