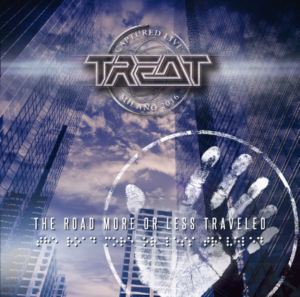 Some would argue that the veteran Rock band Treat is in the form of their lives – with last years 'Ghost of Graceland' finding its way into the hearts and ears of many a melodic rock fan. I was also quite partial to the previous outing 2010's 'Coup De Grace'. Thankfully this live album and DVD of the complete show at the Frontiers Rock Festival 2016 treads the ground nicely between old and new showcasing the best of the band's newer material along with the old classics.
Of course in a 14 song set you'll never please everyone especially the older fans but with the help of H.E.A.T.'s Jona Tee on keys the old stagers look full of live and in sparkling form. The new stuff as we said is very good indeed but you are taken aback somewhat when the old numbers hit: tracks like 'World Of Promises', 'Get You On The Run' and 'Ready For The Taking' haven't los any of their charm or impact and sound just as good today as they did back in the day.
This is a great souvenir for anyone who was there as it contains the entire set, it's I dare say, absolutely essential for fans and finally its also pretty much a must for anyone keen to  start an acquaintance with one of Sweden's more endearing and enduring Hard Rock bands ever to set foot on a stage.
TOUR DATES
March 31 –  High Voltage, Copenhagen, DK
April 1 – Oefenbunker, Landgraaf, NL
April 2 – Roxy, Flensburg, DE
April 4 – Garage DeLuxe, Munich, DE
April 5 – Kreuz, Obermachtal, DE
April 6 – Der Cult, Nurnberg, DE
May 17 – Shibuya Club Quattro, Tokyo, JP
May 18 – Umeda Quattro, Osaka, JP
May 27 – Kalos Festival, Madrid, ES
August 25 – Hair Metal Heaven Festival, Hull UK
TREAT
Robert Ernlund: Lead vocals
Anders Wikström: Lead Guitars and vocals
Pontus Egberg: Electric Bass and vocals
Jamie Borger: Drums
With Jona Tee: Keyboards