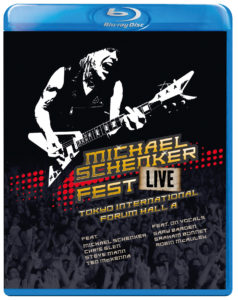 Of all Rock's great guitarists there are few that have had a career as 'colorful' as Michael Schenker and few that have been in the hot seat for two hugely influential bands before embarking on a solo career that in itself had such a lot to say. It's gratifying therefore to see that in 2017 Schenker himself looks to be in prime form.
Releasing a DVD seemingly for each major Tour in the past few years its easy to question why another release is essential to you average Rock fan, but if you're not a Schenker aficionado (and need them all)  then this might just be the one to add to your collection rather than the equally good quality but perhaps less truly memorable 'Temple of Rock' releases.
On 'Michael Schenker Fest Live' you get it all – not just the legendary material from the UFO years in the encore, but a stunning step back into the history of MSG, through all it's iterations – The Michael Schenker Group and the McAuley Schenker Group. The fact that onstage Schenker has  his three prime vocalist in tow makes things extra special. But not only that he's also joined by MSG veterans in the form of bassist Chris Glenn, Guitarist/Keyboardist Steve Mann and ted McKenna on drums.
In general the years have been kind to the assembled musicians: even if the years have weathered them somewhat musically the 'chops' are still there. As far as vocals go even if Gary Barden might have lost some of his range and power he still works well as Schenker's foil.  Robin McAuley on the other hand seems to have lost nothing, and Bonnet may have even gained something over time! It's remarkable.
It's an amazing night in Japan, and the set underlines the lasting power of Schenker's legacy. The icing on top though has to be the three vocalists run through the final encore 'Doctor Doctor'.
Essential.