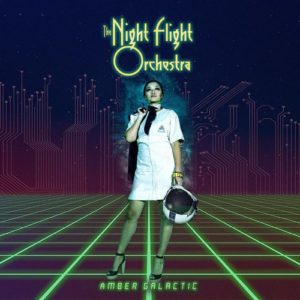 There's a lot of hype around 'The Night Fight Orchestra' and their brand of keyboard heavy, riff-laden vintage flavoured rock and when you first hear opening track 'Midnight Flyer' you get it. It sounds like the sort of American rock that pervaded the ate seventies – high on composition, high on melody and gritty enough to disappoint the parents.
in 2017 though its a very different story and you could simply see The Night Flight Orchestra as an anachronism, a throwback to times gone by, a reminder of our musical heritage. To be honest I love the anachronistic, I love the vintage, and whilst valve amps aren't an essential in my book, I can appreciate the desire to get back to the basics. Not that I'm suggesting these guys do that or should do that – the truth is they just sound damned good.
'Star of Rio' is another sure fire seventies rock winter warmer with  great backing vocals and huge hook, and the fun single 'Gemini' rounds off an opening salvo that is more than impressive! It's not all hit after hit though and they do misfire at times like on the tepid 'Sad State of Affairs' that has an almost 70's singer-songwriter feel to it without a big enough hook to make it memorable.
That's a rarity though as pretty much everything here has plenty about it even the rather sappy ballad 'Jennie' and the almost disco-infused 80's era Toto strains of the mid-paced 'Domino'. Best of all might just be the pop of 'Josephine' or the garage rock turns pop of 'Space Whisperer' which is a little out of synch with the slicker fare on offer here; but the only real disappointment is the epic (in length) closer 'Saturn in Velvet' which is a little too disco for these ears.
Great musicians playing music that really shows that the World of 70's rock was about much more than the big names.