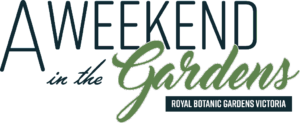 After the overwhelming success of its inaugural event in March, A WEEKEND In The Gardens continues to be embraced by music lovers with a rush for tickets to see PAUL KELLY, STEVE EARLE and MIDDLE KIDS when they went on sale on Monday.
The event on Friday November 17 at Melbourne's iconic Royal Botanic Gardens is now completely sold out.
More than 4500 music fans are set to enjoy an amazing night of music in Melbourne's newest and most beautiful concert setting.
Developed by the team behind the highly successful a day on the green winery series, A WEEKEND In The Gardens, Promoter Michael Newton of Roundhouse Entertainment says the stellar lineup across all three concerts will ensure this second event builds on the success of the first.
"The artists and audiences have responded enthusiastically to having a beautiful, intimate outdoor concert space in the Royal Botanic Gardens in the middle of this amazing city," Michael said. "Along with the Royal Botanic Gardens, we are very proud to be presenting Paul's only Victorian show of his national tour. We know it's going to be a very special night."
This sold-out show reinforces Paul as one of Australia's greatest singer-songwriters whose songs are deeply engrained into the Australian psyche. The 10-time ARIA Award winner just recently achieved his first ever number one album of his career with his latest record, Life Is Fine.
Tickets are still available for Saturday and Sunday's shows headlined by ILLY and MISSY HIGGINS.
EVENT DETAILS:
FRIDAY NOVEMBER 17 – SOLD OUT
Paul Kelly, Steve Earle, Middle Kids
Reserved Seating and GA admission (picnic rugs and low chairs permitted)
Concert runs from 4.00pm – 11.00pm
SATURDAY NOVEMBER 18
Illy, Thundamentals, Spit Syndicate, Birdz and hosted by Jesswar
GA admission
Concert runs from 4.00pm – 11.00pm
SUNDAY NOVEMBER 19
Missy Higgins, Dustin Tebbutt, All Our Exes Live In Texas, Harry Jakamarra
GA admission (picnic rugs and low chairs permitted)
Concert runs from 4.00pm – 11.00pm
For full event details, go to www.aweekend.com.au
TICKETS ON SALE from Ticketmaster.com.au & 136 100
Follow A WEEKEND In The Gardens:
www.facebook.com/aweekendofficial
www.twitter.com/AWeekendAU
www.instagram.com/aweekendofficial/
www.youtube.com/channel/UCZ2qSCnfEhYYaXWfOk3t8Rw
www.aweekend.com.au