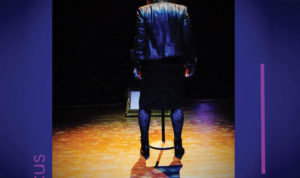 The best female voice in rock is back with the second instalment from her appropriately-titled 'Ann Wilson Thing' and whilst some may question the need, the relevance or even the intent of such a release the fact that it's such a low-key fanfare-less affair belies the fact that Ann is really doing this for herself.
All four tracks here are of course vehicles for Ann's amazing voice but there's a little more to it – 'Manic Depression' the cover of the Hendrix standard really gets under the skin of the song in the way few do, showing that Wilson has really made some wise choices here – songs she clearly loves and clearly relates to as well as really understanding.
The other cover – a slowed version of Gabriel's 'Don't Give Up' works almost as well and has a really laid back feel to compliment the urgency of the Hendrix.
The other two EP Tracks are originals, 'Fighten Fer Life' is a perfectly nice folky romp that sticks in second gear and doesn't really grab you in the context here, though out of context hold that thought – it would make an interesting album. Better is the Bluesier Zeppelinesque twang of 'Anguish' that simmers and roars and shows everyone why Wilson still has it and always will.
It's that last song that makes you cry out for an album!