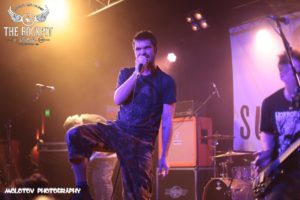 I was ecstatic to be seeing the return of Superheist tonight, having been away from the scene for near on 10 years and equipped with new singer Ezekiel Ox and Drummer Benny Clark. Tonight at what was once the famous Devilles Pad, now Badlands Bar, is going to mark their Triumphant Return. PS….Don't call it a Comeback, ok?
This Other Eden were first up to the stage. Dylan from the band Kastiell, who have a launch coming up at Amplifier on the 1st & 2nd December, filled in as lead singer for the night. He along with the Lofthouse Boys came out on stage with enthusiasm and fire. They were raw, energetic and enjoying every moment of their set. You would never have known that this band had a stand in singer, they were professional and brilliant. I fell in love with the song 'Only waiting' and move over Natalie Imbruglia because This Other Eden's Version of 'Torn' trumps yours a thousand times over. To have a band of this calibre start the night, I knew this was going to be a night to remember. Do yourself a favour and catch these guys again when they Headline in 2 weeks time, they blew my mind.
Next up we had Hailmary. Having just come back home to Perth after touring the UK supporting Ugly Kid Joe and Dallas Frasca, I expected these guys to be a little Jet lagged. But they showed no signs of it as they worked their way through the set like a well oiled machine, playing every song like they had been playing it for years.
Sparrow then exploded on stage with the most killer drummer I have seen for a long time. I couldn't take my eyes of him; he was tight and magnificent along with a very energetic guitarist that helped to show off what this band could do. Playing through songs like 'Sweet Tooth' 'Mirrors' and 'Wish' like they were the masters of metal. Sparrow were hard, heavy and everything you expected from them.
The time came for Headliners Superheist to fill our minds with sweet sounds. As the crowd chanted "SUPERHEIST" the stage darkened and the band came on stage to a flurry of blue lights. New Frontman Ezekiel Ox simply stated "7 Years Perth" and launched into the epic song 'The Fightback'. We've waited so long to hear the body rattling Bass from Drew Dedman and he didn't disappoint, playing bass guitar like the god he is. As they played 'Back to Base' Frontman Ezekiel decided he wanted to party with the rest of us jumping off stage and making his way to my direction standing in front of me singing to me. Then two punters took it him on their shoulders and carried him around while he never missed a single beat.
Seeing Ezekiel singing and jumping in the middle of the crowd was just pure metal gold. He really got us all excited, sweaty and loving life! They slowed it down just a little with new song 'Fearing Nothing' as the crowd surfing beach ball made an appearance. Along came amazing songs such as 'Running Away', 'The Deep End' and 'Liberate' which really showed off Guitarist DW Norton's skills also Mixing it up with a little Foo Fighters to end off the song.
The brutal heaviness continued with 'Check your Head Up', a little adlib rap which I was mighty impressed with and was quite hilarious. We were treated to a few more songs like 'Flick The Switch', 'This Truth' and lastly 'Pulse'. My head was spinning from one of the most brutal gigs I've ever witnessed. What a frontman, what a band, what a night!
PHOTO GALLERY
Photos by Molotov Enterprises And Photography