Melbourne mighty Progressive Metal giants, Ne Obliviscaris, return to Perth tonight for 'The World Their Canvas' Tour. We pulled on our very best black attire to catch these guys exceptional sounds
Support band Tangled Thoughts Of Leaving were first to engage our ears with a truly passionate progressive taste that made you cling to every note excited for where the songs was going to go next. The keyboards were on fire as their master commanded them with enthusiasm. An experience not to be missed.
Next up were The Ocean from Germany. They were tight and heavy with a superb metal chick Celloist. Usually a Cello can get drowned out with a heavier sound, not this one. The Cello was pivital to the sound of the band and I have to say a big congratulations to the guys for pulling this off, it's not easy, but The Ocean made it seem so simple. The voice from the lead singer was rattling and made you want to get up there and scream in his face right along with him. I really enjoyed this band, definitely check them out when you get a chance.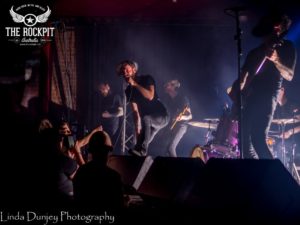 Now we come to the reason we are here. Ne Obliviscaris, Latin for 'Forget Not' (we certainly wont be forgetting them in a hurry) were magnificent with an eclectic array of sounds. Tim Charles' skills on the violin can not be beat, he played to perfection never missing a single note. I closed my eyes and was taken away to a magical plane, my every thought following the peaks and troughs of that violin.
Charles' melodic voice worked in perfect unison with that of Growler extrodinaire, Xenoyer. I couldn't take my eyes and ears away from this extraodinary music I was hearing. Drummer Daniel Presland was on point and tight with clean and crisp precision double bass work and excellent technique. A love affair of melody with heavy drums, tonight was a performance worthy of gold.
PHOTO GALLERY
Photos by Linda Dunjey Photography