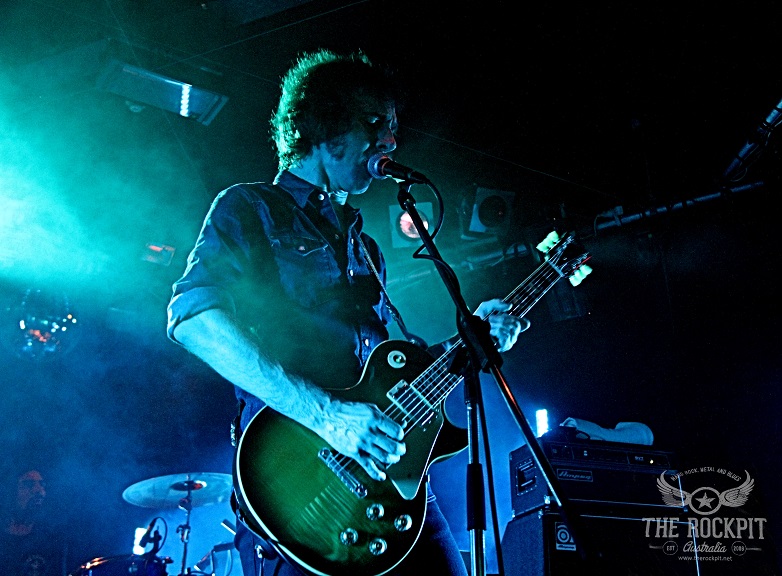 Texas rockers The Sword have been to Australia a few times now but never as a headliner, opening for Metallica in 2010 and taking part in the Soundwave Festival over the last few years. This time however in 2016, the band come back touring the smaller clubs as the main act in support of their latest album "High Country". A few of us were curious as to how the live show would sound given the change in sound on the new album but what we found was nothing short of The Sword at the top of their game.
Support acts for the night were a mix of local, interstate and overseas bands which was absolutely fantastic to see. Perth sludge metallers Bayou startd things off with their brand of southern sludge doom/rock, the last few times I had seen them they were nothing short of brilliant and tonight wasn't any different. They may be a little heavier than the others acts but they were still perfect openers for the show.
Like The Sword, American Sharks also hail from Austin, Texas and while I had not heard of the band until they were added to the tour, I had heard good things about them since. Their music was high energy stuff, moments of real American rock like Red fang and the like are found in parts of their music but there was also a strong punk vibe in their sound. Groove beats, fast and mid-tempo stuff, the band seemed super appreciative to be on stage in Perth, especially considering their previous appearance in Australia did not include the west coast. Many fans took to the band during their set and so it seems American Sharks have won over a new audience. Definitely recommend checking these guys out.
Melbourne band Clowns were up next and admittedly I didn't know what to think of them on first hearing them. But it became pretty clear as their set went on that they also had a strong punk vibe and to my complete ignorance on them, the fans were heavily into them. I'm not one to compare bands on the same bill as far as their music is concerned but they definitely tied with American Sharks performance wise. If you also haven't heard of Clowns, then there's another band you should check out too. It was truly one of the best lineups for checking out bands that are probably considered outside of the mainstream so add Clowns to your list for sure.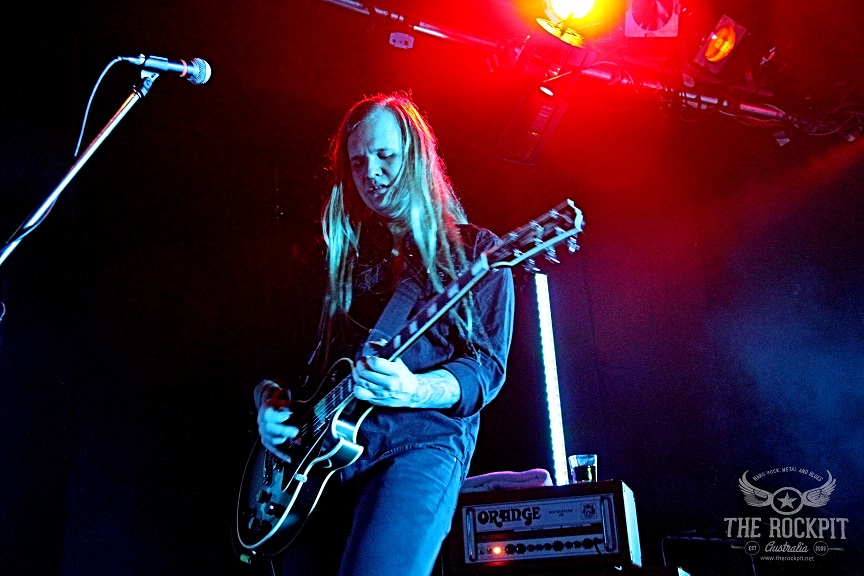 Of course everyone was here to see The Sword and without much hoopla and very little talking on stage by frontman J.D. Cronise, the band proceeded to kick everyone's ass like there was no tomorrow. A great way to measure whether a band is killing it live is the crowd interaction and there was plenty of singing along as well as the obligatory moshpit and crowd surfing.
A more than healthy amount of material from their latest album "High Country" filled the setlist while interspersed with older material from classic albums like "Age Of Winters" and "Apocryphon". How did the new material match with the more doomier, distorted tracks? Seamlessly really, if you didn't know any better, "High Country" pretty much continues The Sword's journey of classic rock. It may be a little lighter in parts here and there but other than that, it was a perfect fit. Songs like the title track and "Tears Like Diamonds" are simply great songs and still really capture that trademark style The Sword have always been known for.
Sonically, the band have never sounded better too. On previous tours, they always sounded great of course but this time around, there was a clarity in the guitar tones that simply wasn't there before. It didn't have that huge wall of sound but it was still as heavy as anything they had done before so any hesitations as to whether their new sound affected their live show was pretty much put to rest. Guitarist Kyle Shutt worked the guitar flawlessly while bass player Bryan Richie had a beautiful and rich bass sound which was felt through out the venue, seriously never has The Sword sounded this good. Whatever you think of the new songs and the direction they took with the sound, The Sword are still one of the best live bands around and this first show on the Australian tour proved it.
Catch The Sword on the rest of the tour in Australia and New Zealand:
Saturday 20th Feb / Fowlers Live, Adelaide
Sunday 21st Feb / Rolling Thunder Festival, Coburg VIC
Monday 22nd Feb / Max Watts, Melbourne
Wednesday 24th Feb / Max Watts, Sydney
Thursday 25th Feb / Max Watts, Brisbane
Friday 26th Feb / Bodega Bar, Wellington, NZ
Saturday 27th Feb / The Studio, Auckland, NZ
Tickets and tour details can be found at Heathen Skulls.
PHOTO GALLERY
Photos by The Buffman