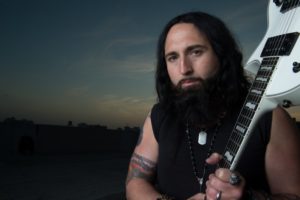 There are great guitarists, great vocalists and great songwriters, but Monte Pittman is one of the elite few who can truly lay claim to all three titles. With his fourth full-length, Inverted Grasp Of Balance, he has once again raised the stakes, delivering a riveting collection of full force metal that showcases his continuing evolution, undoubtedly expanding his devout – and ravenous – fan base. Monte answers a few questions for us in promotion for his latest release.
Scott: Inverted Grasp Of Balance is your fourth solo album now. What area would you say has been the most challenging as you continue to evolve as a solo artist – vocalist, songwriter or guitarist?
Monte: Definitely as a vocalist. I'm still figuring it out. I started taking vocal lessons before my second album ("Pain, Love, & Destiny"). For the new album, I started taking from Ron Anderson. He really helped me understand things better and what I was doing wrong before. I had been doing everything backwards before I saw him.
Scott: If a Madonna fan comes and asks "So Monte, I hear you've just released a new solo album, tell me what it sounds like?" How would you describe Inverted Grasp?
Monte: It's fast, heavy, and there's boobs on the album cover. You'll put the album on in your car and it's going to physically assault you for an hour.
Scott: Focusing on Monte Pittman the vocalist and songwriter, who or what have been your biggest influences? In particular for this new album?
Monte: A lot of Metal Blade bands. When I signed with them, I started familiarizing myself with all of these amazing bands I was going to be label mates with. Listening to that and getting inspired came out in the writing process.
Scott: We've picked three tracks that grabbed us from our first few spins of the new album. What springs to mind when you think back to writing and recording each of these?
California
Monte: I wrote this about a combination of things. The main story line was about when we did a Prong album in El Paso at Al Jourgensen's house and my friend, Doug Anderson, came to pick me up. That trip reminded me of when I first moved to California from Texas.
Pride Comes Before The Fall
Monte: Sometimes we can be our own greatest enemy. We can get complacent and that can lead to becoming stagnant. One of my best friends is a preacher. We grew up together. He's one of the good ones. He was telling me that actually comes from a Bible verse but I didn't know that when I wrote the song.
New Blood Keeps Alive
Monte: This one is about being together for so long and eventually growing apart. It started as a writing exercise where you write about what you see in front of you. There was a storm coming in, which is rare in Los Angeles. I watched two leaves fall from the tree in my front yard and land on the ground. They were connected when they left the tree. By the time they hit the ground, they had landed in two separate places.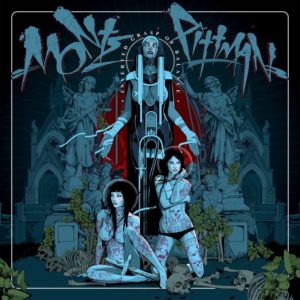 Scott: What led you to choosing Billy Sheehan and Richard Christy for this album, a couple of kickass players?! Are there any plans to take the new songs on the road?
Monte: We know each other through Metal Blade and management. Richard and I have the same managers. His band Charred Walls Of The Damned are on the same label. I was going to have a few different guests but schedules didn't work out. I definitely want to get in the road. I can't wait to perform this material in front of a live audience and mix it with my other material as well.
Scott: You've had a couple of stellar producers on your last couple of releases. This time you've got Jay Ruston on board, how did you find working with Jay and what did he bring to the album?
Monte: Jay is awesome! He helped with melodies, getting the right vocal performance, song structures, making decisions on sounds, and giving me room and freedom to communicate what I wanted the album to be.
Scott: Sean K Hughes, a fellow Melbourne, Australia native is on board for the cover art. Are there any key themes you in particular wanted to link through the artwork, album title and the songs themselves?
Monte: I gave him the lyrics to all the songs. And he drew the album from what he read. This is the first time I've had an album cover made from scratch for an album. We met at The Black Rabbit in Melbourne. Once I saw his artwork, I knew he was the guy.
Scott: You've had a busy time out on the road with Madonna in the leadup to this album. So are you the type of artist that can write and record whilst out on the road, or do you need dedicated time and headspace to be at your creative best?
Monte: I recorded my guitars for the album myself. I would record in my hotel room, in the back of the bus, and in the dressing room. This album was made all over the world. From Bangkok to Paris. From Phoenix to Tokyo.
Scott: Giving guitar lessons online is a cool thing you offer via your website. So we've got to ask, if you could take a guitar lesson from one of your biggest guitar influences/heroes who would it be and why?
Monte: Thanks! I know people have been teaching online but now I've got it all figured out. I can teach anyone on the planet no matter where I am on the planet. I've been teaching since I was 15. I've developed a method that gets quick results out of people and makes the world smaller in regards to the fretboard and what can seem like an overwhelming plethora of notes. Anyone can contact me at lessons@montepittman.com to sign up or if you have questions. If I had one lesson with someone, I would want a lesson with Jeff Beck. He has a unique style of playing. I think he's one of the best guitar players ever.
Scott: Tell us what you're playing at the moment guitar wise and of course feel free to share anything new happening with endorsements or signature model(s)?
Monte: ESP guitars. When I joined up with them, my playing improved. I play more often with their guitars. They inspire me to be more creative and try things that can be more difficult on other guitars. ESP's are easy to play and they sound amazing even if you're not plugged into an amp. I don't have a signature model with them. I love all the different models they have. The FRX is what first caught my eye. Their Custom Shop are making me a guitar now. That will be my main go to guitar when it's ready.
Scott: Thanks for taking the time to chat Monte. Enjoy album release day in a few weeks and hope to see you back here in Australia one day soon….ideally playing some of your own solo material!
Monte: Thanks! I hope to come play there as soon as I can.