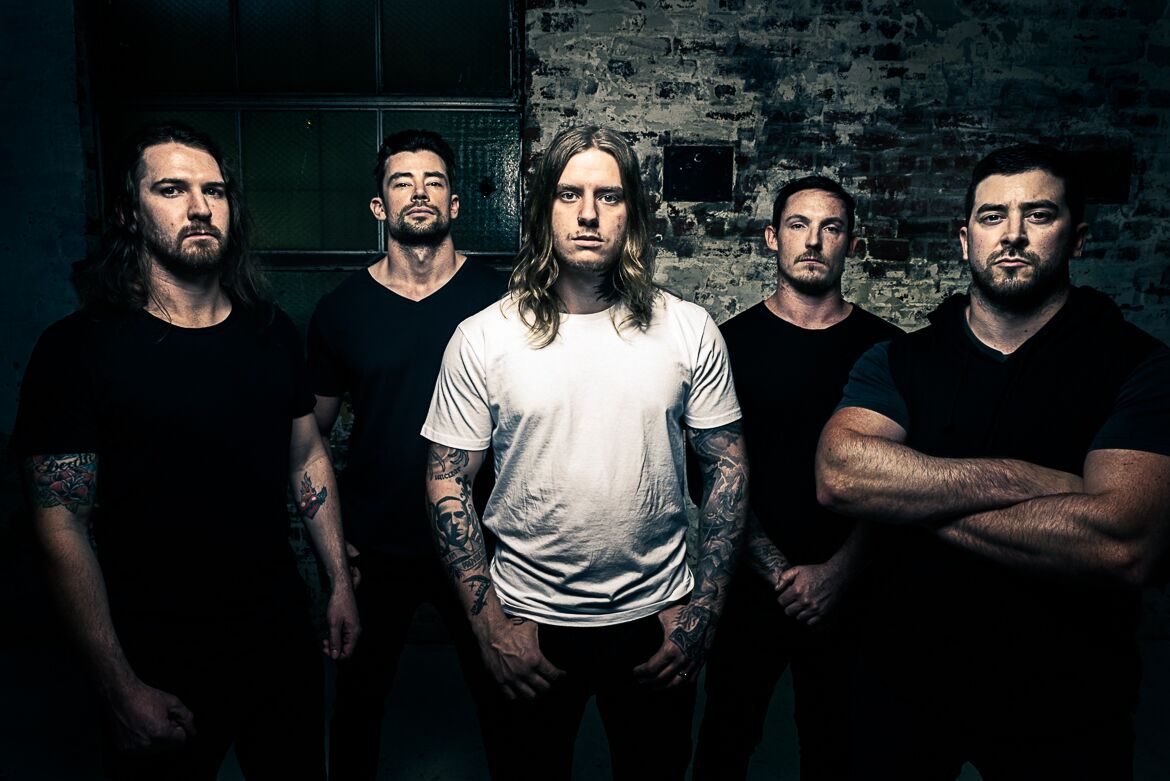 Since forming in 2007, Melbourne's Jack The Stripper have been assaulting audiences everywhere with their fierce and innovative brand of chaotic hardcore, a relentless work ethic and an atypical, ferocious on-stage prowess. They will be touring Australia over June and July in support of their new single & video "Nibiru", taken from their debut album, 2013's "Raw Nerve". We talk to vocalist Luke Frizon about the tour and being a band in the Australian metal scene.
RP: HI Luke! So what's been happening with Jack The Stripper of late besides the impending tours? Anything of note?
LF: We've been getting a pretty good response to the film clip we just released, we've been confirmed for Rockstart extreme fest in Romania with bands such as Cattle Decapitation, The Misfits, Parkway Drive, My Dying Bride. I don't know if we have mentioned that in passing with previous press but we haven't officially been announced until later this week. It's something new and cool to add into it and start talking about. It's on the grounds of Transylvania near Dracula's Castle, so it's very exciting.
RP: So I guess some of those bands would be some that you would look up to a certain degree?
LF: Oh yeah there is a lot of these bands that are playing in these line ups such as Rockstart etc, they are all bands we have grown up listening to and a lot of those bands I would consider bucket list bands. So yeah we are very fortunate and great full to be a part of it apart of that whole opportunity, at the moment we are locking down a few more shows to round everything out to get a good run. So we're basically going to be playing these two festivals and then driving around in a van, basic itinerary driving from show to show until our flights to Japan, play four shows there and then home to get cracking on a new album.
RPT: So how's it going with the new album? Are you able to speak about it at the moment or would you prefer to keep it under wraps?
LF: We're in the recording phase at the moment, we're really happy with how it's turning out so far. It's a lot darker than our previous release, it's also following a different structure. We've incorporated a lot more melody to it, I've started diversifying the vocal approach and start singing a little bit more. We've taken a bit more influence from some bands such as Atari Teenage Riot, between that and say Alice In Chains, Type-O Negative – that kind of thing so we're really trying to get a good breadth of every different type of influence but it's still going to be Jack The Stripper. The heavier are going to be heavier, the nastier bits are going to be nastier and the faster bits are going to be faster. The whole things is just dripping with piss and vinegar at the moment mate. Yeah it's going to be pretty nasty.
RP: I did a bit of research on you guys because I have been fortunate enough to hear you guys previously, a couple of months ago I even tracked you guys down just by doing a bit of hunting around and you seem to be getting some real serious and great press as you said earlier. What's your take on labelling bands? I mean, because you're sort of put with bands like Agoraphobic Nosebleed and things like that, do you sort of get pissed off with that kind of stuff or is it part in parcel of being in a band?
LF: For years people have been trying to put us in a box and essentially commodify the kind of sound that we're making. I recognise the importance of that to a lot of people to have it sort of categorised, have a place for it so they can mentally refer to it so it's, 'Oh that band and that it's that type of music.' We've been compared to bands such as Dillinger Escape Plan, Agoraphobic Nosebleed etc and while I know that we share influences, I like to think that we're fast Agoraphobic and you guys will hopefully be hearing that with the new stuff but yeah apart from that, there's not really much that we have in common with these bands. I found that it was pretty funny that for years people insisted on referring to us as similar to Dillinger Escape Plan, which was really that whole thing was really debunked when we played with them last year and people could see that it was just chalk and cheese. Not much similarity there. We don't want to be classified in particular as anything other than just a heavy band with a heavy message. That's how we sort of like to keep it. I don't have a problem if people want to try and put it into a box so it's them, it's their prerogative, I don't have a problem with that.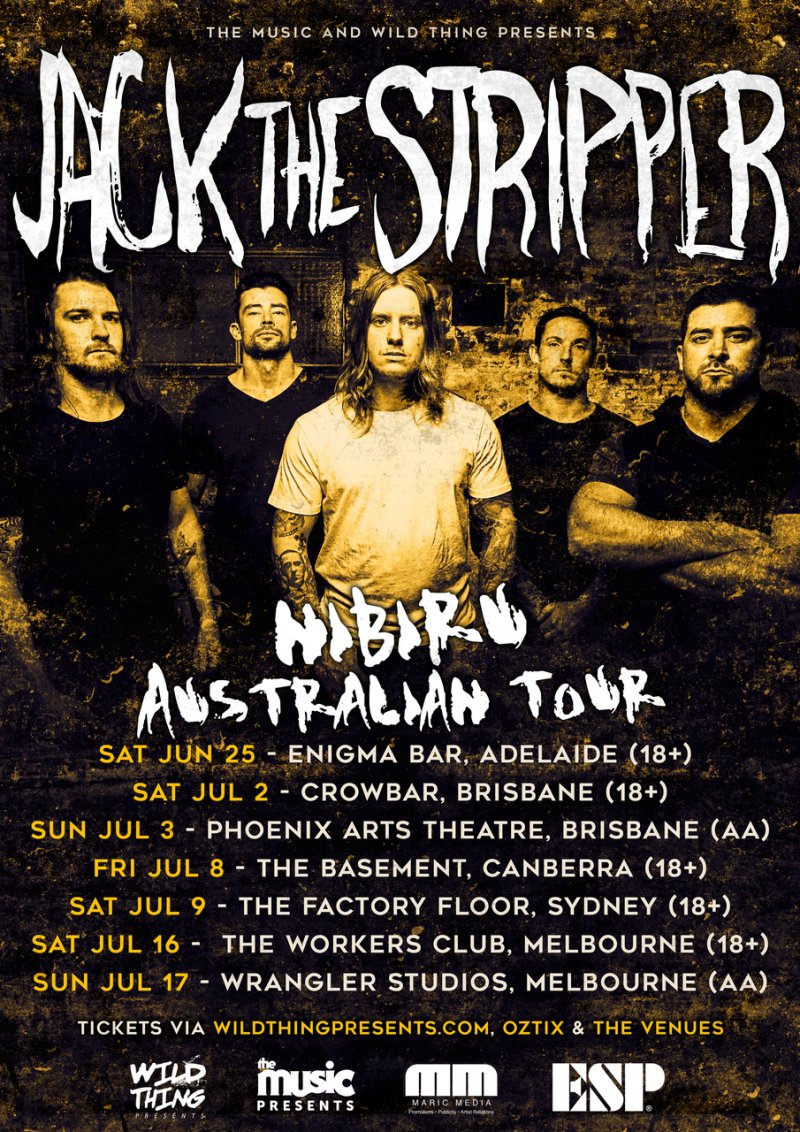 RP: And the other thing that I've noticed, I don't know if it's just me, but a lot of bands seem to be pigeonholed with Meshuggah, which in my book is getting a bit old and long in the tooth.
LF: Yeah I've noticed a lot of that comparison with a lot of the local bands being compared to Meshuggah, and while the phrasing, like those guys are the progenitors of the crazy phrasing like the heavy time signatures and the timing sequences that they do. Their stuff is theirs and as far as I'm concerned, can't really be touched by anyone else. When they were doing stuff like Chaosphere, that was like a whole different world to the one we're in today. It's funny that it's become analogist like a sort of chuggy, I guess kind of a djenty riff that these guys make the inevitable comparison but these kind of comparisons are more deep, it's pretty lazy. It's better to be just more descriptive about these bands like it does more justice to yourself and the acts you're referring to, just spending a little more time colouring in the blanks for people with good language instead of throw away comparisons to this band or that band.
RP: Yeah I couldn't agree more, and I guess my previous statement must be followed up by saying Meshuggah are fantastic, like you say it's a throw away comparison.
LF: Yeah for sure. At the same time like I don't ever let it get to me if someone was to say 'Oh you're like this band or act like that band' or whatever because like a lot of people, if they've got a limited access or they're just getting into things for the first time and that kind of thing like then, so that's fine. It's never going to be a slight on the band to be saying these kind of things but I reckon with the amount of information easily accessible that things are these days, it definitely doesn't hurt to do your homework even as a listener. It's a really rewarding experience and that's how I started out just hours and hours and hours just looking up these bands when I was a bit younger. That's how I found so many great bands over the time, bands like Pig Destroyer, Warning, YOB, all these were found just by trawling going through film clip after film clip, song after song, until you find something that really resinates and hits home with you as an individual. It's an incredibly cathartic experience when you find those kinds of bands.
RP: So following on from that with what you were saying about finding all these bands, I guess you could rattle off a million different international acts but who do you consider in the Australian scene to be doing something out of the box or out of the ordinary that is interesting? Just something that maybe readers might not have heard of or is there anything that's really grabbing your attention at the moment?
LF: Absolutely there's so many great acts in Australia. As far as the heavier side is concerned, I'll be honest I really don't get a chance to go much further than that spectrum in the last year or so but there's a couple of different bands that share members bands like Hawdal Maw and A Million Dead Birds Laughing are doing some fantastic stuff with the technical death metal side of things. There is a few bands that we are very happy to have board with us on this tour. Pretty much all of these support bands I've handpicked, I've selected them off the basis of how hard working they are as musicians and how they offer something different and new to the table. All these bands Drive Time Commute, Justice for the Damned, Demon Pyre, In Human Reminents, Sanzu, Make Way for Man ect. Every single one of those bands is doing something great, something different and more than that, like if you really want to get more out of a performance so if you want something really deeply thoughtful intrinsic music that goes through heaps of different passages, you've got bands like Circles etc. that are fantastic. If you want to go more down the grim part of things then you've got bands like Inverloch, Depart, they're just a world class band that get criminally overlooked even though they do outstandingly well in Europe and all that, they are sort of passed over a lot here because they are not in people faces that often. If you want to go out and just to make sure you have an entertaining night there's always bands like Life Pilot and Totally Unicorn, it's always going to be wild with bands like that. They go absolutely bonkers on stage and the stage is never the stage for them, they break the fourth wall, it's much like we do and just get in amongst it. That's my favourite type of performer to watch where it's sort of interactive and you're not just performing to the crowd, you're performing with the crowd and it becomes a big sort of experience on people that is shared instead of something that is just watched. That's the value between staying at home and watching it on youtube or facebook live feed and being a part of it as the band is out there and really gets you into it and be a part of the experience.
RP: I guess it's something similar to King Parrot as well you know.
LF: Oh yeah and not to mention Kind Parrot. They're one of the top bands that we've had come out in years and years and incredible work ethic from all of those guys as well. They've been enthaticable with their approach and it's paid off and paved the way definitely for other bands who have something a little bit different, to be able to be recognised and to stand up and get out there.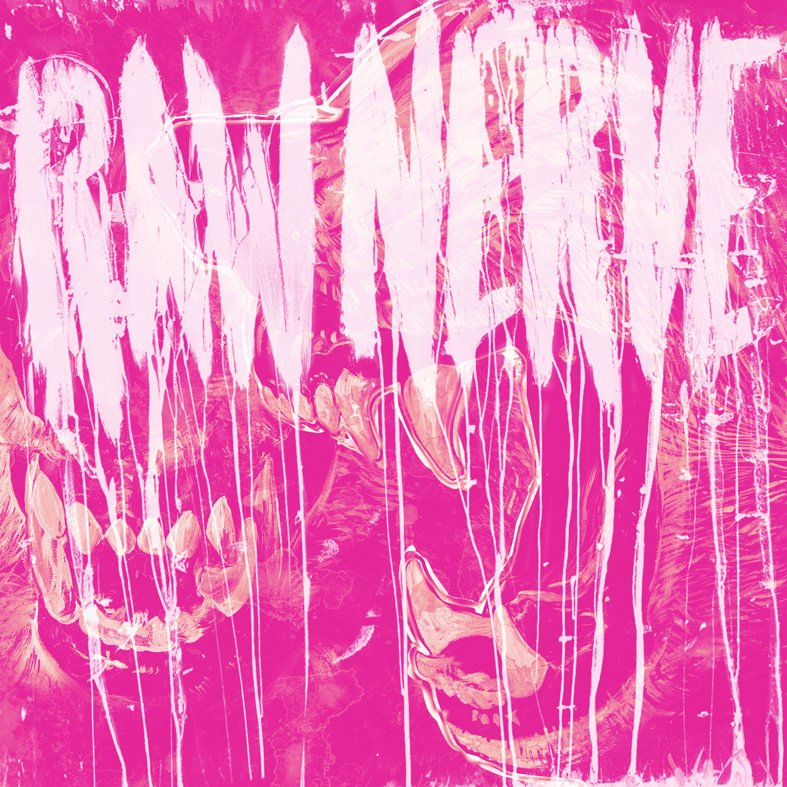 RP: So I guess without harping too much, what's the best and worst parts about touring and this is a double barrel question: I noticed you haven't hit the west yet, so we have a bit of a bone to pick with you there [laughs], or I do.
LF: I'm sorry we haven't hit the west yet, it hasn't been financially viable for us yet up until this point. We want to come later this year, we're yet to book anything in. So if anyone who is reading this who books shows, it's like us putting our hand up. I think we're open to suggestions and offers but Perth's got a great music scene as does all of Western Australia. I'm really looking forward to playing with Make Way for Man when they're down here and you've got bands over there like Iconoclast, Cursed Earth, Sanzu, they're all great bands. The best part about touring is definitely just the only way I want to see the world. If I was just going from country to country and visiting landmarks and whatever it kind of just feels out of context for me, I can contextualise my place in society based on entirely of the type of music I'm making. So to me it's just a logical progression forward in just trying to get the craft out there, hopefully get some people into it. Getting the chance to constantly go to new cities and meet new people and talk about their experiences, it's really rewarding. I think probably the worst thing is, I don't know…I think the travel really. The problem is we rent vans and most of the band weighs over 100kg so you can imaginethe room to move inside a 5 seater family van with a bunch of people who do body building and the strong man power lifting kind of stuff, it's just cramped. Unfortunately for Tim (Anderson, drums) who does a lot of active stuff with his work so he's pretty lean, about 80-something kg which makes him the little guy. Well he's not a little guy but he usually gets stuck in the middle in the middle back seat and is contorted into some bizarre form. We started making sure we're doing lots of stretches and getting massages before and after the shows otherwise you'll start looking like a crooked man.
RP: Is there anyone still in the industry that you would give your right leg to still work with? Maybe a producer or maybe another musician, the field is open.
LF: Well as far as production goes, I'm pretty fortunate that my personal favourite producer is in the band. I know that that may seem like a wacky comment but our guitarist Julian (Renzo) has been running a studio in Melbourne called Legion Studio Productions for the last 10 years or so. He's recorded all of our stuff, it's always like he puts a lot of himself into his music, into his recordings and always wants to take it to the next level in terms of commitment. I can remember when he was recording the Be'lakor album, we were in Tasmania and he's jumping out the van running into the forest to record bird sounds because they wanted bird sounds on one of their bits, he's just absolutely mad about it. I'm happy on that one and I'd always prefer to support local industry over running away to record with someone for the sake of some prestige that's awarded to you for it. From experience from what I've seen it doesn't always end up well. When it goes badly it is way worse to be dealing with that kind of thing via correspondence. Musicians I'd like to work with I don't know but King Diamond, fucking King Diamond! He's a legend, he's my favourite apart from Rob Halford, he's just my favourite. I want to write a creepy children's book with him or something like that just the way that they form their albums to me kind of reads like sort of those Goosebumps books I was reading as a kid. It's just as enjoyable as that. It's got the added quality of four octaves of falsetto and horrible noises with brilliantly arrogant guitar soloing thrown into the mixture.
RP: Just for good measure.
LF: Yeah it's a winning combination.
RP: That sounds excellent.
LF: So yeah expect to see Luke Frizon/Kind Diamond's creepy/spooky child's book coming out next year illustrated by Terry Denton. Yeah he'll do it!
RP: Look forward to it! Finally is there a message to get out to the fans?
LF: First off I've forgot to mention as far as favourite bands getting out there, throwing themselves into it, She Cries Wolf from Brisbane. They're incredibly passionate, they've got a little bit more sort of chariot kind of sound to them similar to bands like Chariot, Norma Jean. But yeah every time we've played with them, they've really blown us away with how committed they are to a great show. Message to the people who've stuck it out listening to us, is first off well thanks. Thanks very much for all your support. This band is everything to me so to have people identifying with the lyrics, coming the show, knowing all the words and all that sort of things, it's immeasurably awesome. I can't begin to describe how grateful I am that when someone comes up to me and says I have a Jack the Stripper tattoo, it is mind blowing. It's an incredibly validating experience which you know is the best job in the world, you don't get that with anyone else really. So yeah we know that everyone's been really patient with new music and we'll be bringing out new music as soon as possible. We can't wait to show everyone what the band's been up to. We'll be playing a couple of new songs on this upcoming tour. If you want to get an idea of what we are about, 2016 onwards, definitely come down to a show, suss it out for yourself, see if you like it. If you hate it, then still come anyway.
RP: Exactly! Come and have a beer anyway.
LF: Yeah and of course I look forward to seeing everyone there. Except Perth, sorry [laughs].
RP: Thanks Luke for your time, it's been really awesome talking to you. Looking forward to hopefully seeing you later this year, good luck with the tour and send our best to the rest of the band.
LF: Cheers!
JACK THE STRIPPER TOUR DATES:
Saturday, June 25: Enigma Bar, Adelaide
Saturday, July 2: Crowbar, Brisbane
Sunday, July 3: The Lab, Brisbane (AA)
Friday, July 8: The Basement, Canberra
Saturday, July 9: The Factory Floor, Sydney
Saturday, July 16: The Workers Club, Melbourne
Sunday, July 17: Wrangler Studios, Melbourne (AA)
Tickets and tour details can be found at Select Touring.