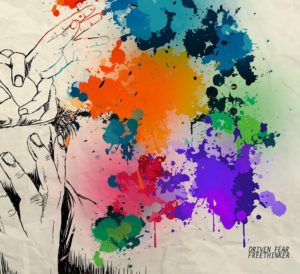 Now into their 12th year, Aussie Punk/Hardcore rockers Driven Fear release their latest effort in "Freethinker" which continues the band's sound of pure punk style. The title may suggest a secular tone in thought but there is more to the lyrics than what you may think at first. We take a closer look at the album and how it comes across.
Freethinker was mixed and recorded by Sam Johnson (The Smith Street Band, The Bennies and Mindsnare). The Gold Coast quintet piece influenced by Good Riddance have been around for over ten years and Freethinker is their fourth album.
Driven Fear's Chris Hyde said "The writing and recording process for this one was a little different, mainly because we had time and we were never going to release anything until we were all happy with the results. We really wanted to record again with Sam because he is so easy to work with as he knows this genre of music inside out and he understands the direction of the band."
'Freethinker' builds upon the original mission statement and musical styling of the band. The band wants their fans to know that "With this record, we really wanted to push the boundaries while still being true to what we have always been about".
The title of the album "Freethinker" although a term generally associated with atheism, was described by the band as more of a mantra of 'Exploring the idea of Free thought'. Throughout the energy fueled album you'll find provocative lyrics and high impact riffs. The album in it's entirety stays true to the exact genre of punk/hardcore with a few little melodic surprises . Track 3 "Crisis" is definitely a slower track but it leaves it's tune stuck in your head and has enough grunt to offer the edge you want.
The album is stated as being fueled by intense riffs similar in complexity to bands such as Comeback Kid and Defeater and this is as true a statement if ever. If you love that kind of stuff, then this album is definitely up your alley. Overall a great album that leaves you feeling lifted and ready to move. I predict at their upcoming show supporting Strung Out there will be no still bodies able to resist the clever beats and melodic breakdowns.
TRACKLIST
Falling Awake
Fireball (Mr Sinister)
Crisis
Dancing With Daffodils
In Care Of Pt 2
Built To Fire
A Bright Flash
The Red Hill
Hold On You
Stumble
Reach
The Feedback Loop