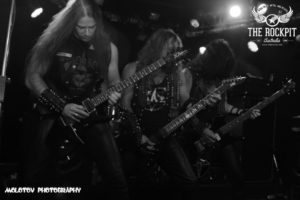 There was more spikes on stage in their fully clad outfits than there is on a railroad track but Aussie black thrash veterans Destroyer 666 showed more than just just shiny metal bits as they plowed through to the end of their Australian tour in Perth on Sunday night.
Destroyer 666 finally returned to Australia for a national tour in support of their latest album "Wildfire" which is a behemoth of an album, ferocious and vicious as any of their previous albums to date. The band hit the stage fairly quickly after great sets from local supports Bloodlust, Wardaemonic and Earthrot and proceeded to melt the crowds faces with some pure black thrash metal. The title track of the new album made an early appearance from the Aussie metal veterans who have since relocated to Europe some years back but judging by the stage banter during the show, they never lost their Aussie sense of humour one bit which was good to see.
The band mixed it up in the set with a few tracks from both old and new, "Traitor" from the latest effort one of the highlights while "Sons Of Perdition" from 2002's "Cold Steel… for an Iron Age" was one of the better tracks from the back catalogue. The band sounded on fire, KK leading the charge as they piledrived their way through a fast and ferocious set that eventually got the crowd in moshpit mode as the show progressed.
Venue curfew dictated an early night but that didn't stop the band's thrashfest from pushing on right to the end, complete with an encore that included a rowdy cover of Slayer's classic "Black Magic", a favorite among the black thrash elite. It may have been fast and heavy but Destroyer 666 did exactly what they came to achieve, give a real metal show to the masses that enjoy it old school style.
PHOTO GALLERY
Photos by Tammie Molotov – Molotov Enterprises And Photography