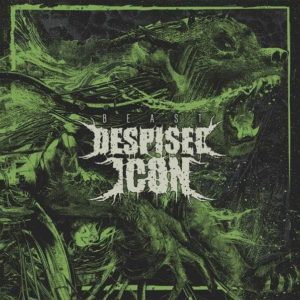 Canadian Deathcore legends Despised Icon return with a new album after a lengthy absence, 7 years after their last album "Day Of Mourning" was released. Despite that, the band seem hungrier than ever as we checked out their new album "Beast" which is due out on July 22nd.
Unless you've been living on another planet for the last few week/months you will know that a rejuvenated Despised Icon will be on your cd player very soon. The first studio album since 2009's "Day Of Mourning" and let's be honest, myself and many of you reading this never thought we'd see anything more from Despised Icon. However…the band are back in absolute blistering fashion and everything you have come to know love and expect from the band is here on brutal display by the truck load. From the pig squeels, the dual vocals, the breakdowns and the list goes on.
"The Aftermath" is off the chain and assured to bring on mosh pits and endless head banging, at the 3:00 mark you have been warned, absolute hell breaks out. "Drapeau Noir" has some gang vocals going on accompanied with chugging guitars and bass lines, "Grind Forever" speaks for itself, a complete mind bending full throttle experience with Alex Erian screaming "I am beaten but not broken!!". This is followed with the obligatory pig squeels and breakdowns so by now you can guess that there are no, shall we say 'slower' moments but really did you expect anything less?
I could continue to write for days and tell you how fantastic this album is but ultimately you the listening public will be the judge. Long time fans you will be out of your collective minds, even first time listeners will be gob smacked. I don't do this very often but it's a clear 10 out of 10 from me, the Montreal Kings have returned and 2016 is looking amazing for them!
TRACKLIST
The Aftermath
Inner Demons
Drapeau Noir
Bad Vibes
Dedicated to Extinction
Grind Forever
Time Bomb
One Last Martini
Doomed
Beast