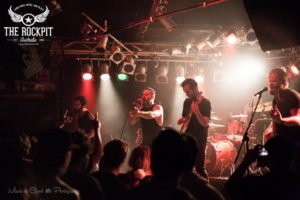 Caligula's Horse returned to Perth on Friday night as part of their 'Hands Shape Stone' Australian Tour which sees the band jump out of writing mode in preparation for their next album to bring fans a mix of the very best that the band have to offer live. With the inclusion of a new drummer and the widely successful "Bloom" which was released last year, Caligula's Horse sounded as great as they ever have.
3 piece instrumental outfit Bury The Heard opened the show and had a cool progressive mix with groove based rock. It's not often we get to see instrumental stuff and let alone with progressive tendencies but here was a band that did it fairly well. With a psychedelic ending to their set that's reminiscent of Perth's own Tangled Thoughts Of Leaving, they left an impressionable mark on the growing crowd.
Hailing from Adelaide, Dyssidia joined the show as part of their first visit to Perth and while things started off a little stale, the band quickly picked things up by the second song. Making a name for themselves in the press and having scored a spot on this year's Progfest, it was easy to see why the band are causing a few ears to perk up as their intricate songs and vocals that wildly sway from aggressive growls to softer melodic tones showed the band were serious about their craft. Borrowing elements from acts such as Dream Theater and Opeth, Dyssidia's range and complex music is fantastic and we hope to see these guys soon on their own tour.
Tempest Rising have been killing the pig lately, sharing the stage with such acts as Apocalyptica and Drowning Pool and those experiences along with a growing fanbase has translated into their live shows that are much more defined and slicker than when they first came onto the scene. Bridging the gap between nu-metal and heavy rock with a whole lot of anthemic melodies, the band are clearly firing on all cylinders and whether it's a supporting show for an international act or playing the locals, Tempest Rising know how to put on an energetic set and tonight was no different.
Brisbane's Caligula's Horse came out to a fairly packed crowd and went straight into their set that was filled with many of their well known tracks. Being this was the final tour in support of their album "Bloom", it was possibly the final chance we may hear some of these tracks live again at least for some time before they get kicked out and make room for new material which the band are currently working on. Sonically this band always seems to hit the mark and while we have never seen them perform in Perth outside of Amplifier Bar, it's always great to see a band make their sound pitch perfect on top of their performance.
Which speaking of, is as always, faultless. Jim Grey and co. know how to perform to a crowd and every song, old and new blended together seamlessly with that blend of heavy and melodic. Throw in a few proggy elements and what you have is Caligula's Horse and the reasons why they have become so successful in what they do. New drummer Josh Griffin fitted in perfectly, his drum sound was immaculate and certainly did the songs justice. A new song from their upcoming album which we were told would be a concept album, made the set and while it's not so overly different that it doesn't sound like them, it's also new and the crowd showed their appreciation not just for the new one but for the entire set. We look forward to hearing more of the new songs when they return!
PHOTO GALLERY
Photos by Mark De Groot Photography