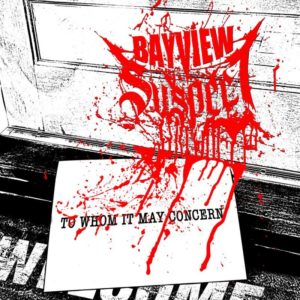 Sometimes the local metal scene can be saturated in what can only be described as mix of generic bands all fighting over their respective genres but every once in a while, a band can have the right ingredients that make them stand out a little bit more. Perth band Bayview Suspect have been described as the love child between Lamb Of God and Whitechapel and while that may true to a degree, there's something hooky about their sound that may venture a little past that comparison.
While Bayview Suspect has some "core" qualities that are tied to a band like Whitechapel, their sound is really more towards a groove oriented metal style that is reminiscent of the New Wave of American Metal bands that came out in the early to mid-2000's like Shadows Fall, Devildriver and of course Lamb Of God. Breakdowns occur here and there like in the track "Conflictions but its not stuck in the metalcore/death core sound through out. This track in particular is much more groove oriented that jumps around from mid- tempo to more thrashier stuff. Even a song like the opener "Earthrealm", by the end of it has landed into a more sludgey sound that's more death metal inspired than anything else.
"Traverse The Abyss" is a noteworthy track as it's melodic parts hint ever so slightly to more classic stuff like Iron Maiden or old Megadeth. It's not super melodic by any means though and that's where the metalcore comparisons really end as the band don't have this huge dynamic of super melodic traits with clean vocals mixed with a heavier aspect with a massive breakdown every 30 seconds. As said before, this is more groove oriented and the vocals are rough but focused, not screamo but not Corpsegrinder Fisher growls either.
"Lucid, The Mind Of" has a great title and it's only fitting as the track kinda borrows a lot of progressive elements which really leaves the door open for the band to diversify their sound for future songs and venture into other territories if they desired so. There's a lot of potential for Bayview Suspect here and we could see this band making a bit of noise in the metal scene in the future.
TRACKLIST
Earthrealm
Wither & Rot
Conflictions
Traverse the Abyss
Lucid, the Mind of