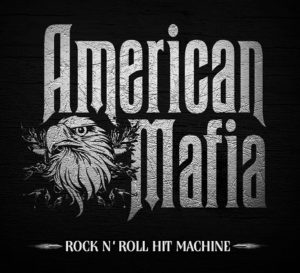 With a new album on the way this year here's a great album we somehow never got around to reviewing at the time…
Wow! Groove-laden, classic blues-infused hard rock with some killer guitars and killer vocals, it's just what you want to be listening to as you ride into the weekend. If you love your rock distinctly classic, meaningful and played like they mean it then 'American Mafia' is a band you cannot miss.
Listening to 'Obsession' the first track, which lays down a fat groove and serves as the best introduction to the band I get a little Foreigner in the vocals, and a nice funky, bluesy groove made to sing along to. But this isn't just a band with a few good tunes and a decent record, this is music rooted in the 70's that is being made TODAY, not only that it is JUST AS GOOD as some of those bands we all know and love from that era – it's all about the songs you see, and these guys have them in spades.
Just to give you the backstory…
AMERICAN MAFIA is the brainchild of guitarist Tom Jude and bassist Freddy Villano, and their debut CD, Rock N' Roll Hit Machine, is forged from the same sonic template as their '70s forefathers, specifically, Foreigner, Bad Company, Led Zeppelin and early Whitesnake, to name but a few. According to Steve Reid at seaoftranguility.org, American Mafia "craft an assured slice of various '70s rock that drips with authenticity."
Jude and Villano formed American Mafia after the demise of their previous band, Holy Water, a result of lead singer David Knight's untimely death early in 2014. Together with drummer Bobby Marks, Jude and Villano decided to honor Knight's legacy by enlisting a world class line-up of singers to help complete the record they'd started together. The names should be familiar to just about any hard rock aficionado: Don Chaffin, (VOX/Red Lamb), John West (Royal Hunt/Artension), Jimmy Kunes (Cactus), Mike DiMeo (Riot/Masterplan) and Ed Terry (Rondinelli).
Now back to the album…
'Every Time' has the sort of take on 70's Classic Rock that Bands like Thunder managed to capture at the end of the following decade, a sort of Bad Company vibe to a rousing rocker.  'Your Good Lovin' 'on the other hand has more swagger, a little more groove but a similar Bad Co vibe, so far, so much sheer class.
And like all the best albums, the deeper you get the deeper you fall whether it's for 'Death and Satisfaction' which starts out with some nice harp before bursting into a nice early-Aerosmith style barroom blues' or maybe the smouldering and heartfelt 'Friendly Fire'.
There's plenty of texture and variety too without straying from the essential Classic Blues-based rock feel. 'If I Knew' even seems to open with a little digeridoo (!) before taking up a Cry of Love/Black Crowes strut, whist 'Man on the Flying Trapeze' has a more vintage Whitesnake sound and 'Living For the City' offers a nice bluesy take on the Stevie Wonder classic.
And of course the rest is just as good from the light and easy 'The Sky is Falling', the atmospheric and passionate 'Let Me Go' and the acoustic building ballad 'All I Need' to the final word: the swampy guitar outro 'Resurrection', which with a second album on the way this year should be more than enough to have to on the edge of your seats!
This is damned good music, good for the ear and good for the soul.