ROCK N AMERICA FESTIVAL
ZOO AMPHITHEATRE,  OKLAHOMA CITY JULY 23-25 2010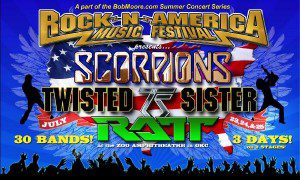 I had been looking forward to Rock N America for months. Little did I know that it would exceed all expectations. Brought to you by the team that put together the first three Rocklahoma Festivals we expected a lot, but ended up getting a whole lot more! If word of mouth can sell a festival the people we spoke to this year will be telling all their friends not to miss next years show. Over the next few weeks we will be adding more photographs and interviews from the festival, but first up the review.
ROCK N AMERICA FREE DAY THURSDAY
For some it all started a day early…  Free day Thursday is a great idea. It gives those of us that have flown in early a chance to check out the Zoo Amphitheatre venue and also to catch some local talent in the hot Oklahoma summer sun before the real fest kicks off on Friday. We collect our media passes from Lyndsay who, despite how busy she must be, has time to chat quickly and is a wonderful host throughout, as is her husband Mike who we chat to over the next few days.
The Zoo is just like the great grass amphitheatres you dream of as a kid, a big stage, concrete floored VIP viewing area, and then tiered grass sections for general viewing with concessions at the back. It's a nice spot, with great views from almost everywhere; the only shortcoming you feel is the distance to duck out to the third stage in this heat. Thursday starts early for us as we are staying with our friend Mike from the first band ever to play at RNA – Heaven's Rain.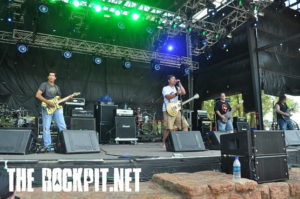 Heaven's Rain the first band to play RNA 2010
It's already hot as hell down by the stage and as good indication of the sort of heat we will get over the next few days. We stock upon water and make sure we stay pretty much covered up with plenty of sun-screen. And then it's time for the show to begin…
So when our friends HEAVEN'S RAIN take the stage to officially kick off the first ever Rock N America festival on the main stage they do so in front of a couple of handful of friends and curious locals. They go down well and for a band who are probably only playing their third gig since reforming they put on a great show. They may not own the stage but the music – a mix of Dokken and Stryper is a great taste of the music we will see over the next few days. The guys also get two more slots on Sunday on the side stage and as the opening band at the last after-party.
Today is a day to flit between the main and the side stage in relative comfort and get used to the excessive heat (it will get hotter) it also allows us to take a few breathers in the shade and take on a lot of water.
PLOW is next, from Kansas City and they have a heavy Nu-Metal take on things, shredding guitars and relentless beat with a confident front man. Whilst they may not be the quite the right flavour for the Rockpit, it's pretty entertaining stuff. "My Diary" their last song is a sure winner whatever type of music you listen to.
MODEL BEHAVIOUR (I think need to check) are a six piece with keyboards, look pretty young and sound completely out of place, starting like a very bad American Hi-Fi and producing what seems very out of place preppy Rock. By the end they rock out a little more and sound much better. Young kids with an identity crisis?
BAD THINGS have a grizzled look to them that says the blues even before they hit a note. They have a bleak Southern base with a few lumps of Motorhead and Sabbath thrown in. Again it ain't eighties rock, more doomy Molly Hatchet, but pretty entertaining, and they are great musicians. "Please Take My Soul" is good and "Fear to Tread" is a raucous minor-masterpiece. Think what would have happened if NWOBHM met Southern Rock.
QUEENS OF MONROE want to be Blondie meets Transvision Vamp and are pretty good at that but we wonder what they are doing on the bill. While I'm a big Blondie fan and can enjoy some of their set, we wander off to check out the rest of the facilities.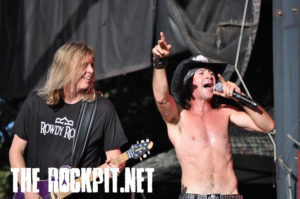 36 Inches had local support
36 INCHES are today's dose of sleaze. They number the guitarist from the band Erotic Suicide amongst them and indeed he puts on a great show. The band themselves are pretty well-known locally and come across as a sort of 80's styled sleaze band with some pretty good songs. Like Heaven's Rain it turns out they had monitor problems during their set and so do pretty well.
RISING WIND is one of the young bands to watch out for and live they kick some serious ass. Rising Wind easily get the best reaction of the day after the headliners with their blend of Maiden and Queensryche are their most relentless. There is also a healthy dose of modern influence in their music, think anyone from AX7 to Backyard Babies. Live they are magnificent, they work the stage well and completely engage the crowd. For a bunch of young Italian kids (who have varying degrees of English) they rock like veterans and we will get to see them again before the weekend is through.
RISING WIND stole the day for many who made it out on Thursday
DIRTY PENNY may claim to suck, but tonight they are the best I have seen them, last time being at Rocklahoma in a tent that was as hot as hell. It may be warm tonight but there's a bit of a breeze. Dirty Penny owns the crowd and the stage. It's possible that everyone here today loves them, they certainly get a huge reaction and it's nice to see them on the big stage, which they work well. The set is full of crowd pleasers and the crowd that made it to the free day Thursday have a great time. Roll on tomorrow.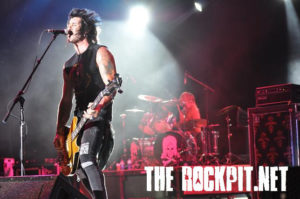 Dirty Penny loves OK
ROCK N AMERICA – FRIDAY
SWEET SHOW THEY CAN STILL ROCK, FASTER PUSSYCAT FINED, TWISTED HONORS DIO
SIDE STAGE: TOXIN / BULLET BOYS / FASTER PUSSYCAT / DIRTY PENNY
MAIN STAGE: LIZZY BORDEN / SWEET / TRIXTER / TWISTED SISTER


We sign in again on Friday and chat with Mike, Lyndsay's husband. Today will be a full day and we split up to cover as many of the press conferences as we can along with catching a day of bands I don't want to miss. Tonight also promises a great after-party at the Stone Garden with LA Guns. There are a good few surprises though today and perhaps most of all it is the performance of Sweet that stands out and an unexpected treat amongst some realy great bands.
TOXIN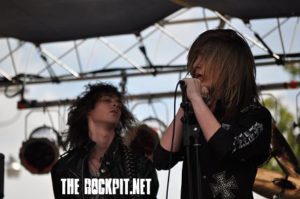 TOXIN shows the new generation how it's done
Toxin kicks off proceedings on the side-stage. They are back in the states after playing their biggest stage to date at the Bang Your Head festival in Germany. They have a cool 80's stadium rock sound, and are even younger than the guys from Rising Wind. With bands like these around Rock's future is looking good. Musically they hit all the right notes and go down very well with the crowd. Jason has a good rapport and distributes copies of their new single to eager listeners.
For such a young band they have a pretty good stage presence and their songs rock. Check them out at their Myspace and look out for a full length album soon. Managed by the same company as Twisted Sister, expect big things.
LIZZY BORDEN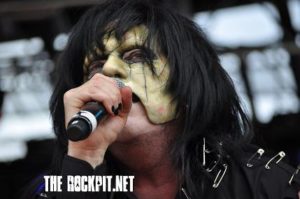 Lizzy Borden always put on a great show and in this heat it must hurt some! Lizzy tells me later that he did cut down the full cloak time- learning the hard way at Rocklahoma last year! I've never seen Lizzy put on a bad show and they don't disappoint, one day I'd love to see more than a festival set though as they have such a great catalogue. We get the capes; we get the blood, the full show in the beating heat. And the guitars are sensational; Lizzy must have a couple of the very best guitarists around playing for him at the moment. "American Metal" fittingly closes proceedings on a high. I don't think I'll ever get to hear Red Rum though! The crowd loves it.
After a brief break we rush off to say hi to Jason at the Toxin Press Conference. Consensus in the tent is that these guys have what it takes but that they have set themselves a pretty difficult task bearing the standard for our kind of music to the new generation!+
SWEET
SWEET – Surprise of the day.
The Sweet is a real revelation for the crowd. There may only be Steve Priest from the original band but the sound is amazing, and as we find out later the guys love a party and are enjoying the Garden of Evil later that night. They play all the hits and the crowd are in awe when they roll out Ballroom Blitz and Blockbuster, before ending with my favourite the classic Love is Like Oxygen. I'd love to see the other version of the band going around at the moment, if they are a patch on these guys put them on the 'must see' list.
The Twisted Sister Press Conference sees the guys all in fine form, joking around and generally entertaining the packed press tent. Attendance of the day for sure. Dee even kindly signs the card I'm holding while he's signing the guitars for the radio competition. I'd only been holding the card to look at the stage times that were written on the back, but it was serendipitous!
BULLETBOYS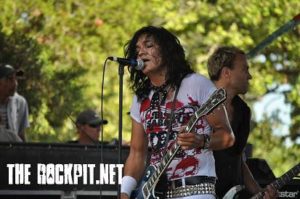 We only get to catch the start and the end of the BulletBoys set but they start beautifully with "Hard as a Rock" and to end without "Smooth Up In Ya" was unforgivable. There had been talk of the original line up playing this year but this version is not them. Still we are all pleasantly surprised by how good they sound and how nice Mark Torien is to us all when we say hi later.
I ask Lizzy in his Press Conference if he is likely to play down under any time soon, with this great line up of the band. He's open to offers and we chat a little later at the after party as I think I have someone who may be interested in putting something together. Now that would be something. As a lot of the press conferences were pretty interesting I aim to put together some highlights when I get back down under rather than try to incorporate it al here.
Next up it's a mad rush to photograph one of my favourite live bands of the era Trixter.
TRIXTER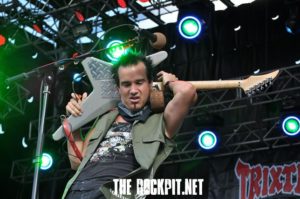 TRIXTER – underrated and always delivers live
Now Trixter has always been a band that never gets the credit they deserve. The production on their albums may not have stood the test of time, but the songs themselves certainly have and live these guys are flawless and full of energy. There's no PJ tonight as he's playing down the road with Lita Ford at a rival festival, but his stand-in (and almost look-alike) does a pretty good job and the guys romp through all our favourites like: "Ride the Whip", "Road of a Thousand Dreams", a particularly super-charged "Rocking Horse" and the beautiful "Surrender". You really have to catch these guys live if they come your way, for me one of the performances of the day and maybe the festival.
FASTER PUSSYCAT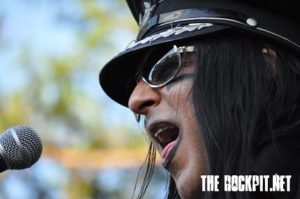 FASTER PUSSYCAT: with a slip of the tongue I'm in…
Faster Pussycat is on top form today, and it's probably one of the best performances I've seen that we get from the guys this evening. Tracii Guns has a bit of a chat to the crowd before the set and spends the show sat behind the speakers at the side of the stage. Taime seems to be particularly happy today and the crowd receive the boys enthusiastically. We get the usual mix of the old and the new (great to see a band willing to play their newer stuff). The crowd favourite though is clearly House of Pain which gets a great reception. Little do we know the drama that will unfold in relation to Oklahoma City Law later in the day…
We catch up with Danny and Chad at the Faster Pussycat Press Conference straight after. Both Danny and Chad are playing with both LA Guns and Faster Pussycat at RNA, as well as taking on a third tour of duty with Danny's band Motor Christ. Busy guys indeed.
I pass Chad a Rockpit card and let him know that was the best I've heard FP play in ages. We end up bumping into each other numerous times over the next few days but I never do get that Shrinking violet CD signed! On Saturday I ask him about the fine Dee Snider was talking about the FP guys got for 'cursing on stage' and how they were arrested and allegedly fined $50,000. He tells me that common sense prevailed and they got a warning after apologising but were let off the fine.
We all but miss the Trixter Press Conference due to the great Faster Pussycat set, but do get to come in at the end and have a quick few words with my favourite drummer Mark 'Gus' Scott (check out his website). We haven't been able to catch up with them before for an interview but hope to in a few weeks.
DIRTY PENNY
Dirty Penny rips through a great shortened set to close the side stage. This band is certainly a crowd favourite it's hard to believe that they were virtual unknowns back in 2007 when they played the first Rocklahoma. It's testament to all the hard work they have put in to get them here but also has a lot to do with the way they treat their fans. If ever there was a band that really does live it like they play it, these are the real deal. Tonight is probably one of the best sets I've seen from them, everything just seems to be aligned. Great show.
TWISTED SISTER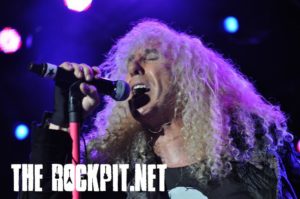 Twisted Sister can pick and choose where they play these days, last week Europe, this week Oklahoma. I'm not sure that they ever play a bad show but again tonight is one of the best I've seen. Shoot 'Em Down is an early highlight for me, but the crowd react best to the songs from the second record that ruled MTV in the early eighties. Dee is as usual magnificent as a front-man and his rant about the Faster Pussycat 'cussing' incident is typical Dee and of course perfectly directed. No make-up tonight, but a great stage show and wonderful set. Though I've never been a huge fan of their monster ballad The Price I even find myself singing long! The cover of Rainbow's "Long Live Rock and Roll" is also a fitting tribute to the great man on what has been dubbed Dio tribute night. It's a fantastic night and a great band to close out Friday. How can we top that? Well the night is still young after all…
FRIDAY AFTER-PARTY
I catch Jizzy before he goes on stage and find myself gushing about how big a Love/Hate fan I am and how I used to catch them all the time in the UK when I lived there. He's nice but obviously in a rush to play; and when they do get on stage even the more sceptical and die-hard Phil fans are amazed by how good these guys sound after a year together this time round. They run through the LA Guns standards and then it happens – they hit the first notes to "Blackout in the Red Room " and I am transported! A great set at the Garden of Evil and when I catch Jizzy afterwards he signs my Shrinking Violet CD and we talk some Love/Hate and why the original line-up just can't play the UK these days (it's hard when some of the band members are unable to leave the country, which is a shame).
LA Guns set is short and sweet and Jizzy and the guys look like they are having fun, but also that they can't wait to finish and party with the rest of us!
We also catch up with John Corabi who is in early and promises a great show tomorrow. He's a cool laid back guy and another we keep bumping into. Saturday he gives a great press conference and talks about how he didn't own a Motley record before he played with them and also talks about his body of work and how proud he is of it looking back and maybe that's why it is taking so long to find a permanent lie-up for his solo band. Next time I see him he's asking me if it's just him or does the corridor at the Stone Garden always smell like bacon. It's not just him I say- and he actually puts my mind at rest – I'd been thinking that all night!
It is a great opening night to the Festival, the after-party just makes it all the more special it is hard to believe that it is possible for every day to get better and better.
We go home tired and very, very happy.
ROCK N AMERICA – SATURDAY
THE SCORPIONS HAVE LANDED
SIDE STAGE: MOTORCHRIST / JOHN CORABI / PRETTY BOY FLOYD / LA GUNS
MAIN STAGE: STEELHEART / FIREHOUSE / MICHAEL SCHENKER / CINDERELLA / SCORPIONS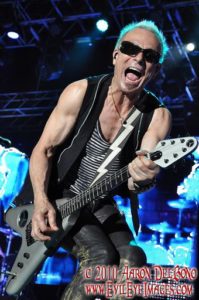 We sign in again on Friday and chat with Mike Lyndsay's husband. Today will be a full day and we split up to cover as many of the press conferences as we can along with catching a day of bands I don't want to miss. Tonight also promises a great after-party at the Stone Garden with LA Guns.
Saturday by rights should be the best day of the year- just a glimpse of the line-up confirms that, If you are an eighties music freak like we are just tell me that you can find a line-up better than this anywhere in the world. I win! Oklahoma and Rock N America are the place to be. Little do we know at this stage that the line-up is just a small part of the overall day we will have.
MOTORCHRIST
After a very late night talking rock with friends we have a bit of a lay in but decide that we cannot miss MOTOCHRIST Danny Nordall's third band (as he also plays with LA Guns here as welll as Faster Pussycat). If you like a bit of blues infused punk Ramones take on sleaze then these guys make it sound like they could be the best club band on the circuit. I grabbed a copy of the CD and intent full well to review it when I get back, but this was a real fun set and great fun on the side stage.
STEELHEART
Steelheart was the real start to the day and what a way to start the day! After a great little set by MotoChrist Steelheart literally blows us away. It's interesting to see honey and lemon-water laid out for him before they play; you can tell this is a guy who takes great care of his voice. Milli has to have one of the best voices in rock and today he sounds almost exactly the way he did back in the day. I truly feel sorry for those that have only heard of the band from the movie Rockstar and listening to those around me that haven't seen these guys before it is very clear they will check them out again. We get all the greats including "Everyone Loves Eileen"; "Sticky Side Up" and "Angel Eyes" in other words all aspects of a great an underappreciated band.
Every time we see these guys they get better and it's great to finally catch up with Milli backstage later in the day and thank him for the interview he did with us in June. He's a lovely guy. But if you ever get a chance to catch these guys take it, you don't hear music this good too often.
JOHN CORABI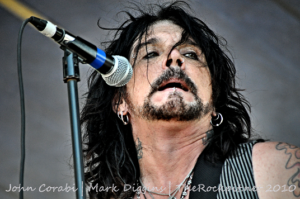 Is a real treat for me, as a fan of the Scream, Corabi-Crue and Union I have always wanted to hear this guy live. As he says in the press conference later if you look back on his career you will find that he had a hand in some great music, but we just want to hear what he is up to neat and it appears we will get that chance once he gets the balance of his band right. Today's set only hints at what I'm sure he is capable of but also gives those watching a helluva surprise. I absolutely love the Union and Crue stuff he fills out the all too brief set with and if anyone won a fans award for nicest guy at RNA John could well be the guy. An absolute highlight of the entire festival for me and someone you really must see whenever you get the chance.
MICHAEL SCHENKER
A big highlight for some comes when Michael Schenker takes the stage. He's toured the States a lot in recent years and we saw him in Phoenix last year. Today's set is pretty much the distillation of that. Something from every point in his career and he is on top form once again. For me though it is the run through the UFO classics that make this set worth the price of admission alone.
SCORPIONS MEET AND GREET & BACKSTAGE
We were gifted a meet and greet to the Scorpions this year (thank you) and even though it means we miss most of the Pretty Boy Floyd and Michael Schenker sets (was that last one planned?) we get to see so much more backstage waiting for the no hugs and no kisses Germans (funnily enough Rudolph and SCOPRIONS BASSIST Pawel Maciwoda don't seem to care when we meet them backstage outside the meet n Greet). We wait in line with the fans and get a grilling about our press passes, but hey this is paid for like everyone else and we are lead backstage, We have the same food the artists get and get to hang out at the artists beer wagon (where some almost get their meet and greet costs back), It's nice and shady back there and we get to say hi to a few people we know: Aaron and Evil say hi, before the Scorpions arrive and we get to say hi to Rudolf and Pawel who are only to happy to pose with us all. Before we know it Lita pulls up and we get a chance to say hi, but no photos! Then Carmine Appice says hi (he's playing with Michael Schenker today) but is whisked away before I can either get a photo or ask him about the King Kobra album.
Milli comes over to say hi, and I thank him for the interview we did with us recently. It appears the gig with the Doors down in Australia is still on, though we haven't heard anything official so far. He's just as nice as he came across over the phone and twice as cool. Then as if by magic CJ from Firehouse appears and we have a chat and a photo, Firehouse play one of the sets of the day and I am left rueing the fact that that I have only ever seen these guys on the festival stage. I could easily spend a few hours with their greatest hits.
Back in Perth 18 months ago we got to spend a bit of time with Xristian from Faster Pussycat and we have a long chat about interviews and how he hates the formal set up of the whole thing. Personally I am always intrigued by interviews with those that are not necessarily seen as the main draw of the band and so taking into account his reticence I offer him an interview over wine and cheese in a sensitive environment. He's a cool guy.
Carlos Cavaso from Ratt comes over to see if I can pour beer better than him, I can though I don't see him drinking beer I pour him a perfect glass and we have a laugh. Then there's time for a chat with Eddie Trunk whose influence in keeping the music we all love alive you can't really underestimate. It's he who asks for a picture and he lets us know his show has just been picked up in Australia which is extremely cool.
At the end of it all the Scorpions Meet N Greet is a bit of an anticlimax really. I get a few plectrums. Jo wins a T-Shirt, we get our photos taken with the band (no hugging no kissing, no handshakes, even though that was all cool backstage) , Still not sure what to think of the whole meet and greet thing though speaking to the rest of the participants here it was well worth it. (I'll let you know when we see the photos)!
FIREHOUSE
Is one of the bands of the day and were certainly a 'can't miss' for the festival. As we are backstage for the Scorpions I am lucky enough to witness my first concert from the rear as it were. I'll just say that these guys were just as good in reverse as they were from the front! You get all the hits and again I'm ruing the fact that these are another band I have only seen in a festival situation and would love to hear a full set by. Starting off with "Shake and Tumble" and peaking with a great version of "Don't Treat Me Bad" Firehouse are another band that hit the near perfection mark despite the afternoon heat.
PRETTY BOY FLOYD
Plays a great set which we unfortunately miss except for the wonderful "Rock and Roll"
Puts on a great show and despite what the truth may be about the rumour about him wanting extra money to play with his brother's band tonight it doesn't seem to affect his set, which takes the best of UFO, MSG and the Scorpions to really show what a great force he and Hermann (Ze German on drums) can be!
LA GUNS
LA Guns Closes out the side stage for the day with a storming set that draws heavily on the first album (which we love). Sadly there is no Love/Hate cover (that they played last night when I didn't think after-parties could get any better). I don't know what your thoughts are on the Phil vs. Tracii thing but tonight Jizzy and the guys put the ball back in Phil's court with a great set (in fact perhaps the best I have seen them since 1992). It's a shame the set couldn't have been longer as the guys seemed to be having a great time and the crowd are packed in like sardines, but the power gets cut at the designated time and the crowd makes it's way to the main stage to get ready for the return of Cinderella.
We manage to catch the Steelheart and John Corabi Press Conferences just before we rush out to shoot Cinderella in the dark skies.
CINDERELLA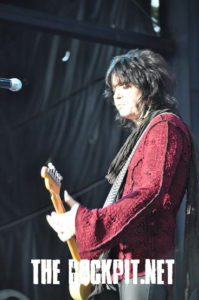 Are an absolute joy to shoot afterwards we lay back on the grass and it's like the dreams I had as a kid of seeing a big festival in the States, magical. Very much one of those moments you will treasure forever. To be honest it is a huge relief that Tom is OK and singing again and whilst he certainly doesn't overdo it he sounds pretty much like he always has, just maybe that he's keeping a little back. This is my first Cinderella show since the Monsters of Rock festival many years ago and so I am pepped up with anticipation. They don't disappoint from the front row to the back the people here today love this sort of rock and so do we!
Being a festival set we pretty much get the expected hits from the first three albums: Don't know What You've Got gets the lighters in the air; Shelter Me supplies a shot of blues and Shake Me and Gypsy Road have the whole lot of us singing along.
See Cinderella in 2010 headlining if you can- if not catch them on the Scorpions tour supporting on some dates.
SCORPIONS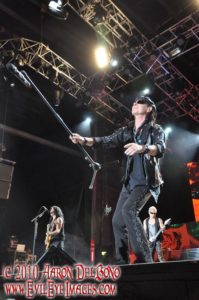 After a wait of what seems like years to some, we finally get to see the Scorpions on this their last ever your It's a great to see such a packed VIP area and the anticipation is high. When they finally hit the stage it's dark and they open to one of the strongest tracks off the new album in "Sting in the Tail". The stage show here pretty stripped back for what we will see later on the tour and there is last minute confusion for photo pit access which ends up meaning that only two photographers get in and the rest of us are left to shoot from the VIP area, which being so packed is less than ideal. That aside it allows us to enjoying the show a little more knowing that theRockpit.net have one in the pit!
It must be hard to pare down a set-list for the festival, but we still get a few gems. For a start we get "The Zoo" (at the Zoo); and a rocking "Blackout". Michael Schenker joining the band with Hermann Rarebell for Another Piece of Meat though has to be the highlight for me. We also get to see the Kottack Attack, surely the most entertaining drum solo you will see, We get smoking guitars and the famous Scorpions human-pyramid (I thought they were bigger than that). We round out with my favourite Scorpions track: "No One Like You" and "Rock You Like a Hurricane", which gets the reception you would expect as the crowd goes wild. The one serious omission being the non-inclusion of Still Loving You, which the crowd are calling for and which we know that the guys have played live this tour. As Pawel their bassist told me earlier in the day 'that one is down to Claus', I guess it does hit some big notes!
As we walk back to the car it's hard to imagine Sunday topping that, and tonight there's still the after-party to come. This Rock N America Festival is delivering far more than we imagined and he had pretty high expectations!
SATURDAY AFTERPARTY
The Saturday after-party is a bit of a blur and seems to be over so fast. We catch up with lots of old friends from previous Rocklahomas, as well as bumping into a few of the bands again. John Corabi stops me in the corridor on the way in with 'Is it just me or does this corridor smell like bacon?' I assure him that it does indeed small like bacon, though the reason for that at this point eludes us, maybe bacon smugglers I suggest?
We get to say hi to Chad (Faster Pussycat, LA Guns, MotorChrist) again where he confirms that FP got off their charges; we spot Milli at the bar say hi briefly but he's surrounded and shortly after he makes a retreat to his room. Everyone is having fun and the music provided by Dirty Penny and Down N Dirty (another crowd favourite from past Rocklahoma Festivals) is great.
We also get to chat with Lizzy Borden before the evening is out and he's interested in playing down-under if the right offer comes. He's a great guy with a great sense of humour and while I'm struggling to remember a track off the "Love You to Pieces" LP I had, he runs through his discography for me! And then all too soon it's over (well it is 4am) and we head back home after another wonderful night at RNA.
ROCK N AMERICA – SUNDAY
LYNCH MOB & DOKKEN – Will THEY? RATT ROCK OUT 2010
…AND THEN THE AFTER-PARTY
SIDE STAGE: DIRTY PENNY / TEXAS HIPPIE COALITION / LILLIAN AXE / GILBY CLARKE / LYNCH MOB
MAIN STAGE: WARRANT / SLAUGHTER / LITA FORD / DOKKEN / RATT
After the usual breakfast of Hostess Cup cakes and Gatorade we are ready to hit the road, and Sunday ends up being our earliest start and latest finish by far. It's also the day of the festival for most of us.
HEAVENS RAIN really kicks of Sunday for us, and it ends up being a pretty long day for the guys. They seem to get better every time we see them and playing the third stage this morning with an impressive and supportive crowd seems to suit them and warm them up for this evening when ultimately they will (unknown to them at this time) be opening for non other than George Lynch. Be sure to check out our review of their demo up shortly.
We hang around but MOTOCHRIST don't show up which is a shame as I liked what I had seen earlier. The only alternative is DIRTY PENNY who we have seen twice already so we head for the press tent and I have a chat with Brian from local radio.
WARRANT
Warrant has always had the songs and in Robert Mason they have a new lease of life. Most will remember Robert from Lynch Mob and the excellent Big Cock who graced the last two Rocklahomas. He's a great front-man and the band play a set that makes you wonder why they aren't higher up the bill. "Cherry Pie" is of course the cherry on the top… (sorry)
LILLIAN AXE Press Conference sees the band in high spirits looking forward to playing something for us from the new CD. Steve is always interesting, but it's a shame that Derrick doesn't appear, with this being the last show for him before Ronnie Munroe takes over touring vocal duties. I suppose it is a bit of an odd situation especially with a new CD out and on sale here today for the first time. We hope to catch up with Steve for an interview in the near future. We stay in the tent for LITA FORD's Press Conference and Lita and family turn up for what turns out to be a pretty entertaining ten minutes: we get to hear all about the island and the new TV show and Jim and the kids keep it fun.
SLAUGHTER
After the Slaughter press we get to see Mark, Dana and the boys on the big stage. The clouds may be starting to gather but the heat out here is intense and Mark is showering himself with water. I have been warned that Mark's voice isn't good at all, but to be honest whilst he may not get to near the high notes during a tuned down "Fly to the Angels" he's still very listenable despite the worst feedback problems I've heard in years the band put on a nice show. Slaughter has some great songs that sound even better live and it's always cool to see a bassist with a flying V bass! Mark getting out there in the crowd also wins over the masses!
One of the big 'surprises' of the day is the Vince Neil cameo on 'Up All Night' which could very well be the theme song to this festival. It's nice and brings a great reaction from the crowd, but guesting on gang vocals on one song? It seems like a long way to come for that!
LILLIAN AXE
Despite an incredibly short set, Lillian Axe pulls off one of the shows of the festival. There are a lot of people curious to see them and a lot of people who have seen them before determined to get up front! We get a selection of the old and the new including the new single "47 Ways to Die" from the Deep Red Shadows CD which I think has only gone on sale today. As always it's a great set, far too short though as the rain begins to hammer down! The funny thing is despite the rain I don't see anyone leaving, until the stampede starts when the last note sounds. Steve can be seen later in the day watching the rest of the bands from up near the merchandise stand.
GILBY CLARKE
We almost miss Gilby; it's a shame as he sounds pretty cool live. I guess it was a mixture of the fact that it was raining pretty hard and the fact that this was the slot that ENUFF Z'NUFF should have been playing (always one of the main draws for me). Between shielding my camera from the rain and waiting for Lita I listen to a few songs, this is after all a man I last saw in front of 75,000 people in 1992! The crowd may not be as big and there is no red-head in a kilt on stage with him but despite everything he's rocking out and draws a sizeable crowd to the side stage.
LITA FORD
There's still some rain around by the time Lita takes the stage, though by now I have my poncho on protecting the cameras. Lita and rain seem to go together though and I'm determined to catch her show to the end this time unless the flood reaches Rocklahoma proportions!
Despite a few keyboard issues she puts on a pretty good set. I never even saw Lita back in the day so I have no real point of reference, but "Kiss Me Deadly" that she finishes up with still sounds great and her family show their support from the side of the stage.
RATT and DIRTY PENNY entertain us in their respective Press Conferences, Ratt for their wit and charm, and Dirty Penny because they appear to have attracted a number of 'tired an emotional' refugees to the press tent who can barely get their questions out. They stay on for the LYNCH MOB press and George seems part amused and part mystified as to who the drunk guy is who can't quite get his questions out in a coherent sentence, and who seems to think George is solo. It's all fun though and George gently brushes it off!
DOKKEN
I don't care how much people criticise Don about the sound of the band, or his voice or whatever he puts on a great show and though he can't sing it like he did in the eighties he's still got a great warm voice. My only criticism with him as a long-time Dokken fan is the set-list which even I can now recite and sing in my sleep. I love some of the new stuff he's released over the last few years and I am certain that there are plenty of others like me who would appreciate something off the great "Lightning Strikes Again" album. The hoped for cameo by George Lynch that I had dreamed of since hearing the line-up unfortunately doesn't happen.
LYNCH MOB
Lynch Mob just tear it up. Odd that they come on straight after Dokken, and I move into position early to see if I can pick up anything from George whilst he's tuning up and Dokken are still playing, but nothing and Don doesn't come over to listen either. It would have made my festival if those two guys had just got together for a song!
As a band Lynch Mob are about the tightest unit of the day and of course George is awesome and bounces a pick off my head (or so I think) that I find lodged in my hair during Ratt. "Wicked Sensation" remains one of the greatest songs ever written!
RATT
I've seem good Ratt, I've seen bad Ratt and tonight we get pretty good Ratt. It's not a band I would have chosen to close out the last night of the inaugural Rock N America having seen them so many times over the last few years but to be honest I think this is the best I've seen them lately and the crowd loves them. As a fan of the really old stuff I'm pretty happy with the set and I actually love the new album. Ratt is also a great band to see if you are a watcher of stagecraft and they use the stage like few of the other bands have this weekend. We get the hits you expect and Pearcy is moving better than you would expect from a man who cancelled European dates earlier in the month due to hernia surgery. All in all it ends up being a great close to the festival proper and we are whisked away to the after-party by our hosts.
SUNDAY AFTER PARTY
The Sunday after-party ends up being one of the highlights of the Festival for me and I think a lot of people who made it there won't forget it in a hurry either. For a start we get to see our friends from HEAVENS RAIN who have been nervous all day pull off the best set they have played at RNA with their Dokken-flavoured Stryper-like sound. They should be very proud of what they have achieved with very little practice and we hope to get to see them again next year.
RISING WIND has everyone asking 'Who are these guys' and benefit from a room filling up with those who have come down from The Zoo. They play a blistering set of Maiden-like metal to a crowd they have either previously converted or are being in front of our eyes. It's hard to know how far these guys could go with the right backing and when I interview them later tonight they can't say enough good things about the experience of coming to play in the States.
It's about half way through the Rising Wind set that rumours start flying around about a special guest tonight. First it's said to be Don Dokken (who we know has already retired to his room) then there is the word it is none other than GEORGE LYNCH. I stand there incredulous for a while until George's tech comes over with his guitar case and opens it up to reveal 'The guitar', George's Tiger-stripe. Steven the guitarist from Heaven's Rain and I look at it in awe and quickly take a few pictures. We are told it is OK to hold it and it is so heavy. Then it's back in the case.
The wait for George seems to be over in an instant and we are treated to what I can only describe as a once in a lifetime experience. George and co rocking out, playing everything from blues to Van Halen's "Ain't Talkin' 'bout Love" and a cameo from Bobby Blotzer from Ratt who had been watching from our side of the stage with Robert Mason. And after George and co have 'left the building' PRETTY LITTLE SUICIDE a very late addition to the evening round out the night.
It has been a truly great night and a wonderful end to what has been for me one of the most memorable concert experiences in many years. I just hope that the word gets out because these guys at Rock N America sure know how to put on a rock concert.
THANKS
We owe so much thanks to many so many people it would be impossible to list them all and I know I would forget someone really important so I thank you all! Special thanks must go to Lyndsay though from the RNA Team who made this all possible for us and to Mike from Heaven's Rain for putting up with us!, Aaron my photo-pit buddy and Evil for her Garden!. We hope to see all of our friends again next time!