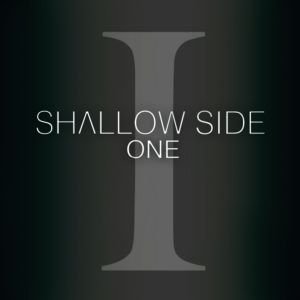 A new name to some, Shallow Side already sounds like a band that many will be sitting up and taking notice of in the near future. IF, that is they can get the balance right. Shallow Side you see does have something different to offer but they also have a tendency to lay back a little on the poppier, more radio-friendly aspect of their sound.
As an album it's one where I can see immense promise, there are songs on here that will move you, BUT on occasion the eyes do seem to wander and pay a little too much attention to mainstream rock radio.
Opener WE ROLL is a case in point, it hits you nicely with a crunchy intro like Rivals Sons met Kings of Leon but it then gets a little too comfortable and rather laid back, and maybe even a guilty of being a little too shiny and radio friendly. It's similar territory for REBEL, the first single,  which starts with a voice, then drums and guitar crash in and you think you are onto something before it eases back into a tight rock pop groove that isn't half bad. Not a million miles away these two songs but one gets it so right and benefits from the extra crunch.
RENEGADE – (ironically a Styx cover) is where you feel they hit the nail on the head – light and atmospheric – then interestingly rocky and funky almost veering into what might become 'Living Colour' territory. It's topped with a rather nice solo and just maybe the best here just for the idea, the execution and the dynamics. FIGHT OR FLIGHT is a little heavier, a bit ballsy: still full of groove and funk it sits nicely with RENEGADE in that respect yet breaks down into a poppy refrain that partly saps the power of the heavy counterpoint. Saying that it will certainly work for other listeners
The ride home begins with CAN YOU HEAR ME – again there's that funky start, and  again it's offset by pop. The songs here on 'ONE' will either soar of stutter depending on your tastes. For me I love a lot of parts but think the pop aspects can water down the songs, not because I don't go for pop but because those pop sounds don't have the passion or the individuality the cool funkiness and heavy touches offer.
The EP closes with START A FIRE – there's a really warm and pleasing a bluesy aspect to the start of the song together with a funky intonation, you feel a real fire for a moment but again that fire is diluted by the 'pop by numbers'.
Don't get me wrong this is a band who are certainly onto something, but they have a sound that somehow seems unresolved, like the pop element is there because they think and have been told it should be there, not like they believe it should be there. If I was to bet on a band finding there sound on a second release I'd bet on Shallow Side.
Did I mention that I loved the drums most of all?
UPCOMING TOUR DATES
01-13-17 in Cullman, AL at Cullman Civic Center (CD Release Show & Kick Off)
02-01-17 in Knoxville, TN at The Open Chord
02-02-17 in Johnson City, TN at The Hideaway
02-03-17 in Spartanburg, SC at Ground Zero
02-04-17 in Jasper, AL at Jars 64
02-08-17 in St Louis, MO at The Firebird
02-10-17 in Junction City, KS at The Devils Tail
02-11-17 in Omaha, NE at Shamrocks Pub
02-12-17 in O'Neil, NE at The Chesterfield West
02-13-17 in Sioux Falls, SD at Bigs Bar
02-15-17 in Colorado Springs, CO at Sunshine Studios
02-17-17 in Las Vegas, NV at Radio Contraband Convention (performing awards night – private)
02-19-17 in Scottsdale, AZ at Rock Bar
04-29-17 in Las Vegas, NV at M Resort Spa Casino (Rock Into Spring)
05-27-17 in Madison, WI at Alliant Energy Center (Bratfest)