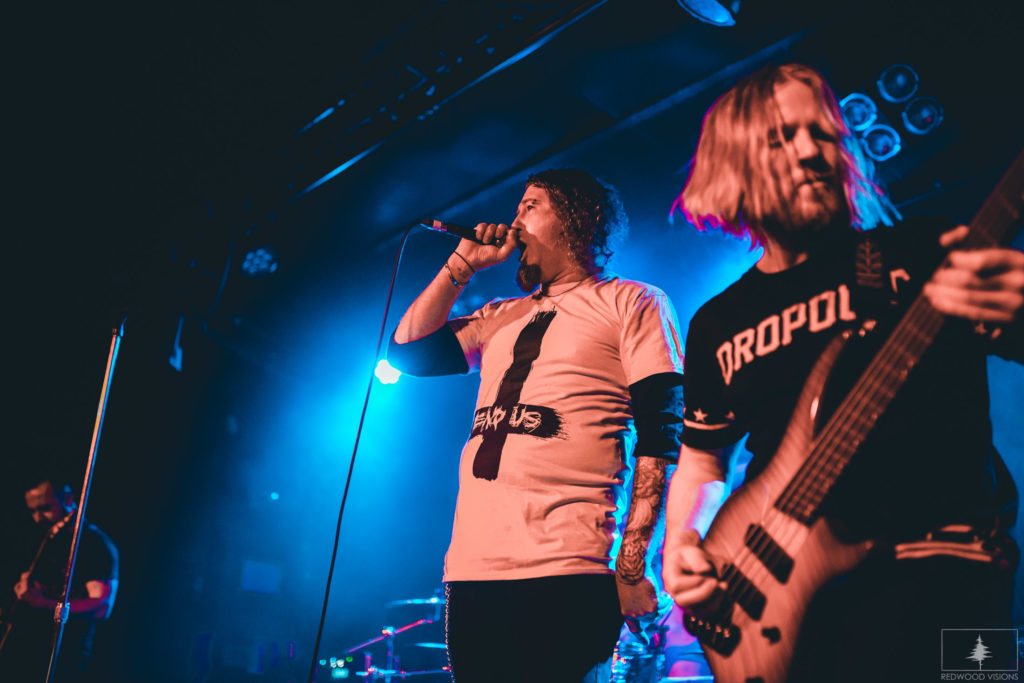 Perth flaunted its everlasting musical talent yet again last night as four upcoming local acts hit the stage at Badlands Bar to showcase a healthy blend of the finest and most diverse heavy music that our City has to offer. Supported by a world class live entertainment venue tucked away in a quieter part of Northbridge, I knew this event would deliver exactly what it promised.
The evening commenced with progressive rock outfit St James Sirens, who introduced the show with the most Aussie sounding "G'day" ever. Warming up the crowd, they suddenly kicked into gear and their set began with an ambient intro from their song "Pluto" which seemed to be enhanced by the visual cave designs and murals decorated throughout the venue. As my attention increased, the boys let fly with some of the catchiest rock inspired riffs I've heard from a local band and I particularly enjoyed the different dimensions throughout their songs. You are led into a sense of security through a feeling of calm melodies and reassuring vocals, then suddenly everything breaks into a huge unexpected sound with heavy drums, punchy riffs and surprisingly high pitched screaming vocals at times. I loved how each band member passionately added their own unique vocal style throughout each song which is something we don't see in many local bands. To add a little more flavour into the mix, their songs are filled with chant worthy ballads and layered with choruses that seem to pick you up and smash you down at the same time. By the time they announced their final song "Bo Peep", a group of ladies on the dance floor just couldn't hold back and were clearly consumed by these pied pipers of rock.
As I sat back and pondered my thoughts, I wondered over the to the bar and contemplated the massive drink menu, which stretched from one end of the bar to the other and I just couldn't resist the reasonable price listings. The staff at Badlands Bar are really friendly and will go out their way to keep you happy and hydrated. Anyway, with a fresh glass of wine, I walked over to the sound desk and congratulated Jason on the crisp sound he was producing so far. At this moment however, the next band was about to fire up so I hurried back to the stage and prepared my ears for war.
Progressive Metal core act At Depths were next and weren't shy to turn up the notch, filling the venue with a cold spooky introduction from their song "Erratic" followed by an intense battery of breakdowns and massive heavy screams. I couldn't help but notice the constant steady pulse throughout their set and I just loved how the lead guitars seemed to soar over the mix, adding that extra layer to the music. There seemed to be so much on offer from this band. Their bassist Sam stood out at the very front and owned his instrument while the crowd rallied closer to catch a glimpse. I particularly enjoyed Jakes drum work and loved that constant trashy sound of the old China cymbal which polished the authentic heavy blend that these boys deliver. Every now and then, the relentless tight riffs would come to a screaming halt and that cheeky little "ting" from the ride bell would resonate through the venue. I love it when bands do that.
When it comes to vocal duties, I really don't know where all these Aussie accents came from but it felt like I was in an episode of "The Big Lez Show" in between each song. Vocalist Scott knows how to put on a good show and he isn't shy to have a laugh and get the crowd pumped up as well. I was fixated by the vocal work of this band, not only did Scott enhance the sound with his pounding mix of heavy vocals, but the roaring screams of guitarist Bodine and the clean vocal choruses of Vincent worked together so perfectly that it all came together with a sense of effortlessness. I couldn't help but laugh as intermission music was played while the guitarists changed guitar tuning and braced for the remainder of the set. After a few more laughs, the band ripped into their last few songs for the night and the crowd was faced with a second wind of brutally heavy riffs, punchy leads and the biggest breakdown of the night which seemed to last a lifetime! Our heads couldn't resist banging to the songs as they wrapped up their set with a relentless explosion of noise. What an awesome band and I will certainly follow them in the future.
The evening was progressing well and things were starting to get very heavy indeed. The next band on the bill, This Other Eden, continued the trend and did not disappoint at all. I was excited to hear the roar of Luke's bass tone which cut through the mix like butter and I instantly recognised a signature sound as he slapped the daylights out of it. Lead vocalist Dylan knew exactly how to draw in a crowd and with a VB in one hand he seemed to direct the overall performance with his powerful presence while conducting the flow of music from the stage and asserting the band's energy…. like a boss. An awesome feeling of calm could be felt as the band progressed from one melodic riff to the next, only to throw you into a state of hooky chaos as the guitar work of Grom and Ando smashed through the mix relentlessly. I couldn't quite put my finger on exactly where their influences derive but this band is clearly fluid in its song writing and couldn't be any more original if they tried. Either way, the sound was fresh and it was good. As their set pushed forward, so did the feeling that this band was getting heavier and there were plenty of structured choruses to sing along to. Every now and then drummer Benn would break into some cool tom-tom tribal work which left me with a feeling of belonging. The band wrapped up their set like professionals and I was super impressed with the overall performance of these guys. Will keep a close eye on these lads and make sure I grab a copy of their debut EP 'Six Seasons' which is out now.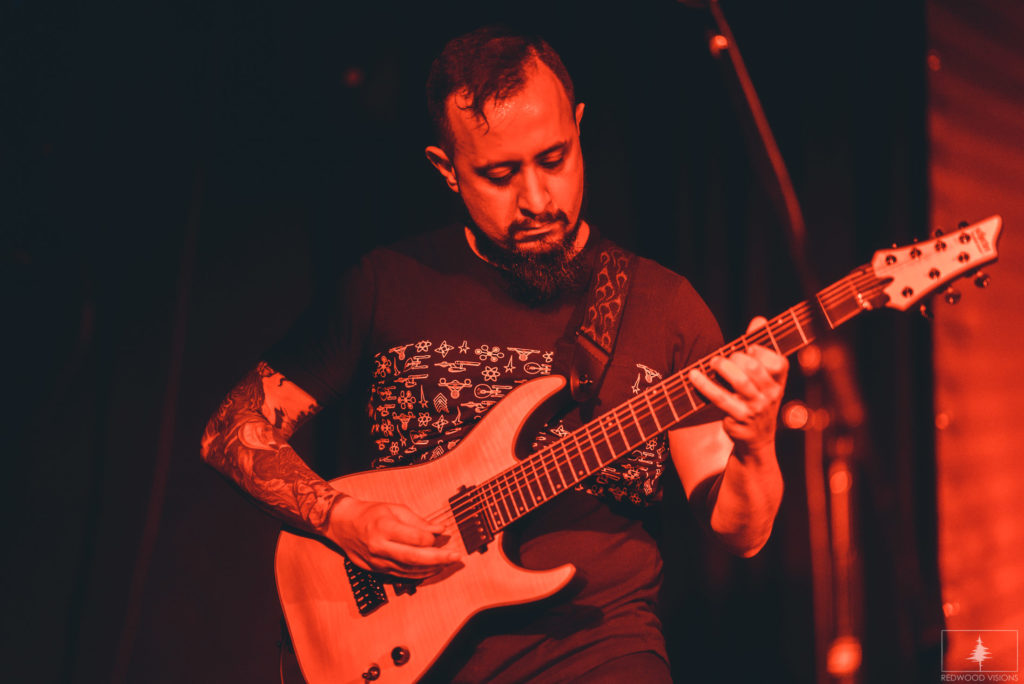 Finally, after another satisfying evening of excellent local supports, the time had finally arrived to catch a glimpse of upcoming local heavyweights Nucleust after their return home from a recent Eastern States tour and celebrate the launch of their new album 'Terra Cerebral'. I was mesmerized by the giant banner of their latest artwork which was draped menacingly behind the stage and the ghostly looking artwork on the bass drum presented a feeling of impending doom. At this point, I instantly realised that this show had not completely received its full heavy blessings until now. Before long, the band was ready to butcher our ears and introduced their first song "Faith by the Sword". All of a sudden, the crowd was met with an arsenal of technical riffs, heavy breakdowns and haunting atmospherics. Just as my ears began to ring loudly, the band introduced their infamous thought provoking song "Of King and Tree" and the authentic sound of Nucleust began to really shine through. As expected, Max jumped off stage with his wireless axe and wandered amongst the crowd, reminding me of some kind of Deity who had lost himself in his own dark creation. The fury from their drummer Shay was unquestionable and the constant off-time riffs and soul destroying snare hits left the audience in shock. I love how their drumming style has evolved with their new music and it's great to see bands that are daring enough to keep their music fresh.
Next on the agenda was their song "Lullaby Paranoia" and it kicked off with more trippy samples which kept transporting my mind to other universes. Then, like a thunderclap, the crowd was attacked with fierce mosh worthy off-time riffs dubbed with atmospheric synths and more heavy breakdowns. My head was spinning but we were all left wanted more. The guitar tones were exceptional and were only matched by the brilliant ballads of Max and the powerful screams of Shannon, who's chemistry is something I have not seen in any other local band. I think they even had a "scream off" at one point during their set and they both held the longest roar I had heard all night. However, all good things must come to an end and the band finished their performance with the song "Re-Earth" or affectionately known as "Fuck Yeah" and after a massive snare fill, Nucleust broke into a series of jazzy off time riffs that we somehow all managed to windmill to. Many of us were chanting alongside the band and they ended the set, filling the room with a massive outro complete with Black Metal screams, pounding double kicks and plenty of cymbal work. As always, Nucleust delivered a beast of a show and I can't wait to see what else this band has in store.
All in all, it was a brilliant night filled with some of the best bands that Perth has to offer. Thanks to all the bands who contributed along with the venue, crew, staff and of course, the punters! See you at the next gig!
PHOTO GALLERY
Photos by André Avila at Redwood Visions
TERRA AUSTRALIS TOUR
Remaining dates
September 15: Prince Of Wales Hotel: Brisbane, QLD
September 16: New Tattersalls Hotel: Lismore, NSW [Metal United Down Under]

September 24: Vision Studios: Victoria Park, WA [Rising Force Festival]
October 1st 2017 – Capitol Theatre – Perth, WA – tickets
supporting Haken w/ Chaos Divine