It's right here in black and white.
Emerging artists. There is a lot that can be said about this segment of musicians. It seems like new bands are multiplying like rabbits, so much so that keeping up with who is who and . What is even more interesting to me is the fact that some of these "new" bands have been together for 10 years and for whatever reason, they're now on the cusp of leveling up; gaining ground, gaining fans and expanding their circle. Some of these bands will create the music that the kids in the future will refer to as legendary. These emerging artists are the future of metal or rock.
Now before you think I must be confused; or that I am not  talking about the same person that the title of the article is written about. You might say "Nuh-uh, JASON RICHARDSON is not an 'emerging artist'. He is bonafide, now!!." If you're a hardocre fan of JASON'S, you know that he has played in CHEALSEA GRIN, BORN OF OSIRIS, and ALL SHALL PERISH. You might scoff and huff and puff a little or roll your eyes too. Before you do all that though, let me finish my thought. It's totally true that JASON RICHARDSON has been in some killer bands in the last, almost, decade. He's toured all over the place; picking up the guitar to play with some awesome players. Look, you don't get your own signature guitar from Ernie Ball or his own tone from JOEY STURGIS called Toneforge, if you're just a mediocre player, ya' feel me?
Pretty sweet stuff, no? Here's where I stand in awe,,,he also just turned 26 years old. Let that roll around in your noggin for a moment. Especially since his first band ALL SHALL PERISH began in 2009, which if you're good with math was only 8 years ago. "Impressive…most impressive…"
Let's get to the goods, shall we?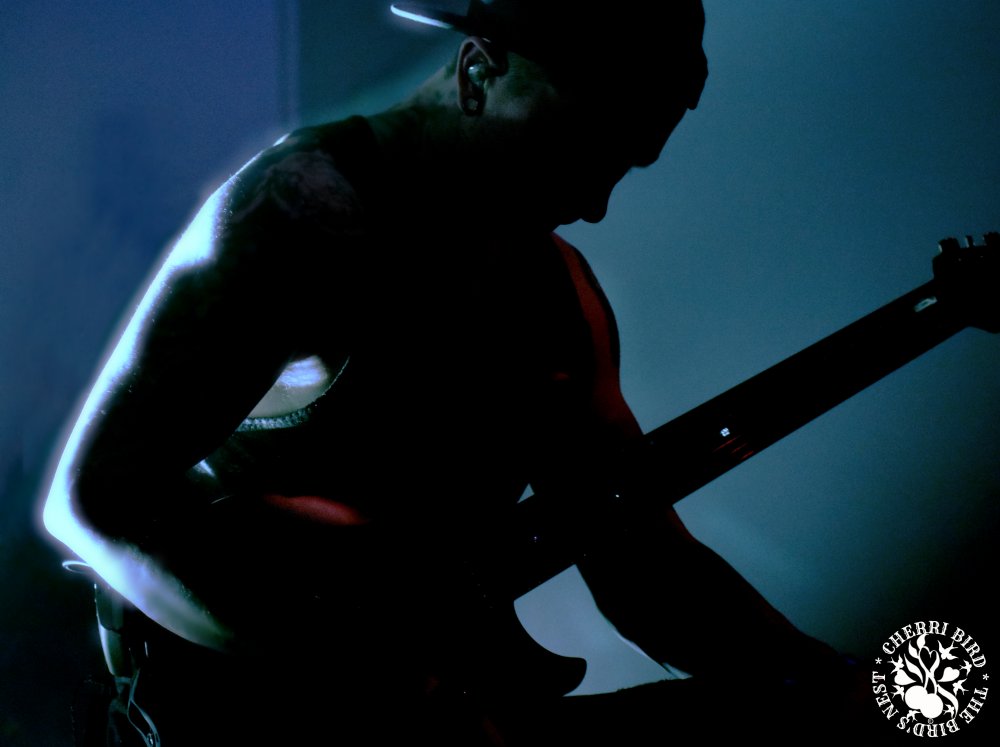 VENUE: The Dirty 30 is a fairly new club here in Dallas that has hosted some pretty amazing shows like VANNA – the Farewell Tour, SPITE, Emarosa, Oh, Weatherly and more. It's a smaller room that can pack in a ton of folks. It's a very intimate place to see a show. Not to leave out the sound here, but for this size of room, it is pretty dang good from most points in the house. There is plenty of room on stage, a huge windowed wall to hang a banner and lights that don't detract from the show, but still does their job in illuminating the stage.
Going into this show, I had no expectations because I set it up that way. I didn't listen to the music before, didn't read any reviews, nada. I wanted my brain to be a blank white wall that JASON could throw whatever he wanted to on it, and what was meant to stick on the blank wall was what was meant to stick.
SOCIALLY NETWORKING:I always seem to meet the best people at shows where you'd least expect to meet people. Sitting outside between sets, I started talking to two guys that were huge JASON RICHARDSON fans. They were total metalheads too…but you would never guess that if you passed them on the street. They looked about as conservative as Young Republicans on election day. I was sitting at another table and little ants kept biting my foot which caused me to twitch wildly a few times and I heard them say the band name UPON A BURNING BODY about the same time as the 3rd ant bit me, so I turned around feeling like I had to explain why I was jerking around in my seat like Miley at the MTV Music Awards circa 2013. When I asked if metal was the only style/genre they listened to, Lucas said, "I go through phases, like I think I have a metal period, where it's all metal all the time or one band over and over…" Had there been any kind of beverage in or around my mouth I would have spewed it all over the place. Godamit, I wanted to claim that  phrase so bad because it's funny AF and it is totally true for me as well!
JH (JASON RICHARDSON & LUKE HOLLAND | DRUMS): My Sweets – the actual review of JASON's set will be short and sweet. There's not a lot I can say – I mean I guess I could babble about this or that, or expound on equipment I know nothing about. I will say – go Google Images "Luke Holland drum kit" – ya, insanity huh? I think he likes kits like some people like shoes. But the one onstage at THE DIRTY 30 looked like a brand new outfit and accessories from Chanel or Prada – perfectly shined chrome hardware, a copper bass drum head and the kit – it was the the total opposite of a "murdered out" paint job. It was white like marshmallows or cotton that had been dipped in lacquer preservatives of angels and spit shined like a mug! Stunning. This dude is an ambitious, out of the ordinary entrepreneur-like, percussion prodigy (who totally time traveled if you ask me. "Luke, you aintst gosta lie, Luke. You aintst gosta lie…") saw an opportunity on YouTube, set up his own channel, and just started playing. BOOM – now he's playing with JASON RICHARDSON and since 2012 with his full band THE WORD ALIVE.  As the two take the stage – ya, just two – it was immediately obvious that this symbiotic relationship extended off the stage which added to the beef of how they played together.
Playing a guitar is no easy feat. Playing a 7 string is even more challenging and playing the style JASON plays as fast as he plays – forget about it! I haven't seen fretwork like that in a long time – I can't even mention a guitarist that I've seen of late that plays with the depth JASON plays in. There is a strict technical aspect to his playing that is evident in the rigid way his stance commands total concentration, but not because of a lack of confidence. What is found in this rigidness is sheer respect and discipline in what he's playing. Now, don't think he just stands there like a statue, that's not it at all. JASON moves and it is evident he is having fun on stage. The set was timed just right, in fact it seemed to fly by and I would have watched and listened for a little longer – and for me, that's saying something. I normally would become distracted and ancy to be honest.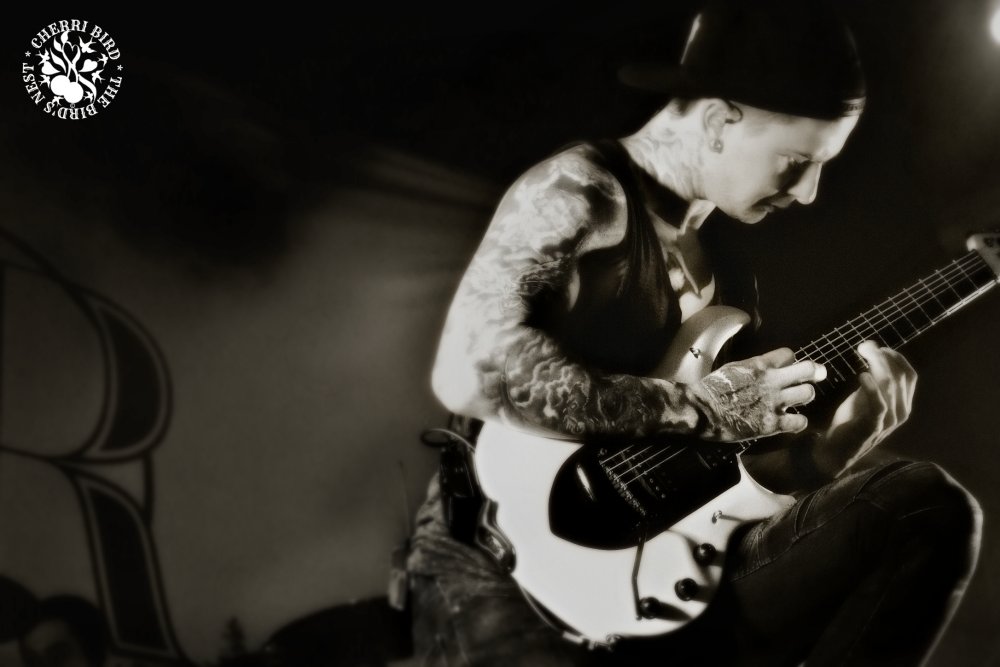 OVERALL: Totally a worthwhile show to see if they're coming to your neck of the woods, I pinky swear that you'll like it. And guys, bring your girls to this show – it's a good one for girls to see – especially if they're not totally into thrash/metalcore/whatevercore. This could flick them over the edge on your side of the fence and then y'all can go to shows and talk about music – "OMGee!!!"…stop with that mental masturbation guys – she may never like everything you like. Seriously, I do think that this is a great introduction for anyone that doesn't understand or see the beauty in a progressive – metalcore – thrash-ish style.
Briefly in closing, remember the emerging artist intro? When I kinda dove into the whole "emerging artists are the future rock"? While players like JASON RICHARDSON and LUKE HOLLAND aren't by definition, truly "new" or "emerging"…they are, in fact, the future of music; whatever it will be called after a few thousand more sleeps. The future is looking right at us – do y'all see it? I do, and I hope JASON and LUKE do too. I hope they see that in just nine years the progress they've made that in the past, took a lifetime to achieve. I hope they embrace the little glimpse that their Matrix is allowing us all to not only see, but hear and more importantly, feel within their music.
Jason Richardson's "Fragments" video can be seen here
The album, "I" is available where kick ass music is sold or visit: http://www.jasonrichardsonmusic.com/