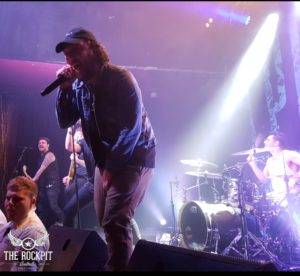 US metalcore act I Prevail have only been around for a couple of years and yet their impact on the music scene has been undoubtedly been huge, particularly in Australia which is a country known to be fairly hard to crack. The Michigan group managed to sell out every show on their Australian tour, a feat not easy by any means and one which took punters by surprise. We caught their first show of the sold out tour in Perth to check out what the fuss was all about!
From start to finish it was a highly energetic atmosphere.
First to hit the stage was Perth local band 'Finders' and what a performance. Highly energetic, they utilised every inch of the stage, and really got the crowd pumped up. Definitely a band to keep an eye out for.
Capitol was set alight when the guys from I Prevail stepped out and this highly dynamic team really tore up the stage, got the crowd involved. For me personally, I think singer Eric owned the stage, engaging the crowd at every opportunity, chugging down a beer after the crowds chanting, Jumping across the barrier for numerous high fives and even to the point of climbing the rafters to engage with the crowd in the upper levels.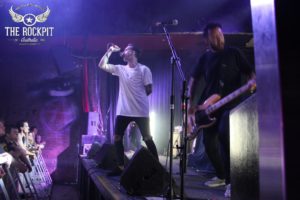 Lead Singer Brian's upbeat vibe and strong voice impressed and entertained the crowd, bouncing all over the stage, egging on the crowd to get involved.
The whole band was just a ball of entertainment even performing a skit compiled of covers, including Avril Lavines 'Complicated', before belting out their cover of Taylor Swifts 'Blank Space', which set the crowd off even more.
Could not find a single fault in either of the bands, all round epic performance from them both and I for one, along with hundreds of others, sure cannot wait for I Prevail to tear up Perth stages again real soon.
Review & Photos by Tanya Kimber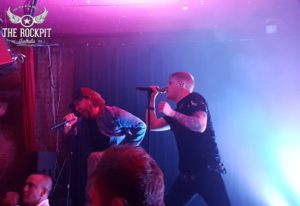 I PREVAIL AUSTRALIAN TOUR
Presented by Destroy All Lines
Tuesday 28 March – Amplifier Bar, Perth – 18+ – SOLD OUT
with FINDERS
Thursday 30 March – The Triffid, Brisbane – Lic A/A– SOLD OUT
with STEPSON
Friday 31 March – Factory Theatre, Sydney – Lic A/A – SOLD OUT
with JUSTICE FOR THE DAMNED
Saturday 1 April – Corner Hotel, Melbourne – 18+ – SOLD OUT
with THE BEAUTIFUL MONUMENT
Sunday 2 April – Arrow on Swanston, Melbourne – All Ages – SOLD OUT
with BELLE HAVEN
Tuesday 4 April – Corner Hotel, Melbourne 18+– SOLD OUT
with HARBOURS
Wednesday 5 April – Factory Theatre, Sydney Lic A/A– SOLD OUT
with BELLE HAVEN