In celebration of 20 years since the release of their debut album 'A Guide To Better Living', Grinspoon put on a massive show at Perth's Metro City on Friday night. They were backed up by fuzzy surf-pop duo from Windang: Hockey Dad, and the indie pop-rockers from Brisbane: Good Boy.
Starting the night off on a nonchalant and laid-back tone, Good Boy took to the stage and opened with "SOGK," from their 2016 EP Plum. The warm, woozy instrumental style of this band immediately shone through, complemented with the very "Aussie" vocal style from Rian, these guys commenced the night with a chill, laid-back atmosphere. The band then moved into some of their more comedic songs such as "Ya Mum's Ya Dad" and their new single "Fishing With a Shotgun." These tracks are where the band really shines, having created a somewhat slapstick persona, with slightly slurred vocals personifying their nonchalant cheekiness. This band isn't a masterpiece, and that isn't their intention. The slower, more emotive tracks like "Millie," although a touching change of pace for the band's setlist, clarifies that this band is most effective when embodying their laid-back, comedic tone. All in all, Good Boy created a fun, care-free atmosphere – an excellent warmup for the night.
Continuing the laid-back atmosphere, surf-pop duo Hockey Dad kicked off with "Can't Have Them," the fantastic opening track from their 2016 LP Boronia. A great intro to the song, demonstrating the remarkable fullness of the band's sound – attributable to great mixing by only two members. Zach Stephenson's vocal range was terrific, and coupled perfectly with his bright guitar melodies. Additionally, Billy Fleming's beach-punk style drumming was tight and ecstatic. Much the band's energy was driven by Billy's incredible performance, and created a pronounced stage presence – mixed in with the lad's easy-going banter that made it significantly more entertaining. Hockey Dad's energy picked up appreciably with sunshine-punk highlights like "Raygun" and audience favourites such as "I Need A Woman" and "A Night Out With" – pulling the crowd off their feet into an array of jumping and dancing. The duo ended their set with the summer-infused "So Tired," highlighting the band's beachy guitar, tight drums, and melodic vocals.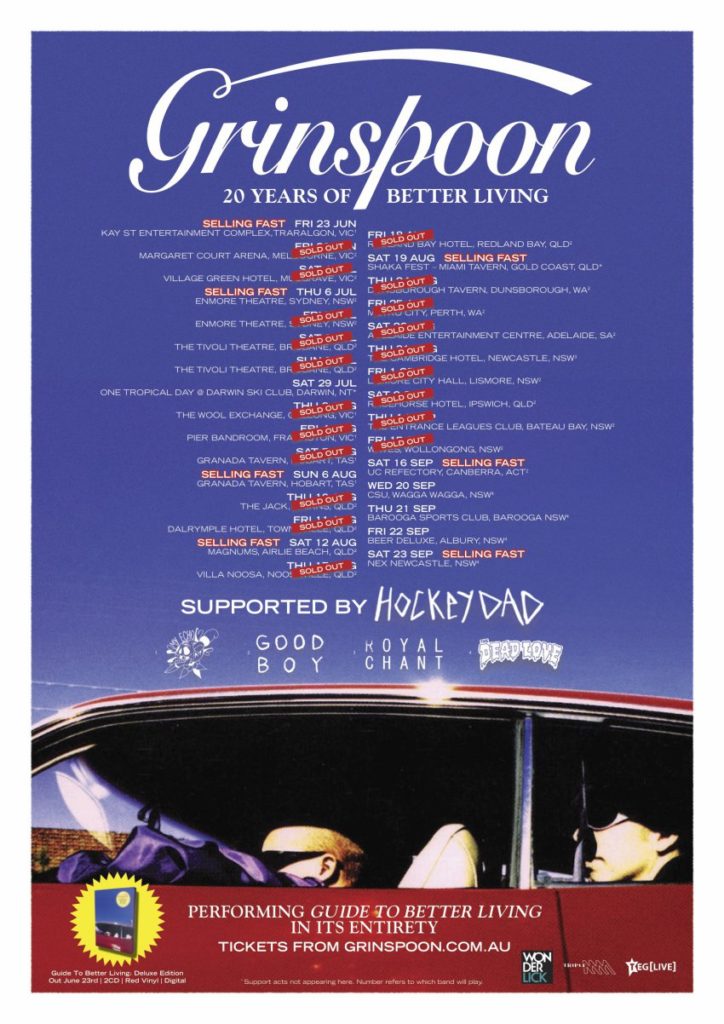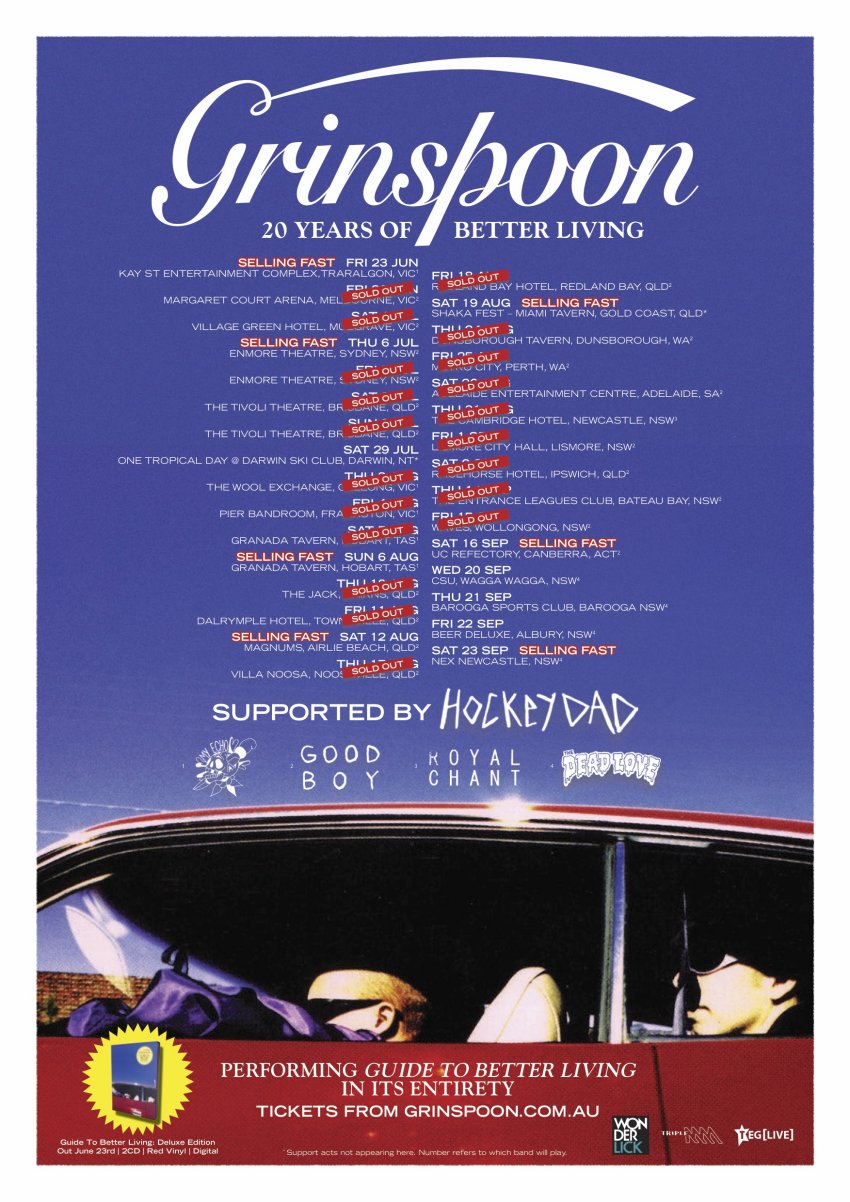 In immense audience anticipation, Grinspoon entered the stage to mass audience elation. The tone of the night changed dramatically from Hockey Dad's laid-back atmosphere and drove straight into the ecstatic, grunge-filled "Boundary Tested." Phil Jamieson owned the stage; striding up and down with incredible energy, working the audience up with phenomenal stage presence. The crowd ensued into a flurry of endless head-banging and jumping.
Grinspoon shredded through the entirety of their debut album A Guide To Better Living with heavy highlights like "DCx3" which resulted in a mass of crowd-surfing that endured the entirety of the night. With the LP released 20 years ago, the band performs like they haven't aged a day. Driving punk tracks like "Pedestrian" exemplify just how much energy and stage presence this band has; Phil's invigorating performance resonated massively with the audience as he jumped and danced his way through the setlist. His vocals were incredible, barely any errors in his performance and he surprisingly maintained an astonishing amount of energy through every track.
When the driving bass intro for "Champion" creeped in, the audience's elation exploded as Pat Davern riffed on guitar. As the audience launched into crowd-surfing, beer rained the pit and the occasional beer can flew across the venue. It was true Grinspoon euphoria.
After finishing the former half of "Truk" the band left the stage. Catching everyone off-guard, Phil returned on the right side of the venue; with a suit jacket and an acoustic guitar in hand, he completed the protest section of "Truk" – it was a beautiful change of pace. Pat then began the intro melody to audience-favourite: "Chemical Heart." The band returned on stage to deliver an incredible performance of some of their more recent songs, such as "Hard Act To Follow," and finishing the night with "More Than You Are."
In celebration of 20 years since the release of their debut LP A Guide To Better Living, Grinspoon never once compromised any energy. Their set was ecstatic, and drove full-throttle from start to finish.
GUIDE TO BETTER LIVING NATIONAL TOUR DATES
Presented by TEG LIVE and Triple M
THU 31 AUG | THE CAMBRIDGE HOTEL, NEWCASTLE, NSW | 18+ *SOLD OUT* +
FRI 1 SEP | LISMORE CITY HALL , LISMORE, NSW | 18+ *SOLD OUT* ^
SAT 2 SEP | RACEHORSE HOTEL, IPSWICH, QLD | 18+ *SOLD OUT* ^
THU 14 SEP | THE ENTRANCE LEAGUES CLUB, BATEAU BAY, NSW | 18+ *SOLD OUT* ^
FRI 15 SEP | WAVES, WOLLONGONG, NSW | 18+ *SOLD OUT* ^
SAT 16 SEP | UC REFECTORY, CANBERRA, ACT | 18+ *SELLING FAST* ^
WED 20 SEP | CSU, WAGGA WAGGA, NSW | 18+ <
THU 21 SEP | BAROOGA SPORTS CLUB, BAROOGA, NSW | 18+ <
FRI 22 SEP | BEER DELUXE, ALBURY, NSW | 18+ <
SAT 23 SEP | NEX NEWCASTLE, NEWCASTLE, NSW | 18+ *SELLING FAST* <
***Hockey Dad not appearing
#My Echo opening support
^Good Boy opening support
+Royal Chant opening support
<The Dead Love opening support
To purchase tickets, head to www.grinspoon.com.au