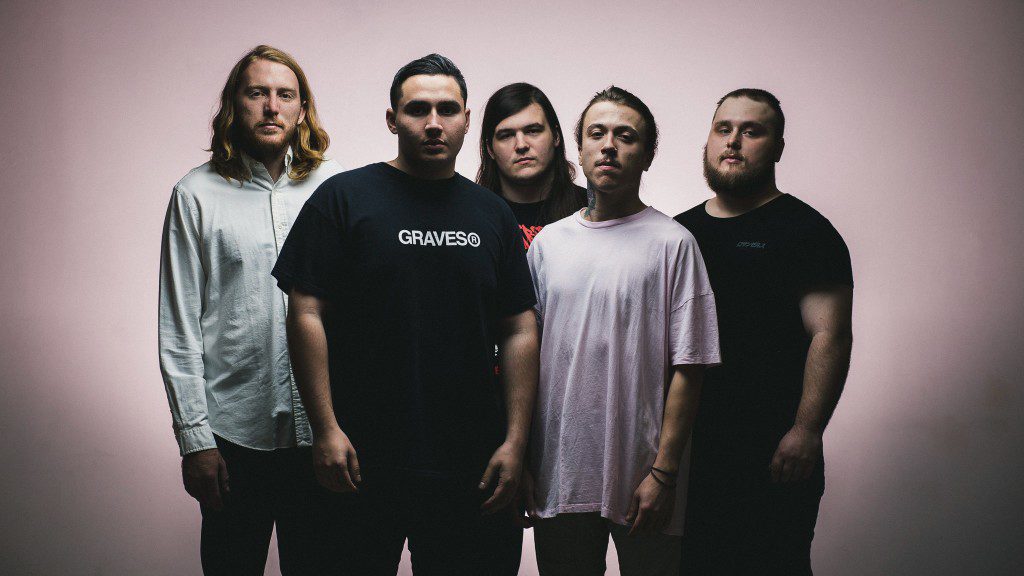 The ball has well and truly begun rolling for Sydney's Justice For The Damned, and now there is no sign of it slowing. Half way through their sold out tour with Ocean Grove, they've shared just one more taste of their upcoming Greyscale Records release, with the title and opening track to the album, 'Dragged Through The Dirt'. "We're thrilled to release our title track from our upcoming debut album: 'Dragged Through The Dirt'. Easily one of the most epic and cinematic tracks from the album. The song sings of losing a battle in life that we all face, one where we try to escape the toxic people in our life. Perfectly representing the themes in the rest of the album, we knew we had to show this to everyone now just before the album is released!" says guitarist Nick Adams.
Justice For The Damned's debut album 'Dragged Through The Dirt' will be available on vinyl, cd, and digital this Friday, with pre-orders available HERE
Justice For The Damned continue supporting Ocean Grove on tour this week where they roll into Adelaide on Friday, and Melbourne on Saturday, before taking off on their first Australian headlining tour, playing a range of AA and 18+ shows throughout September, joined by Hindsight, Staunch, and Honest Crooks. After that they head to Europe for a month long run supporting Thy Art Is Murder, Oceano, and After The Burial.
Tickets for the Dragged Through The Dirt tour are on sale now at www.greyscalerecords.oztix.com.au
JUSTICE FOR THE DAMNED TOUR DATES
AUSTRALIA 
w/ Ocean Grove, Broken, and The Beverly Chills
FIRDAY AUGUST 11 – FOWLERS LIFE, ADELAIDE LIC/AA
SATURDAY AUGUST 12 – CORNER HOTEL, MELBOURNE 18+ SOLD OUT
w/ Hindsight, Staunch, and Honest Crooks
FRIDAY SEPTEMBER 1 – YMCA HQ, Perth AA*
SATURDAY SEPTEMBER 2 – Amplifier Bar, Perth 18+*
FRIDAY SEPTEMBER 15 – Crowbar, Brisbane 18+
SATURDAY SEPTEMBER 16 – Hamilton Station Hotel, Newcastle 18+
SUNDAY SEPTEMBER 17 Red Rattler, Sydney Lic AA
MONDAY SEPTEMBER 18 – RAD Bar, Wollongong Lic AA
FRIDAY SEPTEMBER 22 – Enigma Bar, Adelaide Lic AA
SUNDAY SEPTEMBER 24 – Phoenix Youth Centre, Melbourne AA
* Justice For The Damned only
EUROPE 
w/ Thy Art Is Murder, After The Burial, and Oceano
FRIDAY SEPTEMBER 29 – Backstage, Munich, Germany
SATURDAY SEPTEMBER 30 – Ancient Astronaut, Lausanne, Switzerland
SUNDAY OCTOBER 1 – Substage Karlsruhe, Karlsruhe, Germany
TUESDAY OCTOBER 3 – Uni, Cardiff, United Kingdom
WEDNESDAY OCTOBER 4 – Key Club, Sandgate, United Kingdom
THURSDAY OCTOBER 5 – Garage, Glasgow, United Kingdom
FRIDAY OCTOBER 6 – Club Academy, Manchester, United Kingdom
SATURDAY OCTOBER 7 – O2 Academy2, Birmingham, United Kingdom
SUNDAY OCTOBER 8 – The Electric Ballroom, London, United Kingdom
MONDAY OCTOBER 9 – Rescue Rooms, Nottingham, United Kingdom
TUESDAY OCTOBER 10 – Backstage By The Mill, Paris, France
WEDNESDAY OCTOBER 11 – Connexion Live, Toulouse, France
THURSDAY OCTOBER 12 – Caracol, Madrid, Spain
FRIDAY OCTOBER 13 – Razzmatazz, Barcelona, Spain
SATURDAY OCTOBER 14 – CCO, Lyon, France
SUNDAY OCTOBER 15 – Circolo Colony, Brescia, Italy
TUESDAY OCTOBER 17 – Flex, Wien, Austria
WEDNESDAY OCTOBER 18 – Nova Chmelnice, Prague, Czech Republic
THURSDAY OCTOBER 19 – SO 36, Berlin, Germany
FRIDAY OCTOBER 20 – Vega, Copenhagen, Denmark
SATURDAY OCTOBER 21 – Kraken, Stockholm, Sweden
SUNDAY OCTOBER 22 – John Dee, Oslo, Norway
MONDAY OCTOBER 23 – Sticky Fingers, Göteborg, Sweden
TUESDAY OCTOBER 24 – Logo, Hamburg, Germany
WEDNESDAY OCTOBER 25 – Patronaat, Haarlem, Netherlands
THURSDAY OCTOBER 26 – Felsenkeller, Leipzig, Germany
FRIDAY OCTOBER 27 – Zappa, Antwerpen, Belgium
SATURDAY OCTOBER 28 – Essigfabrik Cologne, Germany