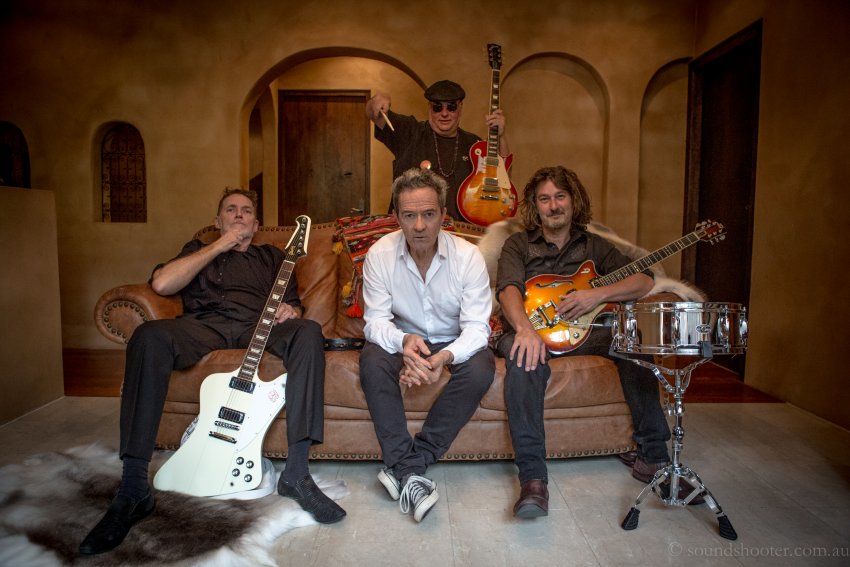 Choirboys are a staple of the Australian Rock and Roll culture and are renowned for a great live show, not just for the music but also the atmosphere they bring to the stage – the grafting, sweating, pulverizing, pounding, screaming – doing what they do best and entertaining an audience by spilling their hearts and souls onto the stage.  You just don't get much more Rock 'n Roll than that so it is only fitting that the band will release their new live album titled 'Pub Rock Live' on September 25.
It was an era of live music, and they were the band that put the rock into pub gigs all over Australia.  The sound of a generation. "The pubs inspired and helped create all the great Aussie bands like INXS, The Angels, AC/DC, Cold Chisel, Men At Work and on and on," says lead singer Mark Gable. "We called it Pub Rock way after the fact."
Mark Gable and his mates – Ian Hulme, Lindsay Tebbutt and Brett Williams – formed Choirboys in the 70's on the Northern Beaches of Sydney. "We had no idea what we were doing or where it would end up taking us – they didn't call it Pub Rock in those days, but we were there in the beginning and we're still here now!"
For the past seven years, Choirboys have been recording every live show capturing this collection of their classic original songs and it is 100% Choirboys, 100% Pub Rock: the sound and the band that Australia has come to know and love. No auto-tune, studio adjustment; no hiding the rawness, just real live music, nothing held back.
Pub Rock Live will take you from the rebellious theme of Bullshit, the slow sexy groove of Fireworks and the anthem of summer Boys Will be Boy through to the ultimate denial of aging We're Never Gonna Die and topped off with that quintessential spirit of Australia in Run To Paradise.
This is an album that celebrates more than the soul of Pub Rock in Australia. It's nostalgia from a bygone era, one that has become the biggest influence on contemporary music in Australia. The Choirboys are at the forefront and are testament to the quality and staying power of something that is far bigger than all of us.
Pub Rock Live has already changed your world.   Pub Rock Live is released via www.pubrock2017.com.au from September 25 2017 and available for pre-sale now with a limited edition bonus CD and merchandise pack.
Pub Rock Live Track Listing:

Bullshit
One Hot Day
Struggletown
I'm Not your hero
Boys Will Be Boys
Boys in The Band
Big Bad Noise
James Dale
Midnight Sun
Never Gonna Die
Last Night
Rendezvous
Run to Paradise
Carrie (featuring Brad Carr)
Pub Rock Live Tour Dates
Friday November 3 2017: Lonestar Tavern, Gold Coast, QLD
Saturday November 4 2017: Redland Bay Hotel, Redland, QLD
Friday November 17 2017: Sporties Barooga, Barooga, NSW
Saturday November 18 2017: SS&A Club, Albury, NSW
Sunday November 19 2017: Rossdale Golf Club, Aspendale, VIC
Friday November 24 2017: Hamilton Hotel, Hamilton, QLD
Saturday November 25 2017: Racehorse Tavern, Ipswich, QLD
Saturday February 24 2018: Anitas Theatre, Thirroul, NSW
On Sale Now!
www.choirboys.net | www.pubrock2017.com.au